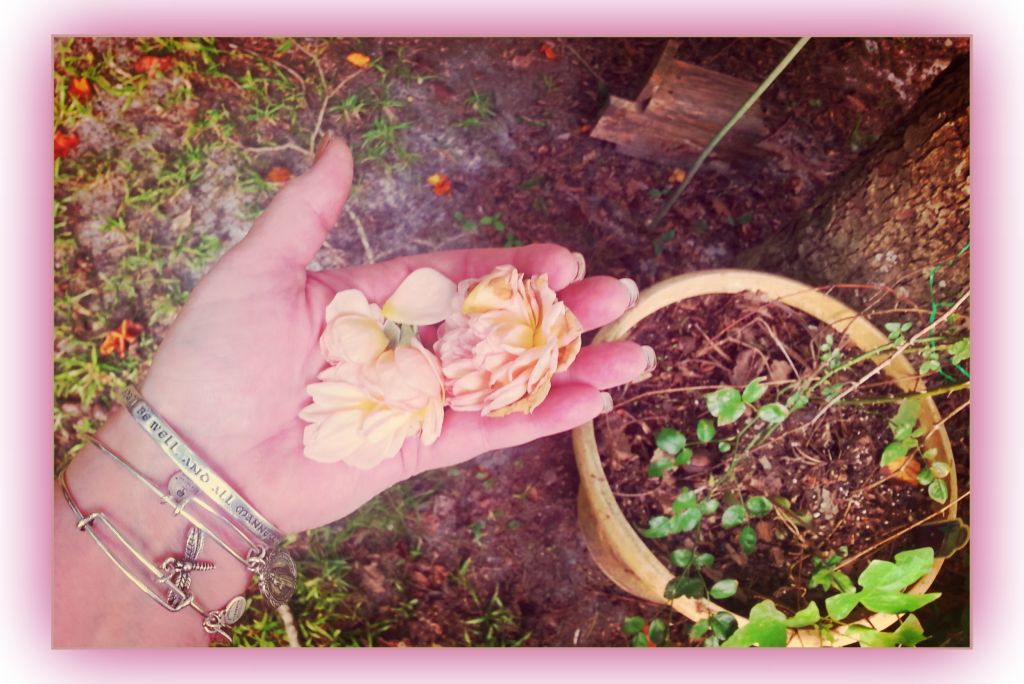 Walking around the garden with the dogs I am reconnecting with my garden. Even the roses going by are precious to me. These are two beautiful blooms of one of my absolute favorite roses, 'Abraham Darby,' one of Paul Austin's English roses. There were other, perfectly beautiful, fully formed roses on the vines that are growing up into a tree, but I am most touched by these soft blooms who have seen their season and are passing away, back to the earth where it all began. These last 8 months have felt like passing by to me too, a death, the spirit of the cottage burning up and away, through the roof, into the sky, star-ward bound.
And now I am home. It is starting to feel more like home, especially since yesterday when I filled the bird feeders on the deck, and this morning the birds were out there full force. They, too, have come home.
I was startled a few days ago when a thought came to mind. The thought, "What is 'normal' supposed to be now?" A laughable idea because with the crazy things I deal with in my life ongoing, living with bi polar disorder and a handful of other interesting things, nothing in my life has ever approached normal by most people's standards, but what I meant was that we all find our own kind of normal, that which, barring unforeseen circumstances like one's house burning down, is the way things flow pretty much day to day, in a certain fashion. But nothing is the same now that I have returned. No thing. The morning of the fire, when all seemed like just an ordinary day, I woke up with 5 parrots and 4 pugs. I returned to the house with 1 parrot and 3 pugs. And the house is beautiful but doesn't look like the one we lived in and made a life in. And my beloved Magic Ship is gone. And my work life has shifted, I can no longer keep up, and I am going through the process of  getting disability. On every front in my life everything is different. But one has to begin somewhere.
I begin with the things that have been constants in my life. My animal companions are what have helped me keep moving forward, not just over these last 8 months, but throughout my lifetime. They have done so well through all of the upheavals and changes, as long as they could be with me. I cuddle with them, in the worst of times I have buried my face in their soft, warm fur and cried, and they just leaned into me and held me up. When I had to have my beloved Sammy put to sleep 6 weeks ago it nearly killed me, my sweet 16 1/2 year old heart pug. Now I am planning to adopt a little senior girl to honor Sam and we will begin to expand our family again.
The garden calls me outside and at once I am bending over to pull weeds, to deadhead, to prune roses and to clear out annuals. The wildflower garden will soon need to be cleaned out, and all of the garden areas will need to be cared for and put to bed for winter in a couple of months.
I am learning how to make a kitchen again. The fire started with an explosion in the kitchen and the whole kitchen was gone. While still at the rental I ordered a little set of dishes, glasses and flatware, and I ordered a little set of pots and pans, and then I arrived and could barely do anything. No good knives to chop with, no cutting board or collander, the crockery and bakeware and gracious, the spices! But the one thing that I know is that the gift in having to start over in this kitchen is that I had too much of everything and cabinets crowded with things I never used. Now I want to get what I need and no more. I want to cook smaller meals, nutritious, soul food in the best sense. Yesterday I wrote to my dear women's group…
"I have been giving a lot of thought to something and that is that I have struggled with my weight since I was a little girl but that is not unusual for one sexually abused, especially when the abuse goes on for years. And then I have been a very frightened adult and even when the family ate healthy I would slip out and eat fast food. I have a lot of shame about that but what I realize was that — and this is so simplistic I feel shy and ashamed writing it here, but until we pierce the heart of truth we will never find the answers we seek — I was overeating to fill a void inside the size of the Grand Canyon, but you don't do that by just shoveling something in your mouth repeatedly until you feel like you are going to burst.

What I believe is that when you are very afraid and very empty and wounded, pierced through your center, from life's torments and cruelties, you rush to fill that hole up with anything at all, but empty soulless food (And I am not talking about any particular type of food or way of eating.) that I have often eaten in shocking quantities trying to quell the pain never filled me up. But I have found when I have gone out into the garden and gathered fresh herbs and made scrambled eggs as the French do, scrambled very lowly with great attention and not a wandering mind, sauteeing the fresh herbs in butter, pouring the eggs over the softened herbs and then very slowly stirring them until they make a very soft, moist scramble, grating a bit of cheese in at the last, and having a very good piece of toast (I have long-since realized that I don't need a toaster. Melting butter in a skillet and browning the bread to crisp toasty edges, a lovely 7 grain bread which I just bought yesterday, is perfect.) and serve a slice of this toast with the eggs and with an evening meal a small glass of white wine not only fills me up but it is the kind of full where your heart, mind, and soul are full but your body is light. It is not a lot of food, but food made carefully and with tenderness and gratitude, this is the kind of food I long to make. In my new kitchen I will be beginning a new adventure and I believe I will lose the weight I have long held onto for safety, to hide from the world. Slowly I go, thoughtfully I begin again."
And this will be the way with all things here at the cottage. The mattresses still aren't here but are to finally arrive on Wednesday. Things are still finding their way together and new patterns are beginning. And The Gathering Room has come together beautifully and not as I'd imagined. I was positively shocked by how many things they could save. An old table with 2 chairs and a bench I bought at a neighbor's yard sale right after I moved in in the winter of 2010 is there. An old antique oval table that used to hold my t.v., and a pair of wonderful chairs that were in a back room out of the path of the fire but badly damaged by smoke and water were cleaned and look like new. Or, newish. They are vintage and are wonderful. And the big, over-sized recliner I bought at the rental, the only thing I bought there because the rental furniture the insurance company put in was staging furniture and dreadfully uncomfortable so I bought the huge recliner that fit the 4 pugs and I nicely. It is SO comfy and cozy and it is now here in The Gathering Room, and it is a lovely sweet room and that room was the hardest to meet again because it is the room where my 4 parrots died, but as my friend Jeff said it doesn't look or feel like the same house. It feels light and airy and, yes, it feels happy. Purified by fire, painted light, joyful colors, and re-entered in a spirit of gratitude and appreciation it is a house of love and joy and hope, a whole new beginning at 60.
I look at my big chair, with it's soft, brown, textured upholstery that reminds me of a big old teddy bear, and when I go sit in it and the pugs jump up and crowd in with me I think of one of my favorite quotes by my dear fried who passed away in 1995, May Sarton. May wrote:
 "A house that does not have one warm, comfy chair in it is soulless."
I have that chair, and a whole lot more. And I am carving new pathways and making new routines. This little cottage is full of soul, and I love it already. I am finding my new normal, and gracious me it feels good.
With love and deep appreciation to all of you who have helped and supported me through these 8 hard months ~ Blessings to one and all…