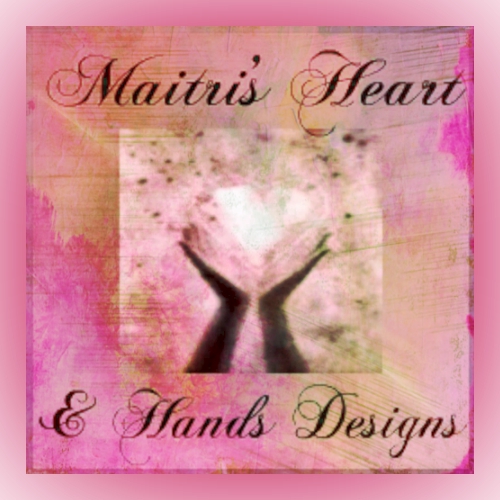 It came to me today in the way that the best ideas do, I believe. On a day when I had no plans to achieve anything big, in fact I decided to take the day off which meant I still did a lot of reading and writing, which I always do for pleasure as much as for work, but today, short of taking a pug to the vet a few minutes from my house, I decided to allow myself a day of rest, of dreaming, and, as I said to some dear ones today, just time to go to my imaginary world and play a bit. I even made up a little something or other for fun. You can click on it to read the full size banner easier…

One of the things I did as I meandered through the day was to start knitting with a beautiful, soft, hand-painted cotton yarn that I had wound from a skein into a ball a few nights ago while watching a movie. It made a big ball and felt good in my hands. I chose some of my favorite bamboo circular needles, cast on 24 stitches, and started to knit. I had no idea where I was going and I didn't care. An avid fiber artist for many many years I had put my fiber work aside and moved into making a home here at Dragonfly Cottage, building a big garden, and concentrating on my writing and teaching, but fiber will call to one's soul if it has a home there, will tug on the threads that are woven fine in the four chambers of the heart, and soon you are dreaming of fiber, and one day you wake up again and head right to the needles or the hook or the loom or the spindle and you just dive in. As I started knitting my whole body heaved a sigh of relief. It has been far too long, and I forgot what fiberwork does for me. I knit, crochet, spin, weave and more and to be away from it all for so long has left a void inside that I didn't even recognize. When I started to knit it was like coming home. But there was more…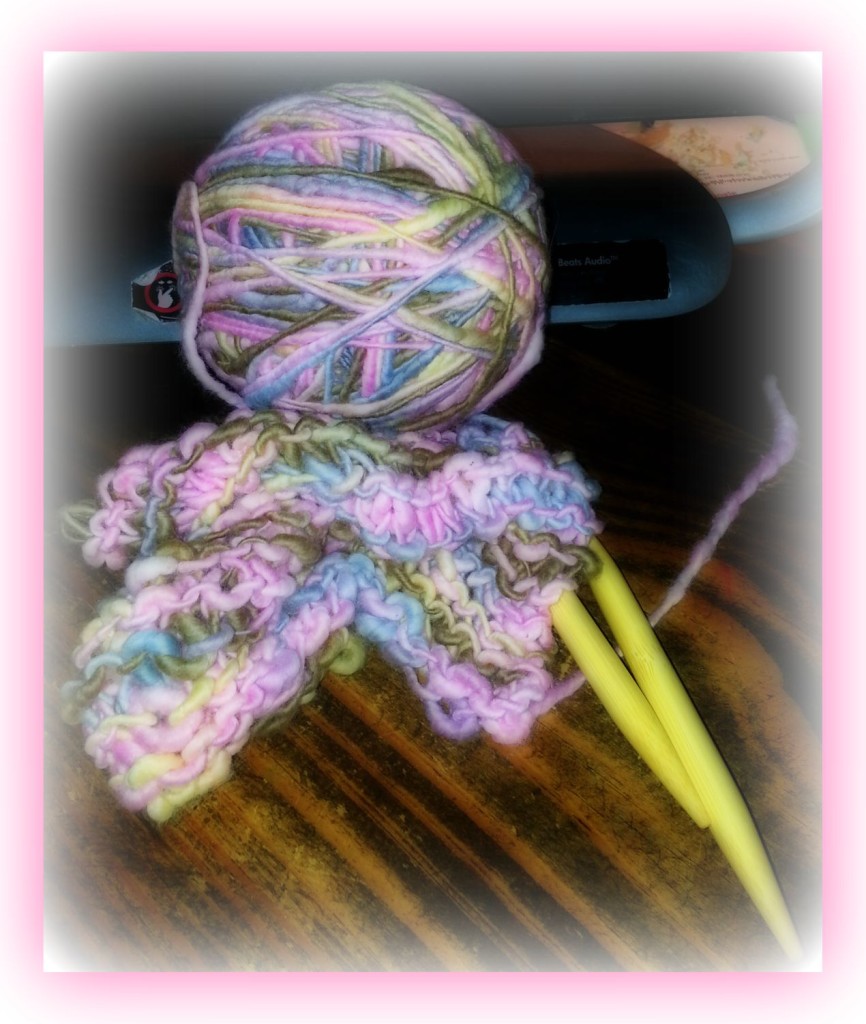 One of the reasons that I stopped doing fiberwork was that I needed to begin making an income from my work and fiberwork is slow. I was making very large, one of a kind, fiber art pieces, and they took a long time to create. While I loved doing them it simply wasn't a way to create a sustainable income. Once you put the pressure of needing to make an income on an artform it creates a kind of pressure than can take all the joy out of it and so I let it go. I knew that I would find my way back to it but I didn't know when or how. And then today I started to knit, and something occurred to me that I had never thought of before.
I am not only a fiber artist I am a small press publisher, I have made one of a kind handmade books and journals, I am a pastel artist working on a book of my drawings and stories, I have made jewelry combining fiber art, beads, buttons, crystals and more, have created upcycled art recycling all manner of things and using found art in my creations, and it all seemed such a hodgepodge I never knew how I could make a business of it. But the thing is that today I am working at making my living in a number of different ways. I am beginning to take private students, I am about to create a paid community as well as having a free one on Facebook, I am working on a book, and then there are all of the artforms mentioned above and it occurred to me today that I don't have to have an online shop doing one thing, the name of the shop was Maitri's Heart and Hands and everything above are the works of my heart and hands. Why not reopen the shop and just put anything and everything I create in there? Why not indeed? And I decided that I am going to do JUST THAT!
And even further… It came to me as I sat here that at 59 not only do I not need anything myself, in terms of things I might make, although I can and will from time to time, I have such an enormous store of fiber to spin and yarns to create with and every kind of fiber implement imaginable, as well as art supplies galore, that a way to pare down and simplify my life over the years to come is NOT to give things away or to sell them, I already have money invested in them from buying supplies for years and years, using them to make things to sell to make an income is the most organic way to live my way into and through the rest of the years I have left on this earth. People talk today about "streams of income" as though it were something new. Well for heaven's sakes women have always done this, using what they had to create what they needed, making do with what they had, and that is exactly what I am going to do. If I don't have something I will use something else. I will use what I have to make what I can, I will put the things I create in my little shop that I plan to have open in November even if there isn't much there to start I will steadily add to it, and it will just build and build because I need to create. I mean I NEED to. I am not talking about making an income here, my soul calls out to create, and further, as someone who is bi polar, and has suffered for a lifetime with depression, anxiety and a host of other things I can tell you that when I keep busy with the homely arts ~ gardening, cooking, knitting, caring for the animals, and more, I am far more at peace, my life is more in balance, and I feel fulfilled. I may rarely leave the cottage but I never stop working here.
And it is a big relief in so many ways. When you have multiple ways to make income it doesn't put such a tremendous amount of pressure on any one, and so I am moving into a time in my life when all of my gifts and talents can be utilized and it is such a delight to realize that this is possible. We are all so much more than we ever give ourselves credit for, we have gifts and talents that go unused, and we make things far more complicated than they need to be. Finally things are coming together, all of a piece, like a tapestry, woven fine, and I am more at peace tonight as I head to bed with my sweet pugs than I have been in a very very long time. Oh, what sweet relief.
So I bid you adieu at 1 a.m. this October morning, in the weesmas, the wee small hours of the night, which, for some reason or other, are some of my favorite hours of the day. Everything is so quiet and peaceful. The birds are all sleeping, the pugs snoring around me, a candle flickers on my little table that is always near me with crystals, herbs, oils, prayer beads, and other sacred objects, and I am whispering a prayer of thanksgiving for all the gifts this day has brought.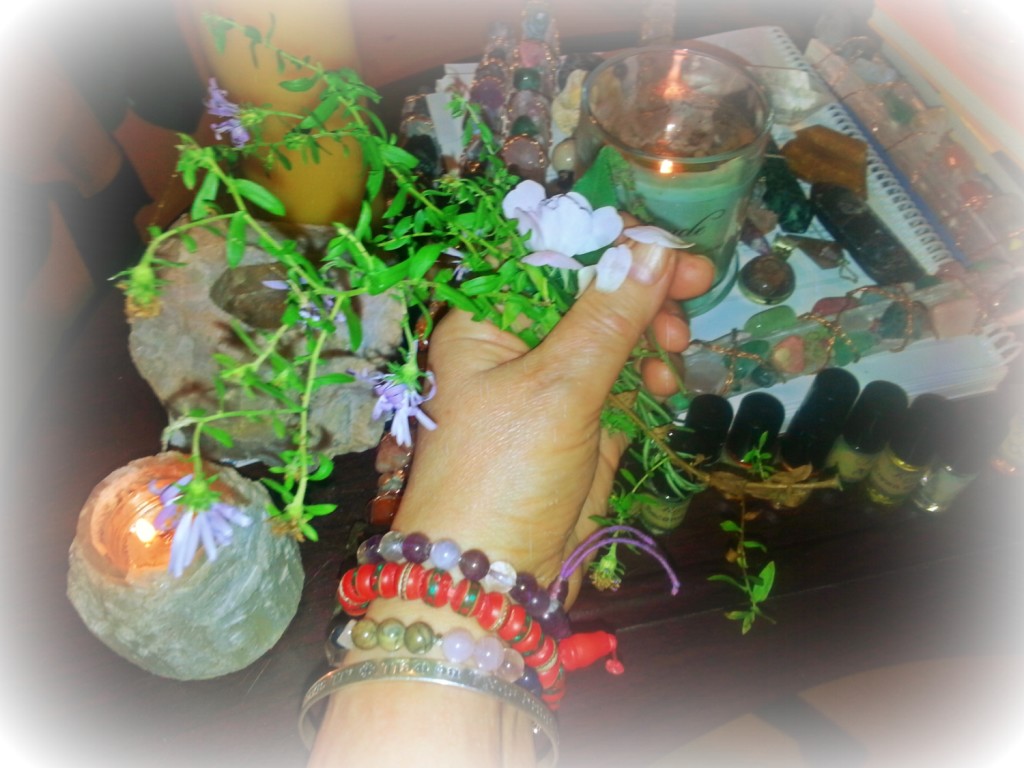 I wish you peace, I send you blessings, I hold you in my heart, I send you love…