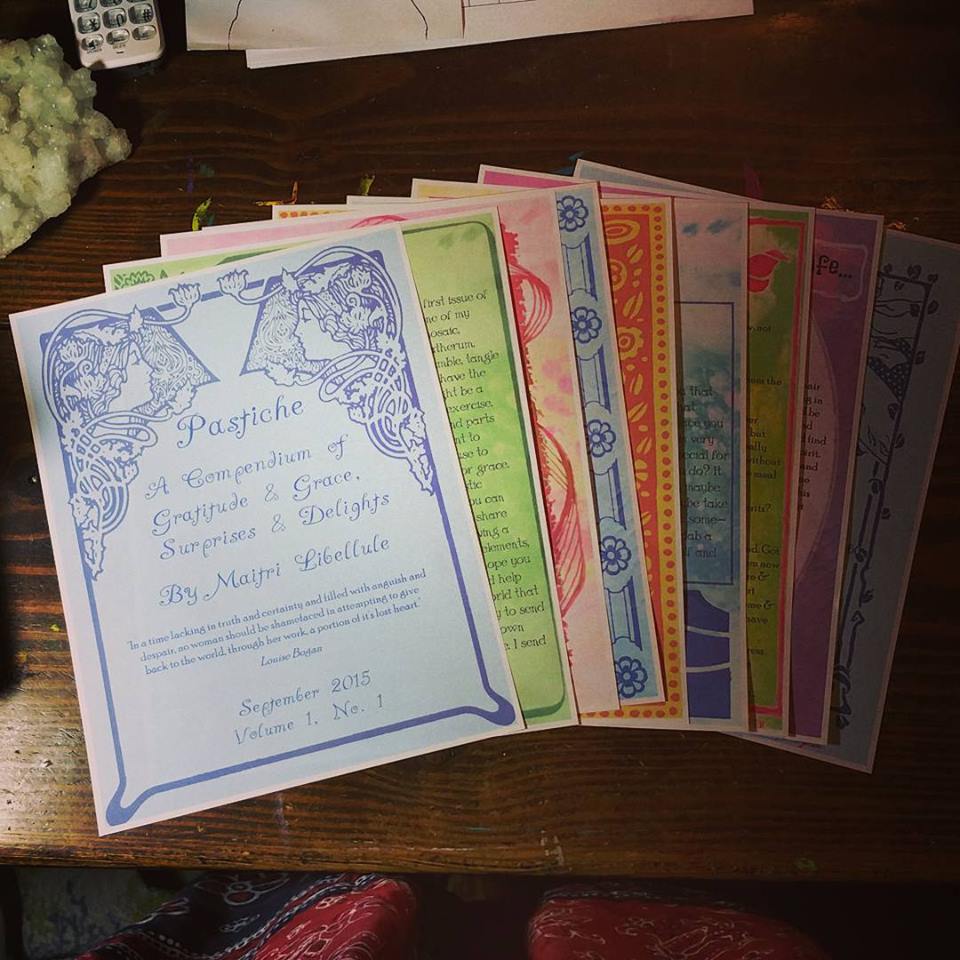 I listened to my heart, I followed it's directive to create my little zine, and over the weekend I released it to the world, 3 weeks early, my 60 page, bi-monthly zine Pastiche is now going out to subscribers and the feedback has been so marvelous, the responses I have been getting have been like receiving love letters. I am over the moon with joy. You can click on the blue cover above to find out more.
Every step of the way as I was "making pages" I was in a bliss state, finally connecting to my true work and doing the thing I have longed to do for so long but felt, as I've said in last entries, like it wasn't good enough if it wasn't a book. But creating each page was a journey of the heart,  each of the 60 pages stands alone, they are all very different, very colorful, filled with heartfelt writings, quotes, journal exercises, delights, surprises, and so much more. They were created to give the reader a lovely and loving space to go to for support, encouragement, inspiration and to help lead them on their own creative journeys in life. I am thrilled with the way it turned out and people are loving it which just makes my heart sing.
It is so easy not to believe that which our heart longs to do because we seem to be living in a time when being cut off from our intuitive natures and deep belief in the unseen is all around us so that if we long to do something that is outside the norm we are considered less than, or crazy, or a misfit. I have been considered all three but finally I am answering poet Mary Oliver's question "Tell me, what is it you would do with your one wild and precious life?" I am doing this Mary, and it is wild, and precious, and all that I dreamed of and more. I urge you to get still, and quiet, and listen to what your heart is telling you, then follow it's directives and run headlong into the joy you have been seeking.
And what a marvelous time this is. Pastiche is an e-zine, downloaded in a PDF, and people are downloading it and printing it out on paper, reading it on their computers, and tablets and phones, I am just amazed at the endless possibilities for this. I love paper, and would have preferred it, but it is cost prohibitive and we are in the digital age. I downloaded it onto my phone last night just to see what it looked like and was amazed how wonderful it looks even in that small format. This is fun!
What is that one thing that you have longed to do but held yourself back due to doubt in yourself? It's time to crack it open and bring it out. Belief in yourself is sweet relief and once the door is opened a whole flood of ideas and related wonders will surface, I promise you, it is happening for me.
I am sending you all my heartfelt love and blessings, I hope you will join the Pastiche family by subscribing, and help me spread the word. It is love-in-action, this little zine, and it is on it's way!