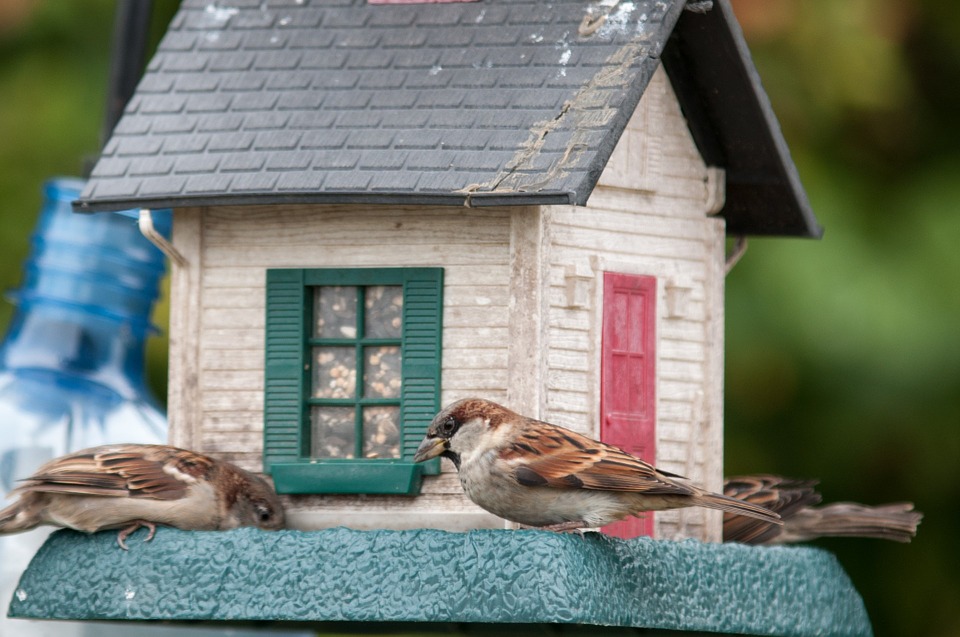 First of all the above is not my birds at my feeder, sigh, I have been trying all morning to photograph them but they are too quick, every time I move to take a picture they whisk away, but this is just what it's like and I am so close to them on this side of the windows I can really see them well.
It was truly amazing. I cleaned and filled the feeders last Saturday and I have waited impatiently and a little worried all week long because the birds were not coming back. Then, yesterday, while I didn't see a bird at the feeders I could hear birdsong very close and it gave me hope. THEN this morning as I sat here with my coffee I saw a flash of a wing. A BIRD, I thought, all excited! And then it got even MORE exciting because all in an instant 4 or 5 birds were here at once on the many feeders I have outside. Mostly they move so fast I can barely see them but my beloved chickadees are back and they kind of take their time so I could just sit and watch them. I so adore the chickadees. Since then all different types of birds have visited and I have just been sitting here in awe and feeling so blessed. I will keep trying until I can get some pictures of them and then will post one — OH! I just got one! It's not a great picture but you can see one of my beloved chickadees! Look!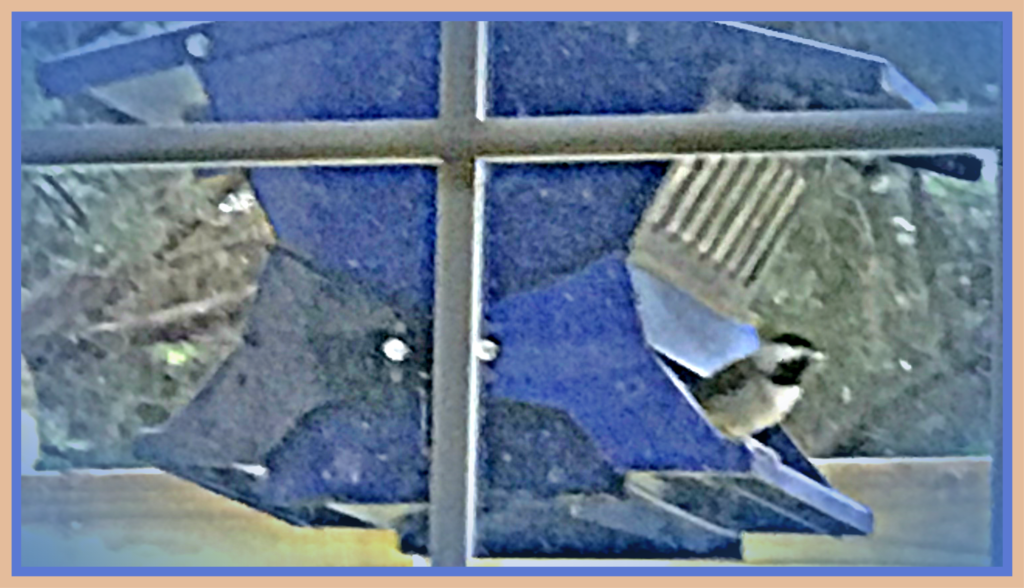 Well this just made my day, in fact on Christmas morning I will sit here and have my coffee and watch the birds while my little pugs sleep in their beds and snore around me and could there BE any lovelier way to start Christmas Day? I will be with my family later in the afternoon but here alone all day and I will enjoy the peace and quiet, the snuggly pugs inside and the wildlings outside and let me just tell you this…
If you are alone, and feeling lonely, the most important thing, I have discovered, is to have something to take care of outside of yourself. I have often written that on my worst days when I was so weighed down with depression I could hardly move what got me up was having to get up to care for the dogs. They have to go out, they have to eat their breakfast and get morning pills. Once I've gotten up and cared for them I am up and going. And now, oh NOW, the birds are back. And the squirrels. I need to keep the deck blown off nearly daily because the squirrels make SUCH a mess! And my five birdfeeders are good sized and hold a lot so I don't have to refill them real often but I have the big 25# bag of seed at the ready to fill  them when they need it. When you step outside yourself and care for the little ones, whether inside animal companions or the wildlings outside you truly have something to get up for and be excited about. I say if you are really down GET A BIRD FEEDER!!!
When my husband and I first separated in 1999 I lived in the most charming little place. It was a tiny garage apartment, I had to climb a big outside staircase to get to my apartment but once I did I found it just enchanting. It was tiny, like a dolls house, and filled with a hodgepodge of vintagey, used things I could find and put together to make a home. And I filled it with old quilts that I got on eBay that were not especially in good shape, some of them were just quilt tops, but brightly colored and cheery, and I strung the whole place with fairy lights. AND, BEST OF ALL, there were old trees, very tall, that brushed up against the windows. I opened the windows, reached out and hung bird feeders in the branches, and in the morning from my bedroom or in my tiny living room where I worked and spent most of my day I could watch the birds. It was mesmerizing. It was like living in a treehouse! And having just left my marriage I was sad and lonely and pretty lost, but feeding those wild birds and watching them gave me something outside of myself to focus on. I have usually also had a beta fish right beside me where I work and I love them so much, they are so beautiful, magical little fish. I want to get one again soon. Surround yourself with LIFE and I promise you you will begin to come back to life yourself.
GREAT SCOTT! There was just BOTH a rosy finch and a bright red cardinal at one of the feeders! I tried to get a picture but they were gone in a flash! You can see I'm not likely to be very productive today! I will be bird-watching and trying to catch pictures of them as they come here, just outside my windows, such a deep delight.
Another really sweet thing. In the year 2000 when I was living in the tiny garage apartment, where Dragonfly Cottage was born, I had several parrots living with me and I was also raising the most precious blue and gold macaw named Maya. My futon couch was just under the windows that looked out into the tree where the birdfeeders hung and the couch was filled with baby toys for her to play with. She loved to walk back and forth on the back of the couch and she would just sit there for the longest time watching the birds at the feeders. She would coo and making baby parrot noises at the birds trying to communicate with them. I loved that place so much years later I still dream about it. When I moved to Colorado to go to the Naropa Institute (A short stay and a long story, for another time…) Maya went to live with my best friend Jeff and lived with him for many years until she sadly passed away, but I will never forget the year I spent raising and handfeeding her, and what sheer delight it was to watch her watch the wild birds in the tree outside our upstairs windows.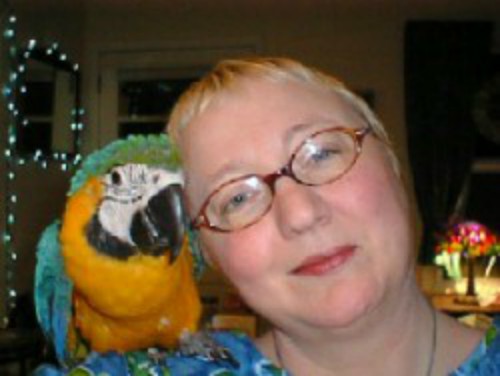 Maya and I, January 2000
By the way, here are 3 of my beloved parrots with me when I was in Colorado. My parrots perished in the fire and my heart was so broken I no longer want to have inside birds but the wild birds now bring me great joy…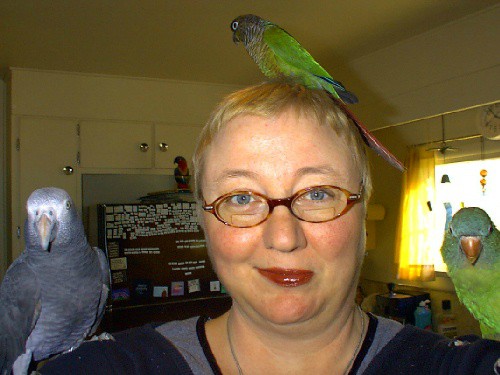 Henry the grey, Emmy Lou on my head, Solomon, blue crown conure…
And there was the BIG boy I fostered for a year. It broke my heart when he went to his new home but it was a perfect home for him and he is not only really happy there he now has a mate and they are very bonded. This was in 2011, 3 years before the fire. His name is Flounder, and he is a Greenwing Macaw…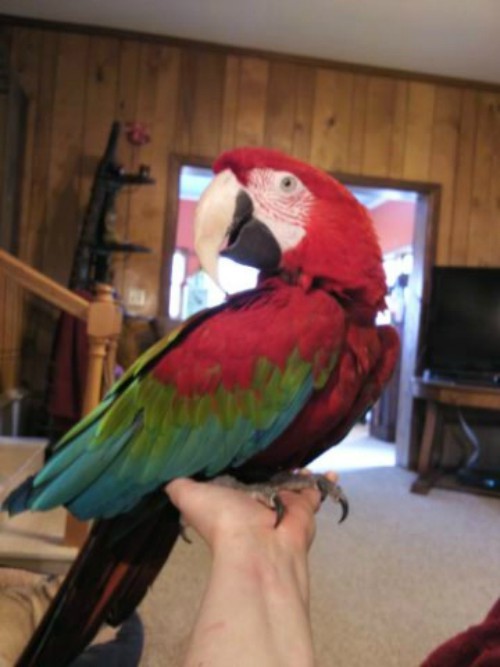 I once started and ran a non-profit shelter for disabled and unwanted parrots. Those were such joyous years. But now, at 63, I enjoy providing for the sweet birds that come to my feeders. And now they are back! And the squirrels are here to provide merriment as they somersault through the air trying to get to the bird feeders which are "squirrel proof" thank goodness or I'd be feeding hordes of squirrels and the birds would never get a morsel! And the wee pugs are here snoring beside me. And I think how lucky and blessed I am to have their company and companionship in my life. I don't know how people live without animals around them, I truly don't, but I know my life is richer and happier for having the privilege of living amongst these little ones, and I thank God for them every day.
I hope you have one or more beloved companions, I'd love to hear about them, and if the wild birds are a part of your life I would really love to hear about them too. The winged ones are among the sweetest blessings we will know in life.
And now I prepare for Christmas with my dear children and their families. I am so happy they will be here, and it reminds me of that old saying, "Love wasn't put in your heart there to stay, love isn't love till you give it away." I intend to give away lots of love in 2018. How about you? Let your candle burn bright, and let your heart full of love overflow into the world every day.
Warm Regards & Deepest Blessings to All…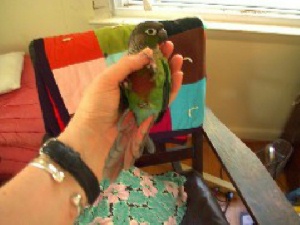 My darling Emmy Lou, green cheek conure,
lost in the fire in 2014…


The Experiment ~A 365 Day Search For Truth, Beauty &
Happiness: Day 1 ~ Introduction To The Project
"Do or do not. There is no try."
Yoda