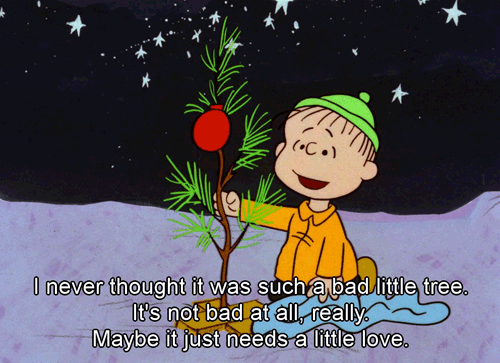 One of the things that really makes it Christmas for me is the Charlie Brown Christmas Special. I have watched it since I was in gradeschool and I'm 63 years old! I think there is more gentle wisdom in this movie than any other Christmas movie, and I think it speaks to us all. And you know what? I think we are ALL like that little Christmas tree (I adore it and have had many little Charlie Brown trees in my day…) Most of us don't feel like we are enough, we all need some propping up, and some love, and if we can give and receive love to and from those around us we will be just fine. It never was such a bad little tree, and neither are we. This little movie gives me hope and heart and we so desperately need the message of what Christmas really is all about, and how it's the simple little things that matter the most.
And when you see these kids you KNOW the holiday season is upon us. This just makes me smile with glee…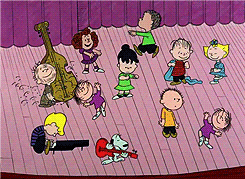 I've always loved the little guy up front in the orange shirt whose shoulders hunch all up! There is such an innocence and a sweetness watching these children dance, it just makes me happy. What makes you happy at Christmas? What are the simple things that you have always loved that you do every year? I am working at getting my shopping done over the next few days so I can spend the rest of December watching favorite Christmas movies that I've watched many times over, and I am like a giddy little girl when I'm out and about and get to see the Christmas lights. One thing I've noticed that makes me sad is that it used to be that nearly EVERYBODY put up Christmas lights, and there were whole neighborhoods where cars were just lined up driving slowly through because every house was lit up to beat the band and there were moving things in the front yard and their front windows were decorated like the big department store windows used to be when I was  young. And here in Wilmington, NC we have the most beautiful downtown historic district and the houses used to be all lit up. It was fun to just drive through the neighborhoods to see the lights. They are few and far between now, there are no neighborhoods all decorated up anymore that I know of, and as you drive down streets only the odd houses have lights. It makes me really sad.
A couple of years ago I picked a dear friend up, we drove through and got hot chocolates and then set out to drive around town to look at the Christmas lights. We were just brokenhearted. We drove around and around and all over different parts of town and there just weren't many lights anywhere. What has happened to people? People are all caught up in the over-commercialization of Christmas, spend ungodly amounts of money and put unseemly amounts of money on credit cards it will take them months to pay off for expensive things that will be forgotten all too soon unless it's another electronic device for kids to get addicted to. What happened to the lit up neighborhoods and people decorating their houses for Christmas? Where did they go?
I myself had a disappointment this year because I had purchased 4 boxes of blue lights for my front porch and I thought it would be enough. Well, they wouldn't have been half enough, and I couldn't afford to go buy more. I will have to return the ones I bought to the Dollar Store, BUT I did get a grand 24″ big fluffy green wreath for my front door at a very good price that just sparkles with gorgeous colored lights. I put it up last night and it just tickled me all to pieces, it looked fabulous! And it has a timer and you can set it for how long you want the lights on. I set it for 8 hours so it will be lit up and blinking from 4 p.m. until midnight. That wreath makes me so happy.
As I've said in our family we have decided to do a Christmas gift exchange with all the adults. We each give and receive one gift, and we all buy things for the grandchildren. I have shopped for my gift exchange recipient — I'm so excited! — and I've shopped for the littlest baby, 18 months old, and I've gotten one gift for the 3 year old but need to get another little something and then I just have the 5 year old and the 13 year old to shop for. I want to have it all done soon, and I will wrap the gifts and put them under my little Christmas tree, back here in the studio, and I love the sight of the tree with sparkling lights and wrapped packages underneath. My two kids and their families who live out of town will be in Christmas Day and I am looking so forward to seeing them all. I just cherish seeing my children all together and watching the grands open their gifts just makes Christmas. When I was little I wanted LOTS of presents, as children do, but now I bring home my one special gift and I just treasure it and feel so richly blessed as surely I am.
Today I am going to a movie at 4:20 with Rachel, we are going to see the movie "Lady Bird" which she really wanted to see and it sounds fun to me. It will do me good to get out a little and I always love being with Rachel. She was here last night to visit and we watched "our show" which we LOVE! "This Is Us." We watch it on Hulu the day after it airs because I don't have cable tv anymore, and I don't think we ever get through an episode without crying! I think it's the best show that's been on tv in a very long time.
So here we all are at the beginning of December and the countdown to Christmas has begun. What are you doing the next few weeks dear ones? I'd really love to know. What are your traditions, what do you cook, how do you handle gift giving? Lordie I remember the years I used to send over 100 Christmas cards every year, I miss that really, but I've longsince stopped doing that as have most people, and when I was young and when I was a newlywed we used to bake dozens and dozens of Christmas cookies and take the round Christmas tins full of cookies to family and friends. I miss that too, it's been a very long time since I've done that. I don't think any cookies ever taste as good as homemade Christmas cookies! I no longer eat sugar so there will be no Christmas cookies or treats this year, but I'll tell you what, the Christmas cookies in my memories were the best of all anyway.
I really would love to hear from you dear ones, leave me a comment below and I will answer you (sometimes it's the next day but I always answer!), let me know how you are preserving the simple joys of Christmas, what is most meaningful to you, how you spread love and Christmas joy to others, and I'd love to hear about those dear Christmas memories, those things that live on in your memories and in your heart even though they don't exist anymore. Those memories make me feel so nostalgic, they warm my heart.
And will you be watching A Charlie Brown Christmas with me this year? I never miss it…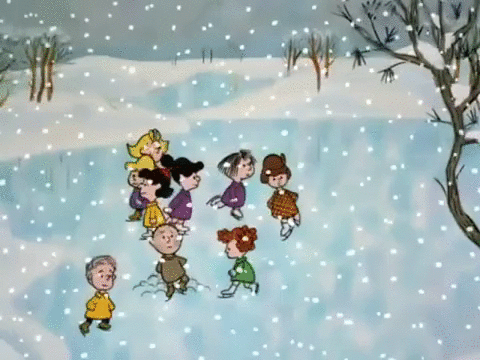 Best and Blessings to you. Happy Holidays Dear Ones…

The Experiment ~A 365 Day Search For Truth, Beauty &
Happiness: Day 1 ~ Introduction To The Project
"Do or do not. There is no try."
Yoda