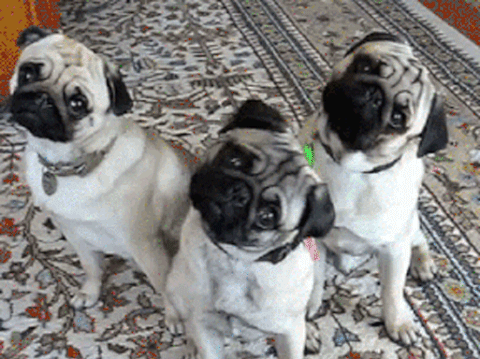 The famous pug head tilt…
Well today's the day! The Christmas holiday season officially begins today. No, I will not be "Black Friday" shopping, I will be decorating. The pugs are so confused. You see we haven't really decorated for Christmas since the fire 4 years ago with the exception of the sweet 4′ Christmas tree my darling friend Jeff brought me Christmas 2014, the first Christmas after the fire, when I didn't have the heart for Christmas at all. He said "You have to have a Christmas tree!" and brought me a lovely pre-lit Christmas tree, old fashioned ornaments which he put ON the tree, and a gorgeous angel that lights up, she's big and beautiful. It goes on my round table here in the studio where we spend most of our time and I just love it. Each year, when I finally have the heart to take it down, which may be almost March!, I carry it carefully into the garage, fully decorated, and each year, the day after Thanksgiving, I carry it back in and plug everything in. It is so pretty, it makes ME light up like a Christmas tree and I always remember my darling Jeff who saved that Christmas for me. Lookie, isn't it grand?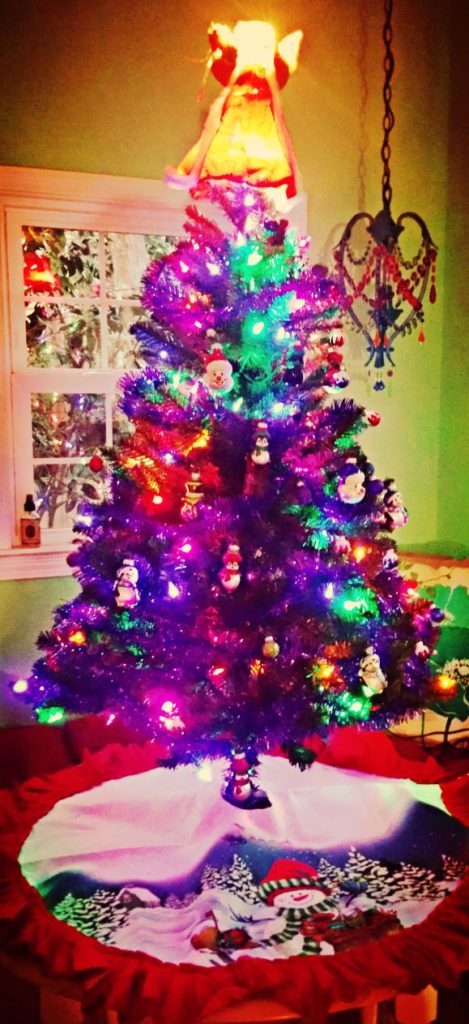 And this year I have purchased two inexpensive wreaths, one for the front door and one for the inside of my studio door. I will be bringing the tree in today and putting up the wreaths and the blue lights on the front porch. I just haven't had the heart to decorate like this since the fire but this year I am bringing the joy back in. I am so excited.
Here's the wreath I ordered for the studio. I just love the little cardinals…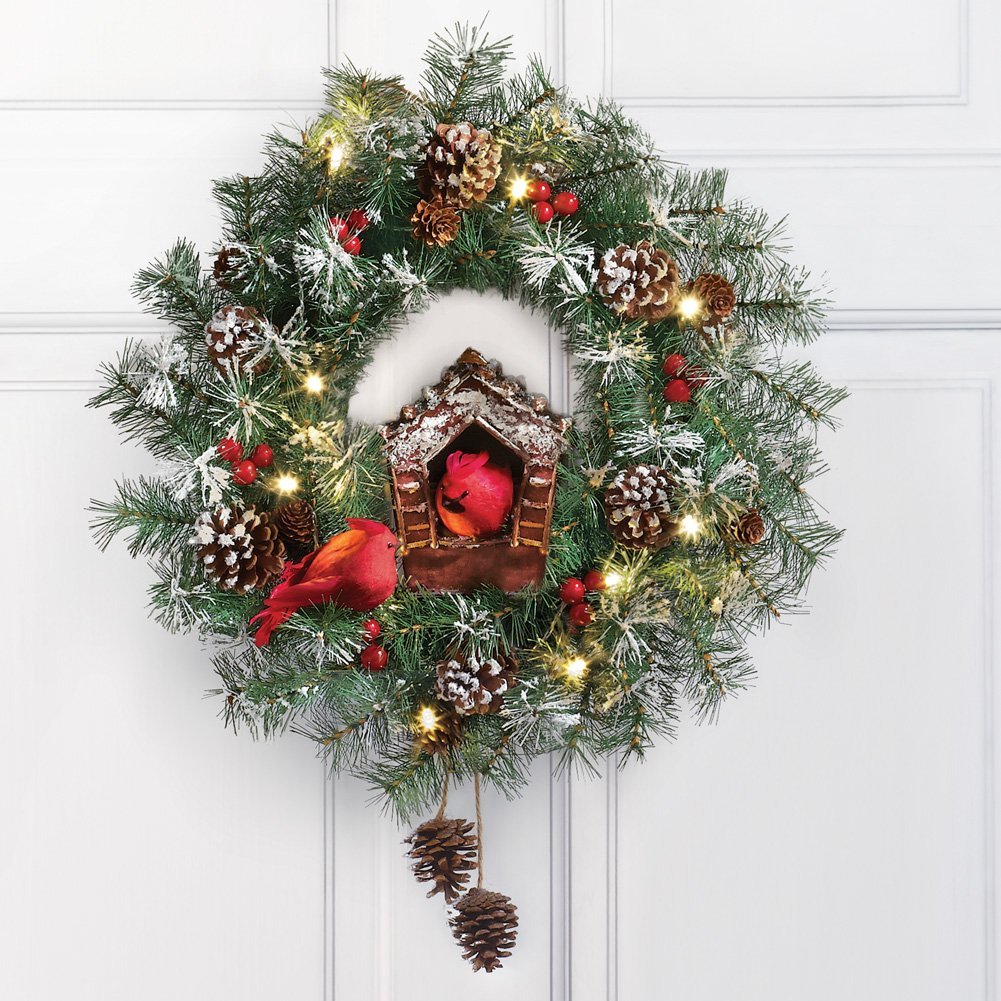 The one I got for the front door of the house I will take a picture of after I put it up because it is lovely but pretty plain with colored lights all around but I ordered some tiny old fashioned Christmas ornaments I am going to put on it to spice it up.
I was going to put a picture up of my house Christmas 2013, just a month and a half before the fire. It was so beautifully lit up with my blue lights but also that year I had icicle lights hanging from the edge of the roof. I had someone put them up for me. It was enchanting. But I can't do that anymore and the picture just made me sad. I will take a picture this year when I have my sweet little blue lights up, and it will be enough. We can't live in the past, life in this house before the fire was another life, it's time to build a new life and really live here. I have never done that since the fire. This year it's time, and we need it more than ever this year.
I am telling the pugs all about my exciting plans but they have one track minds. This is all they are thinking about…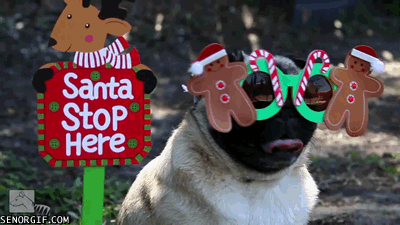 I think I need to sit the three of them down and have a talk with them about the true meaning of Christmas!
Well I am getting off the computer now to put some Christmas music on for the first time this year while I decorate. I need to deck the halls and all that. Fa la la la la, la la la la…
Holiday love to one and all…

The Experiment ~A 365 Day Search For Truth, Beauty &
Happiness: Day 1 ~ Introduction To The Project
"Do or do not. There is no try."
Yoda