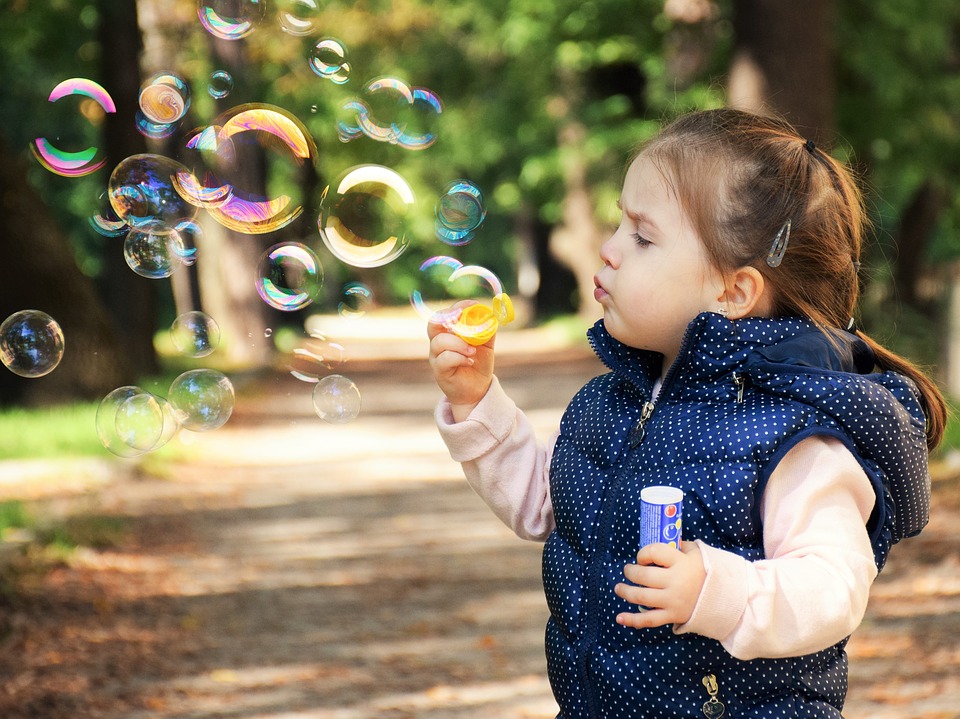 As I have said this year of blog posts on the search for happiness is an important part of self-care and trying to find a way to happiness in a life that has been, for most of my life, lived under a dark cloud. I am feeling much better now because my meds have kicked in finally, but I know hard days and times will come again throughout the year and I want to be prepared. This week, when I go out to therapy on Wednesday, I am going to go to the Dollar store and buy some bubbles. Everyone I know loves bubbles, there's just something about them that delights, and brings smiles and even giggles to the young and young at heart. And I have long believed in the therapeutic benefit of bubbles. Let me tell you a story…
In 2001 I worked, for a few months, in the MRI department of the hospital. It was a fascinating place to work but often sad. We had some very hard cases come through, and one week was especially bad. The worst case was a young woman who had miscarried several times, was now successfully pregnant, but now they had found cancer. It was so devastating to every one watching her go through this, and morale in the whole department was very low.
On the way to work a few days later, with people still really down, I had an idea. I stopped at the drugstore on the way to work and bought a whole box of little bottles of bubbles and I distributed them to everyone in the department, including the doctors and our bosses. Throughout the day you could see bubbles floating in the air all over the place, and down the hallway where all the bosses and doctor's offices were you could see bubbles drifting out of their open doorways! Everyone was blowing bubbles, and smiling, and laughing. It was a great success and the images of the bubbles coming out of the doctor's offices I will remember forever! I have to have bubbles on hand here. They are cheap, and they can change the whole tenor of the day, at least for a few moments, and those few moments can be enough to save you for that day, or at least give you much needed relief. They will go in my "basket."
It occurred to me this morning that it was time to put together an Emergency Basket. This is a basket or receptacle of your choice that will hold all manner of things to be used on hard days and during hard times. You save these things to use only at these times so they are very special. You could go to the Dollar store or a thrift shop, flea market, or yard sale and find all kinds of things to put in your basket, and you can make making the basket itself a fun project! First find something very special to hold all the things. I am going to find a basket, if not here in the house somewhere (I used to have oodles of baskets but lost them in the fire) I intend to find one at one of the above-mentioned places, buy my bubbles and put them in, and start there. You may have things in your house you can add to the basket but remember, this is an Emergency Basket and you use the things in the basket only when you really need them. This makes them extra special and more fun. You may have a scented candle, special packets of bubble bath, a new box of crayons and maybe a coloring book just for these special times, a new little box of markers or paints, a favorite candy bar or treat, a special tea cup, something really pretty or one that makes you laugh, that you only use when you need to pick up your spirits, there is no limit on the imagination when it comes to these things.
Another kind of thing that just makes me smile while I'm writing this just thinking of it — and I'm not going to say a lot about it here because I am going to do a whole special blog post about it soon — are tiny treasures. This goes back to a time in my life when I had very little money and when I had, say, $5 to spend I would make an exciting adventure by going to thrift shops, more than one if necessary, and buying tiny trinkets — I found many wonderful little old teacups, some with no saucers, some might have a little chip or crack but those could be used for pot pourri, a little votive candle, or candies, anything you like, for as little as a quarter or 50 cents — and the whole thing was like a scavenger hunt, the trick being to buy as many things as I possibly could without going over the $5. If you are agoraphobic and can't go out you can find tiny trinkets on eBay, and the app you can put on your phone called Wish is a treasure trove of unbelievable things you can get very cheaply, many things for only a dollar and shipping is cheap too. (And as I said when I mentioned Wish in a recent post where I showed the big bag of 80 markers I got there, DON'T shop on Wish without first going online and getting a coupon code because your first order is 50% off with a coupon!) One thing I recently got on Wish for a dollar delights me. 10 tiny tins of tiger balm for $1. They are adorable, bright red and gold, and it only takes a wee bit of tiger balm to rub on your temples for a headache or use for other aches and pains. I'm going to give some as little gifts and keep some in my purse for when I'm out. I also got a bigger jar and even tiger balm pain patches! Now, mind, there's lots of cheap junk on Wish, but there are surprising name brand things too, lots of art supplies, etc. A great many things that would be perfect for an Emergency Basket.
So that's me for today, bubbles and the Emergency Basket! What have you thought of today that could be good tools in your "tool box" for hard days? Being prepared ahead of the time is an enormous help? Or have you had a happy thought, memory, or experience you'd like to share? We'd all love to hear from you. Leave a comment below and become part of our Search For Happiness Community! I'd love to hear from you.
Have a wonderful day, and if you have some bubbles at hand, blow some now!!!

The Experiment ~A 365 Day Search For Truth, Beauty &
Happiness: Day 1 ~ Introduction To The Project
"Do or do not. There is no try."
Yoda