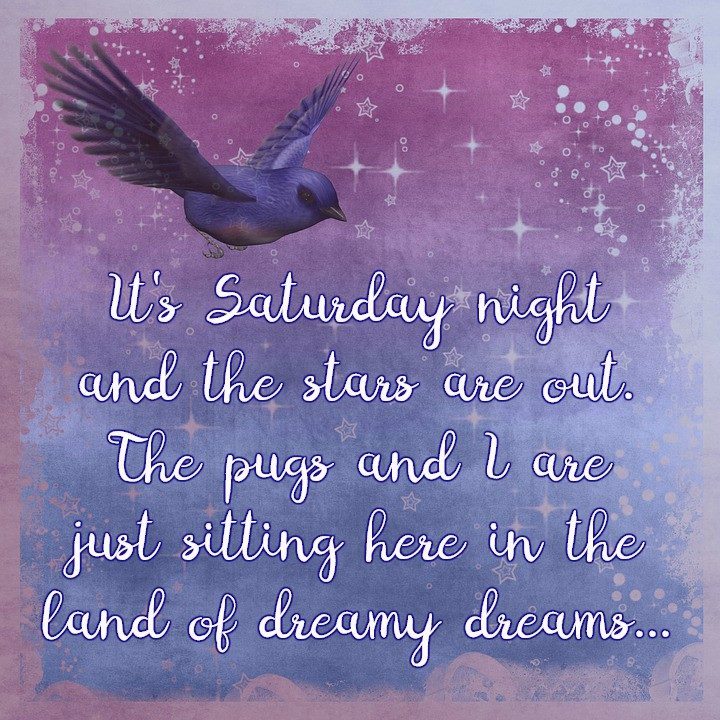 Most Saturday nights now the pugs and I are alone. My dear friend Noni used to be here every weekend but her life has shape-shifted and she can only come once in awhile. I treasure the times she does come but such is life. Saturday days are busy. I worked here all day, dear Eleanor came today to help me with the house, and now it is so silent you could hear the proverbial pin drop. Well, betwixt and between pug snores you could! I have started today's blog post several times, spent hours looking through probably literally thousands of graphics for the post I wanted to write, and finally just let go. I fed the dogs, we went outside, and while they were meandering about I looked up at the night sky. It was like midnight blue velvet with broken shards of sparkling glass scattered as far as the eye could see, brilliant stars in every direction, pure magic.
I came in filled with a sense of awe and wonder. My life is on the precipice of change. Each day is so full and the week-days seem to go by faster and faster. Sundays are the days that sit on the cusp of the week ahead, but on Saturday nights there is a stillness that I treasure. Perhaps it is because my life of solitude here exists in sharp contrast to the rest of the world for whom Saturday night is a night for going out, partying, visiting with friends, being out in the world for many. Here the only sound I hear at night is the ticking of the clock and the occasional yowling of the feral cat who lives just out of sight and beyond reach but whose presence is felt and, on occasion, heard. Last night he seemed to be yowling for hours and I can't imagine why. I turned on the outside light to see if he was okay but he whisked out of sight as I was opening the door. He rarely actually comes on the deck but likes to sit on the roof of the shed across from it. He is a presence here if mostly an invisible one.
Tomorrow I will be working all day here, doing the blog post, working on the Patreon community, but tomorrow night I am going to have dinner with my daughter Rachel and grandson Lucas and I am really looking forward to that. Family times are the times I treasure most but working mothers and teenage children lead busy lives! Tonight I am going to sign off here and go snuggle up with the pugs. We will watch something streaming, I have a free week of Acorn t.v., I love the British shows, and I know I will find something there.
Oh, there is a little girl wanting her Mama to stop here. I guess I shall. Have a lovely night dear ones…
The Experiment ~A 365 Day Search For Truth, Beauty &
Happiness: Day 1 ~ Introduction To The Project
"Do or do not. There is no try."
Yoda