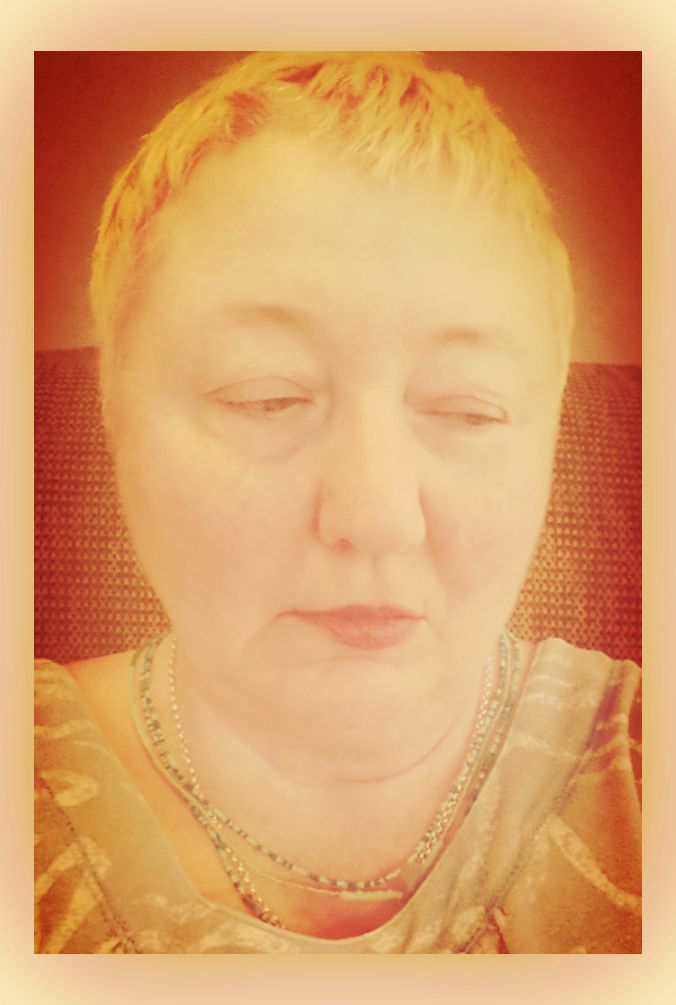 I feel, in light of recent tragic circumstances, the need to say, first of all, that I am not suicidal. That is not an option, though my grief and despair cut so deep now my life is unalterably changed. I know it will ease with time, but I also know that what I say is true.
On February 5 my beloved Dragonfly Cottage burned down. I stood across the street having to be held back by the policeman as I wailed in grief, and screamed hysterically begging them to save my 4 sweet parrots that I had hand-raised and had for 20 years but they died in the fire that night. I have recently found out that while the insurance company will do a good job of rebuilding my house I am getting very little money to rebuild my life inside that house, and I am so afraid about money right now I have barely been able to breathe or sleep. But the worst blow came yesterday. My beloved heart-pug, Sampson, the one out of the 10 pugs that I have adopted that was truly my soul mate, crossed over in my arms yesterday at the vet as I sang Somewhere Over The Rainbow to him, kissing him and kissing him long after he had passed, clutching him to my heart like a human baby, and so devastated after it was all over it was as though the last bit of fight that I had in me left my body. I was his and he was mine. He was my Velveteen Rabbit and I was his. And now he is gone. And so is the last vestige of me that might ever have had a life in the outside world.
I left the world more than a decade ago to live a life of silence and solitude. An anchorite. That is who I am in my deepest heart. I have had small forays out into the world but I no longer have any desire to go there except the very rare occurrence when my animals or I need medical care. When I return to Dragonfly Cottage in 5 weeks I will close the doors behind me. My animals, my garden, and my work helping others from my place of solitude and silence will be my world. Right now every breath hurts.
I have had animal companions my whole life long and been involved in all manner of animal rescue since very young. I have adopted more dogs than I can count and for many years I ran a non-profit shelter for disabled and unwanted parrots that I started. I still had 5 of them with me until the night of February 5 when 4 of them died in the fire. But none, no animal that has ever come into my life, though I have loved, and do love, them dearly, have become the powerful soul connection that Sampson was.
I got a call one day from the pug rescue that I have been involved with with for a number of years now, Mid-Atlantic Pug Rescue. There was a pitiful little boy that had come into the rescue out of terribly heartbreaking neglect and abuse. They had gotten him in good enough shape to be adopted but though he was adopted they quickly returned him saying that he was too needy. The then head of the rescue called me and asked me if I would consider taking him. I had adopted from them before and had long experience with animal rescue. I took one look at this wee boy and fell in love with his sad little picture and said Yes, bring him to me. His name was Sampson. It was September 2007 and he would be the 2nd of 10 pugs I would adopt. Here is what he looked like when he came to me…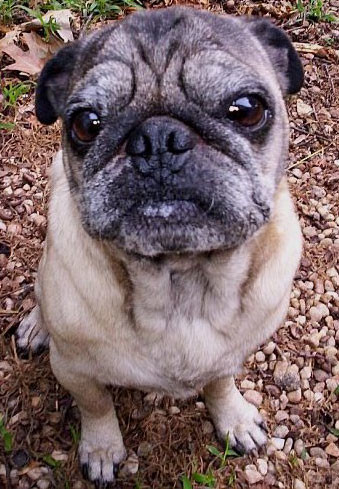 He was thin and sad and frightened but when he walked in the door it was as if a choir of angels was singing. It was love at first sight for both of us, and we were never separated. We fell deeply in love with one another, he was my velcro pug, and wherever I was there was Sam, and the reverse. He soon fattened up, filled out, became secure and we healed each other.  And every day he grew ever more precious to me…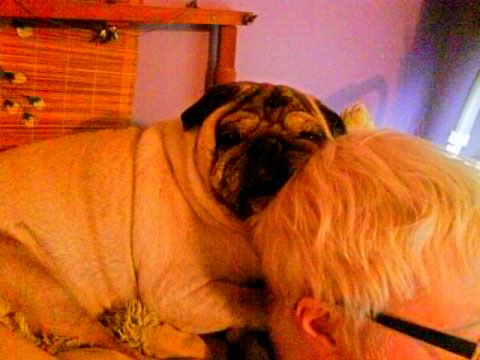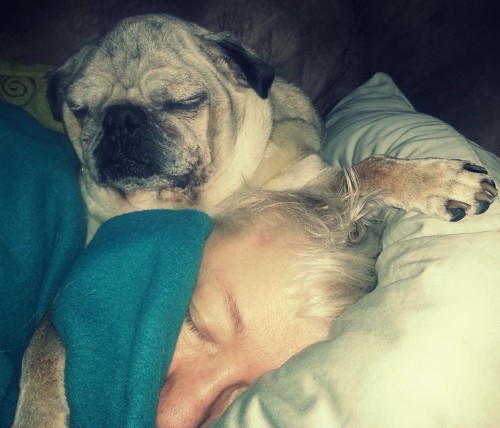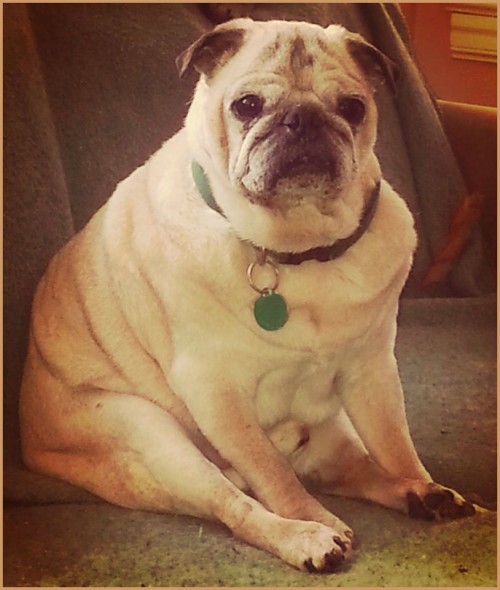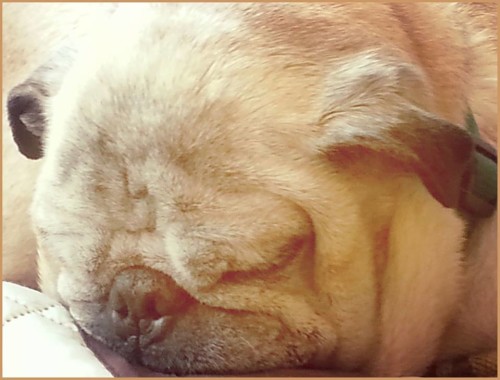 I could put hundreds of pictures of him here, but the last one is most precious to me now and is on the desktop of my computer here. So sweet there simply are no words.
I want to say something profound to honor him, but right now I am simply too bereft to even think. Everything is on hold now until I can get through the next few weeks of working with the insurance company to get back into Dragonfly Cottage and I am so afraid to go back tears are flooding down my cheeks. I will walk into that house without my parrots, most of all I will walk into that house without my beloved Sam. The morning of February 5th I woke up with 5 parrots singing and talking and kissing me and filling the house with such joy, and my 4 beloved pugs romping through the house and in the garden with me. I return with one parrot and 3 pugs whom I adore, I love them with all my heart, but it will not be the same, it will never be the same again. Part of me doesn't know how I will go on but I know I must. And with no inner peace, no feeling of any kind of security in the world I feel like an empty shell barely holding on.
I will pray for strength and I know that God will be with me, I know that my angels are around me, they saved me the night of the fire. But right now I feel dead inside, and everything hurts and I feel so sick and so heartbroken I don't know what to do. I know that I will find a way but right now I cannot see it. I ask you to pray for me and hold my other little ones in your prayers as well. Right now I need a miracle. I cannot see through the darkness just now, I cannot see even a flicker of light, but I have to believe that it is there.
I hate to keep asking for help but please pray with me that help comes. I can't seem to find my way anymore…