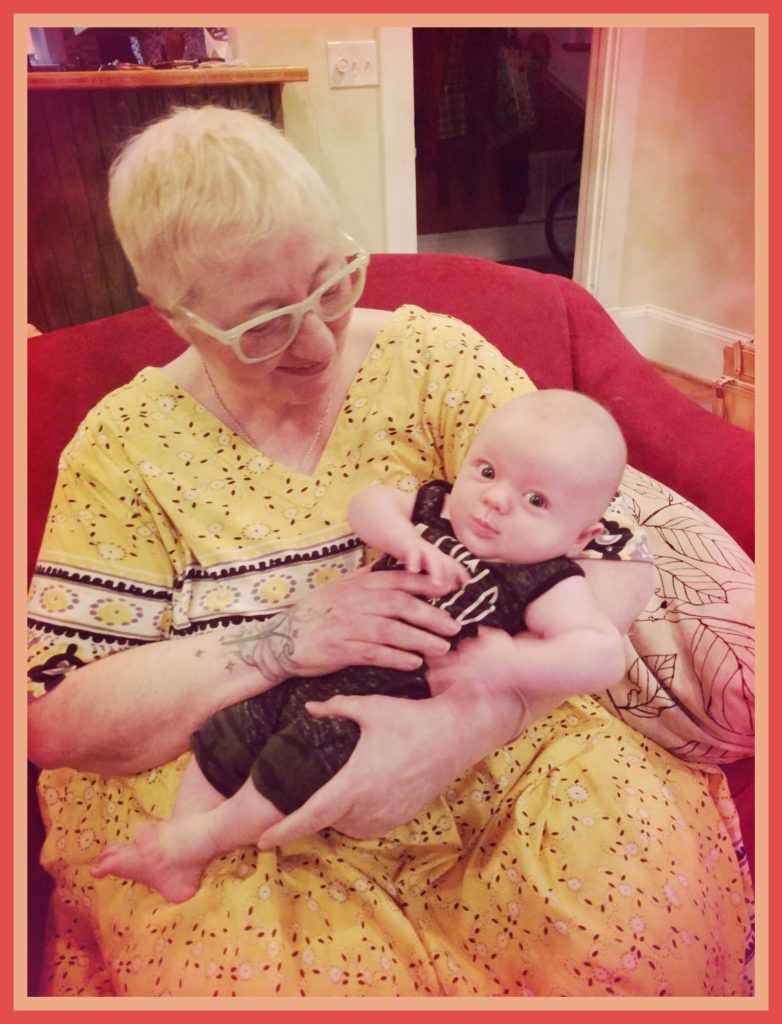 It was something I couldn't understand when my own three children were little. I would hear grandparents gush with love and pride about their grandchildren, if they had them it was all they seemed to talk about. What I felt was that of course I would love the grandchildren I would hopefully have one day, but I couldn't imagine loving them more than I did my own children. Little did I know how swept away I would be by these little ones. Grandchildren are the purest, sweetest, most magical thing in the world to me, it's not that you love them more than you do your children, you love them in a different kind of way. You are awestruck, nearly speechless with a sense of devotion, you feel blessed beyond measure, and prouder of your children than you ever dreamed possible in a world where you were already bursting with love and pride for them. My four grandsons are the lights of my life, they are my angels. And for me there's more.
I was adopted. I remember when I held my first daughter, Jennifer, for the first time, I was absolutely overcome with the idea that this baby was the first person in my whole life who was my own flesh and blood. I felt that way with my other two children, Rachel and Aaron, as well. Now they all three have their own children and what that means for me is a lineage, my children's children. It just about takes my breath away. I am full of love and get almost teary thinking about them.
This past weekend my youngest, my son Aaron, was in town with his sweet wife Stephanie and their 3 month old baby, Atlas, who is above in my arms. It was the first time I met him because they live in Atlanta and I just went over the moon when I held that wee small boy for the first time. He is so soft and has that wonderful baby smell, and he is chunky and squeezeable and kissable and I just wanted to eat him UP! It is so hard to live so far away from the grandchildren who live out of town. My eldest daughter Jennifer has my sweet grandsons, 4 year old Pierce and 1 year old Silas, in Chicago, and that is so far away but they just came home for a visit last month and will be here for a Christmas visit. Never enough, but greatly appreciated whenever they can come. I am incredibly lucky that my middle child, my daughter Rachel, lives here with her husband and my grandson Lucas who is almost 12 1/2. He has been my bright shining star since he was born, I was at his birth, and babysat for him when Rachel went to graduate school, and I get to see him here. I adore him, as I do Pierce, Silas, and Atlas. These boys are the apples of my eye.
I watch each of my children and their wonderful spouses parent their children in the most loving way and it touches my heart so deeply. I cherish each one of my children and we feel very fortunate that all three of our inlaws, Jeremy, Andrew, and Stephanie, are such beautiful people, we love them dearly. Watching them shepherd the boys out into the world from the safety of their loving homes is a deeply touching thing. Seeing them find their way as parents, make decisions about how they will do things, observing them as they tenderly care for their little ones just fills me with such pride. In the midst of my life which can at times be very difficult living with bipolar disorder my family represent the stars in the firmament of my life. My children are the bright, shining stars and their children are the twinkling lights around them. They are what I hold onto on my darkest days. Their light shines on my path and helps me believe that everything will be alright. Our children and our grandchildren are the future.
I will carry this weekend in my heart for some time and remember holding little Atlas, nuzzling and kissing him, and sitting next to sweet Lucas at dinner, and the visit last month with Pierce and Silas. There is never enough time to be with them all but I treasure every moment that I have. Being a grandmother is one of the greatest joys in my life and watching these little boys grow is one of my deepest pleasures. I will revel in watching them, and being with them when I can. I am deeply moved just sitting here thinking about them and when I will see each of them again.
Finally the grandchildren help form the web of family as it extends in every direction. Last night my ex-husband was there, as was Rachel's husband Jeremy's father, and Stephanie's father and brother. I felt a kind of warmth spreading around the room at the dinner table, a warm glow, real love and caring, and it was so sweet I am still smiling about it today. Aaron walked me out to my car and said we need to Skype so we can be in closer touch and I am looking forward to that. Watching my family even if from afar is a blessing indeed.
And so I will head to bed now, tired but happy, and I will be thinking of my children and grandchildren. My heart is full. There is nothing greater than this…