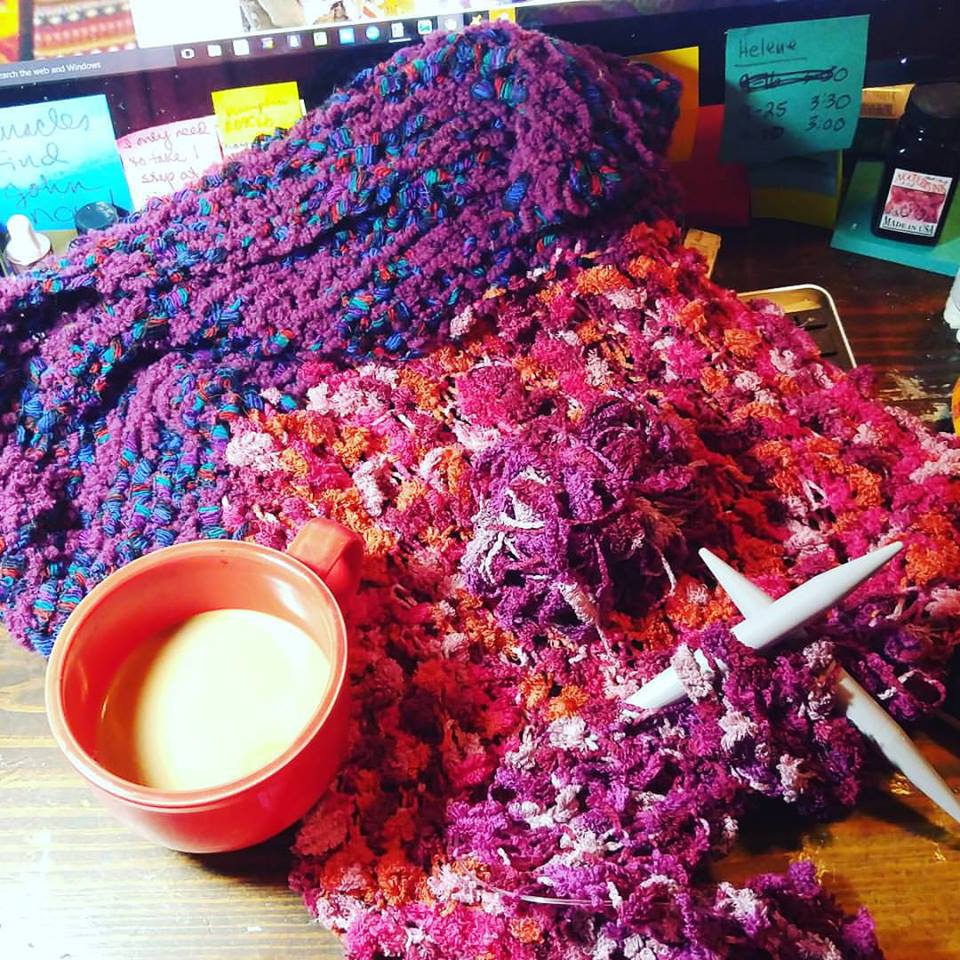 We are in the middle of several days of activity from Hurricane Joaquin off the east coast of the United States and hitting the Carolinas especially hard with torrential rains leading to flooding everywhere. Thank God we are safe but it will wear a body down constantly watching the weather channel, and cleaning up after the 4 pugs who do not believe dogs were meant to go out in the rain (Thank God I have no carpet!), and in the middle of still fighting a skin infection all over yonder which is miserable but being taken care of, it would seem the challenges might have put me under the table. In another time it would have. For me it comes down to choice, and mindfulness, and I am safe and not run out of my home because of flooding thank God.
I started the day taking care of what needed taken care of body-wise, rushing the dogs out when there was a lull in the rain and feeding them, and finally settling into activities that make the indoors a delight even as the cottage is being pelted with heavy rain, wind, and wind-chimes clanging loudly in the breeze. I started working on my shawl, above, whose yarns are beautiful but very loopy and constantly getting hung up or tangled or stitches being dropped, sigh, and finally took the last 2 rows off and crocheted the end closed so that now I will have a wonderful tea cloth or cozy if I sew it up. I then got out my collection of gorgeous, whimsical hand-carved crochet hooks and spool-knitters which I collected for years made by the wonderful fiber artist Noreen Crone-Findlay, and I am beginning to crochet.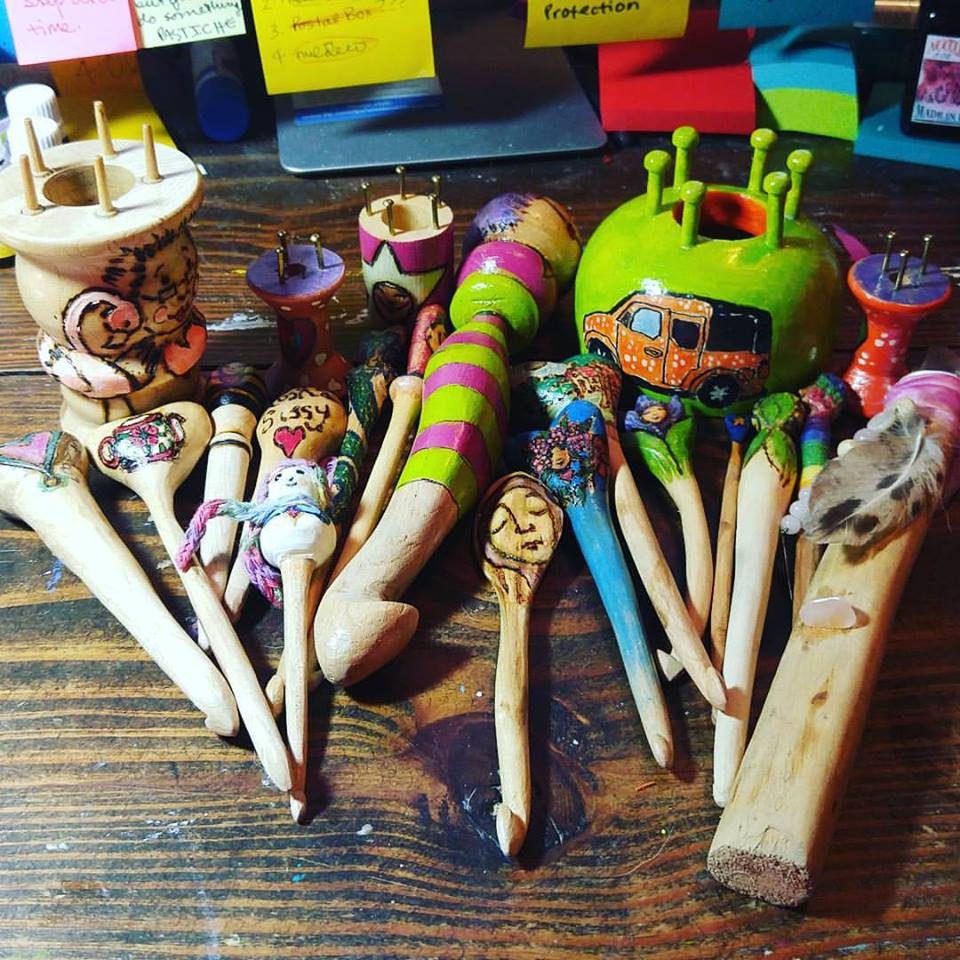 I am working on making a few things as prototypes for holiday gifts so I can get started and not be at the last minute losing my mind (because I waited until the last minute!). There is nothing like crocheting lovely yarn using hand carved and painted tools that are pieces of art in and of themselves. And I am using one of Noreen's spool-knitters, the one she made for me several years ago when I got my bright orange Honda Element, to spoolknit an eye pillow that will be stuffed and laced with essential oils for soothing rest. I am a fiber artist from way back but I stopped with everything being up in the air the last years. I am getting back to it because it is a deep love. Here is a closeup of the spoolknitter I am using…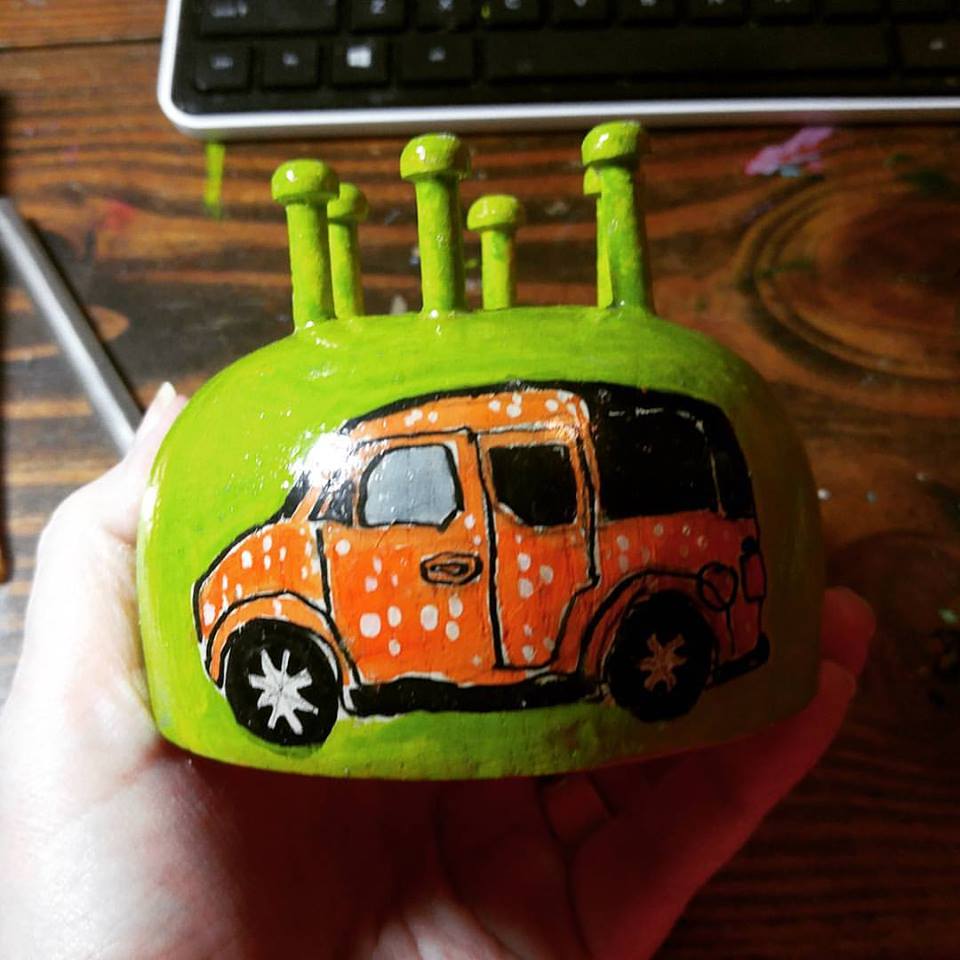 … and the spoolknitting begun with a super soft, sky blue, velour yarn…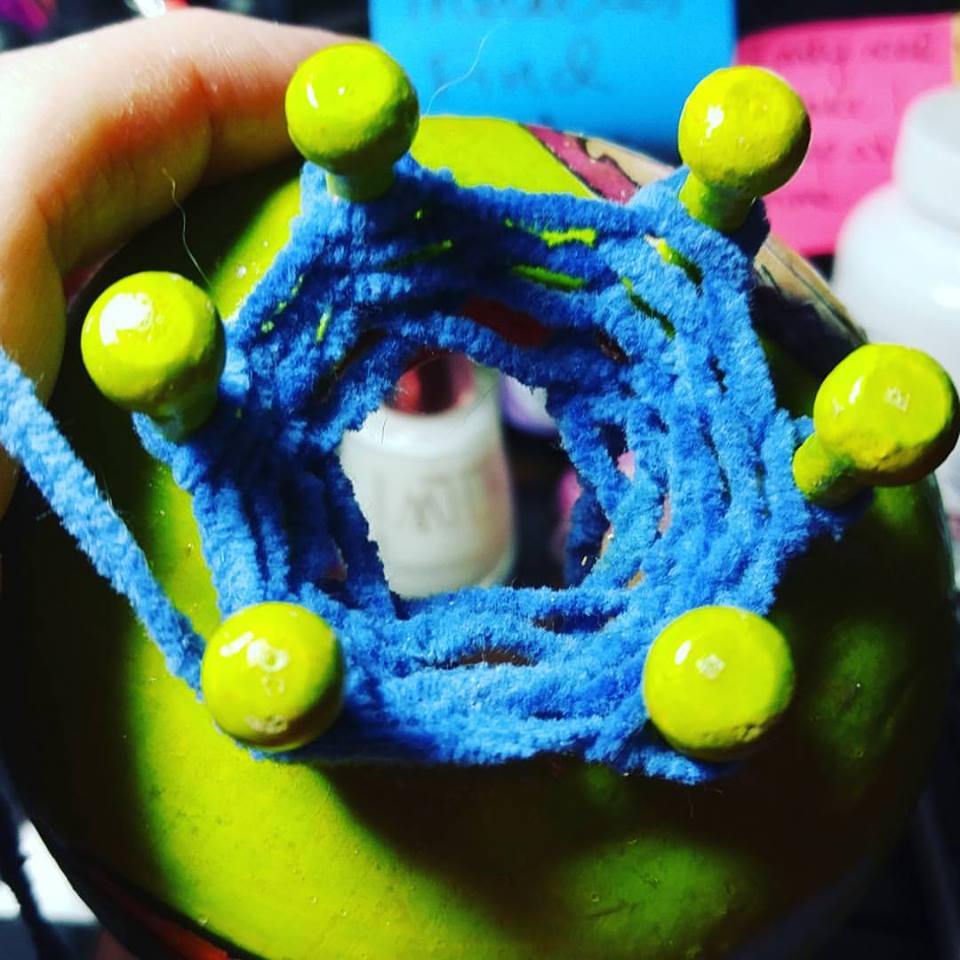 In addition to working on fiber art projects, mopping floors, stuffing myself full of probiotics, supplements, and other healing things downed with plain kefir, I finished 3 new pages of Pastiche for the November issue making 40 out of 60 pages done. It is such a deep thing for me to be creating these pages, and The Pastiche Community is now open on Facebook as a closed, private group for subscribers only which is just lovely.
It is now nearly 10 p.m. The rain falls steadily and I am surrounded by sleeping snoring pugs and the long, deeply toned wind-chimes create a cathedral sound that is soothing. The rain will get harder again but now is that calm between-the-whiles kind of time as I think over this day that has been full of challenges, but challenges met and choices made that kept me moving forward and getting things done. We always have choice, even if it is just how to handle the seemingly unhandleable. I learned a lot about that after the fire, living in a small rental for 8 months, nothing as it should have been, disoriented, confused, heartbroken, and bereft, that if I just take one day at a time, practice mindfulness, and use what I have at hand to keep me engaged with the present moment I can make it through. It has been a fibery sort of day, a writing day, a Pastiche day, and certainly a puggy and parrot day. Too it looks like another parrot in need of a home might be on the way. Never a dull moment.
I am sending you love, and holding you close in my heart and prayers if you are in the path of Hurricane Joaquin. Be safe, be well, and celebrate each moment along the way. It will save you, I promise you that. It has saved me…