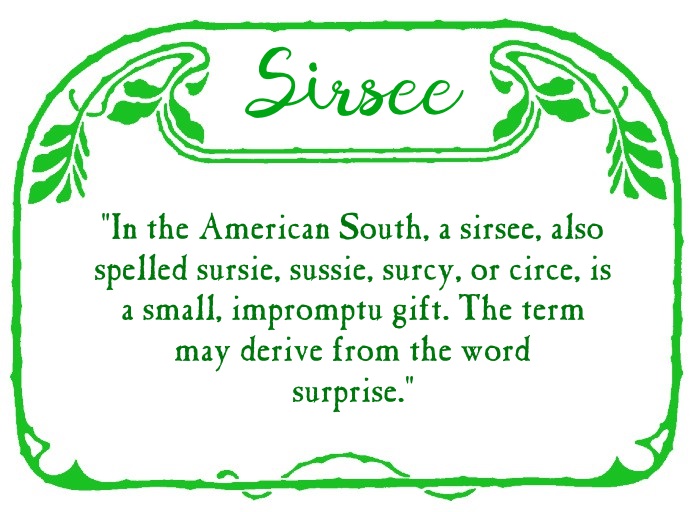 Last night I learned the most enchanting word from my dear friend Noni. She and I have been getting together for several weeks now to cook together on Saturday nights, to enjoy a meal, visit, maybe dance, listen to Bossanova or other wonderful music, sip a little wine, maybe watch a movie. Last night we played Scrabble and she taught me a new word, sirsee. I am absolutely captivated. And it is so like Noni who herself gives precious little surprise gifts here and there, wonderful finds from thrift shops or wherever she might go, often just leaving them on the doorstep like a fairy leaving love and magic in her wake. I have been the recipient of many lovely things from Noni, perhaps paints or canvases she finds and knows I will like, once the most enchanting seahorses, a favorite oversized cup with the Phoenix on it for my birthday. I have learned so much about kindness and generosity from Noni.
Too, it has opened up a stream of longing and wistfulness inside of me, to be the giver of sirsee, small, inexpensive gifts that are surprises coming perhaps just at the right time when the recipient needs a lift, or remembering a birthday when others may forget, or just adding to the occasion. Life is so full of so many things that are so hard, the days can be brutal at times. Imagine receiving a sirsee just at the moment you thought you could bear no more.
And further, it has made me feel very tenderly toward the south. For all that might be said about it there is a slow, gentleness here. I did not grow up in the south but I moved here when I was 26 years old, then to Virginia, and to North Carolina 11 years later. I have been in North Carolina since 1992 so I have spent more of my life in the south than in the midwest where I grew up. I am now 62 and I will spend the rest of my life here, something I never really considered in years past but wherever you go there you are and I am here, by choice, by chance, by circumstance.
I am at the point in my life where I am making decisions about the rest of my life, how I will live it, what I will be doing, and whom I will be doing it with. I turned a corner somehow when I invited Noni to join me one Saturday night several weeks ago to make dinner. As we were finishing I said, "This was so much fun I could do this every week," and to my delight Noni countered with, "Let's!" And so we have. It makes me realize that I want to spend my time with people that I care about and cherish, people that I love and admire, people that I want to help and to learn from, people to whom I can give my own sirsee, my own gifts, and offer them all the unexpected magic I can muster. When we give sirsee we change the tides of the person's life, even if just for those few moments. We can make a lasting change with a small gift. I want my writing and teaching to be just that. How shall I begin?
I am working now at gathering to my heart all the bits and pieces that I can put together to make a class that will touch women's hearts, women beyond the meridian of midlife, (though younger women are welcome, this will be my focus), women who are approaching or celebrating the golden years when our gifts of a lifetime are the most potent and sure, when we have lived, walked, and cultivated the gifts that we have to give for decades. The recipients of many sirsees we can now be the bearers of gifts. It is a time of giving back, and I look so forward to it. I see it as a time of gathering riches and spreading them around, fertile ground for growing love in every direction.
As I go through books and memories to the things I have learned over four plus decades as a writer and teacher of journal writing classes I am amazed at how much time has passed, how swiftly it has flown, and what I want to do is to slow down time by taking this moment, this very moment, one moment at a time. I have no idea how long I will be on the planet but I have control over the moments that I do have here and I want to cherish them. Can I teach others to do the same? Will sirsees pop up everywhere when we slow down enough to really see, feel, and experience them? I think more often than we realize they are offered to us and we simply are not present enough to receive them. They may not come in a box but perhaps from a heart reaching out to ours. I, myself, want to be awake enough to receive them. I want others to be awake as well.
So in the time ahead I will investigate the best ways to shape this work I want to do. I will gather small gifts to give to people when the time is right. Sometimes it may be a word or a hug, I think a sirsee can take many forms. Tonight this post is my sirsee to you, full of love, sending you blessings and wishing for the best of everything for you in the days ahead. I hope you will accept the gift, from my heart, to yours. Bless you dearheart…
Warm Regards and Deepest Blessings To All,