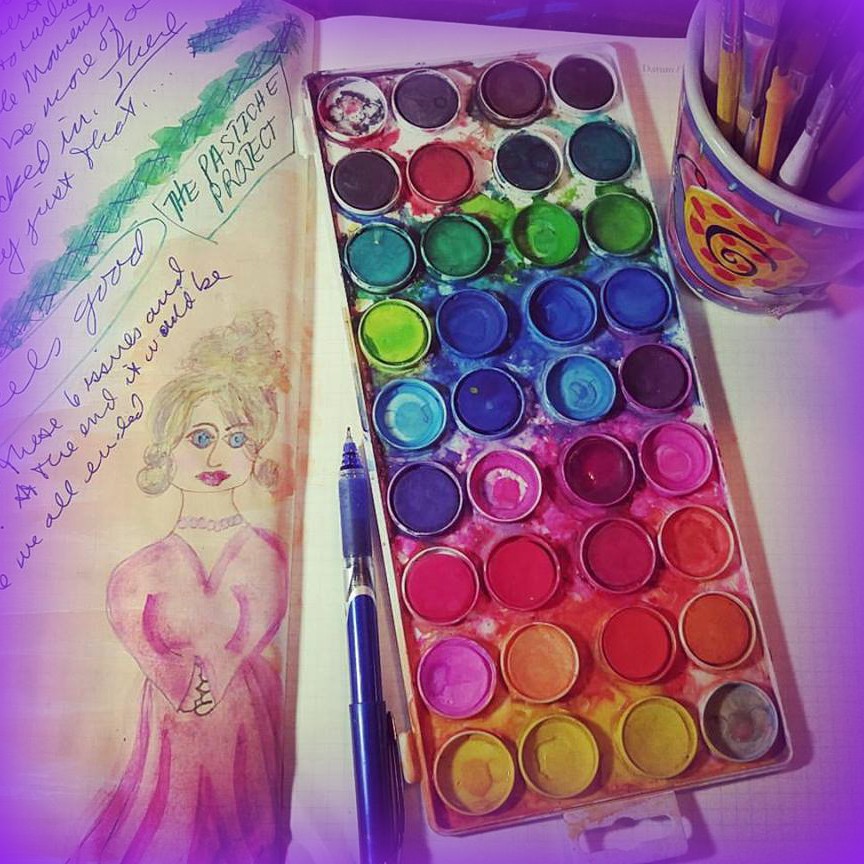 The last few days I have been riding waves of creativity that fuel my work and ease my heart. I have started doing little watercolor drawings in the journal again — this brings me great pleasure — and I have conceived a knitting project that will utilize my "Knitting Without A Destination" pieces.
As I have written before in order to unwind my tightly wound bipolar brain I always keep knitting nearby. It is very relaxing and soothing and it must be easy. I cast on 15 stitches from any ball of yarn I happen to pick up around the house and like, and then as I need to I pick up my knitting and knit a few rows. I will knit my way through the ball, usually one that had previously been used in part for something else, to the end, and either find some often odd way to use it or unravel it and begin again. The point is to knit without pressure and certainly without following patterns. The mind needs to simply drift and float as you knit the stitches. Today I started knitting a color blend I call Pumpkin Spice (Inspired by the Pumpkin Spice Latte I was having!)…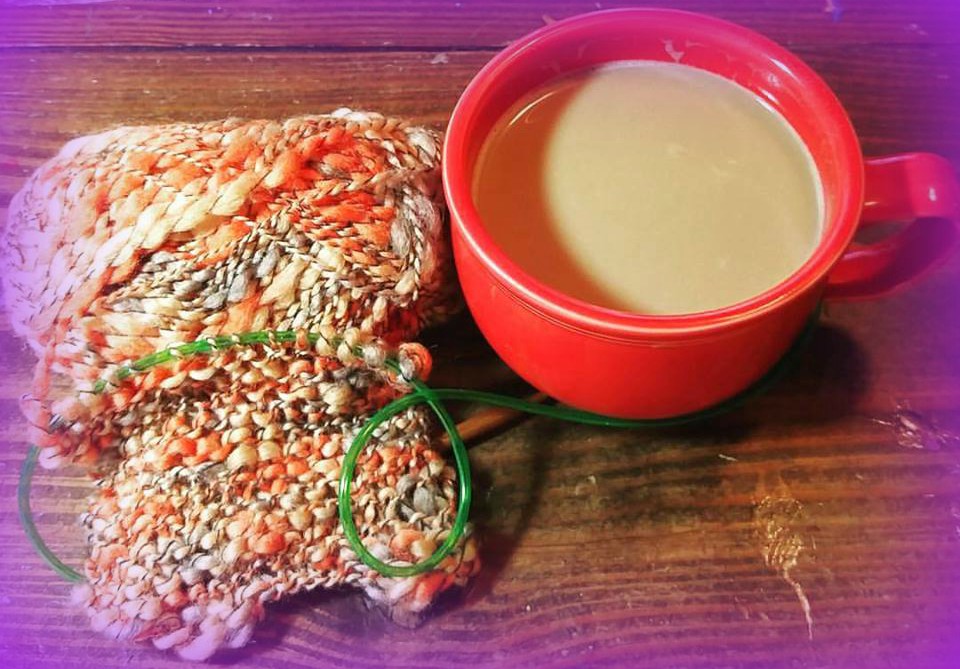 Previously I had knitted a piece of red chenille that was left from finishing a blue chenille piece. (You will see all of these a few entries back here on the blog.) It was when I finished the red piece and didn't really know what to do with it that I started getting a funny little inkling that I might be able to use it for something so I rolled it up and put it in my knitting bag and pulled out the Pumpkin Spice yarn. Not long into knitting this piece I thought, "Cowabunga! I can just knit these pieces and then fit them together in some way and sew them together so that they make a crazy *quilt,* a knitted one, and I can then embellish if I want to, crochet a border, really have fun with it. So *Knitting Without A Destination* and *Random Acts of Knitting* become *Crazy Quilt Knitted Pieces* and it turns into something that is relaxing in the doing but exciting in the long run. I am a fiber artist after all and I like to make finished pieces as well. Here, by the way, is the red chenille with this pumpkin spice…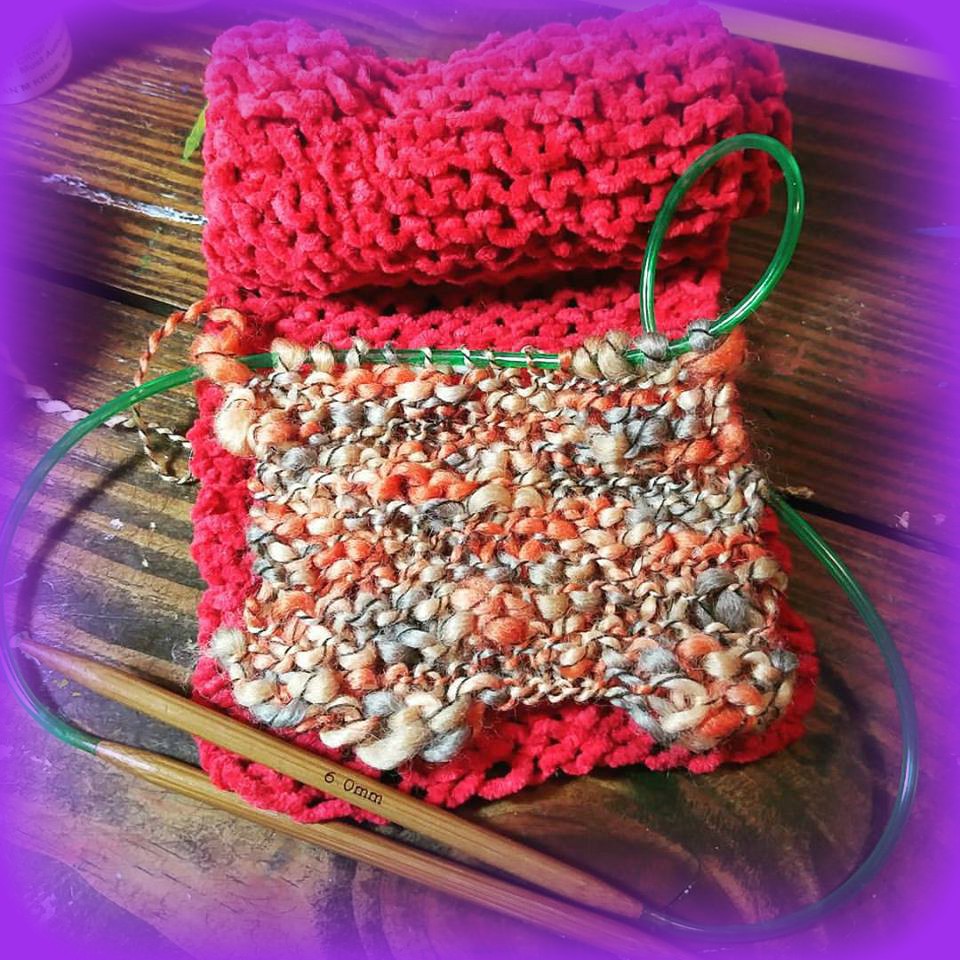 From knitting and doing my other work I go back to the journal and write and paint some more, doodling and playing with watercolors as the Muse moves…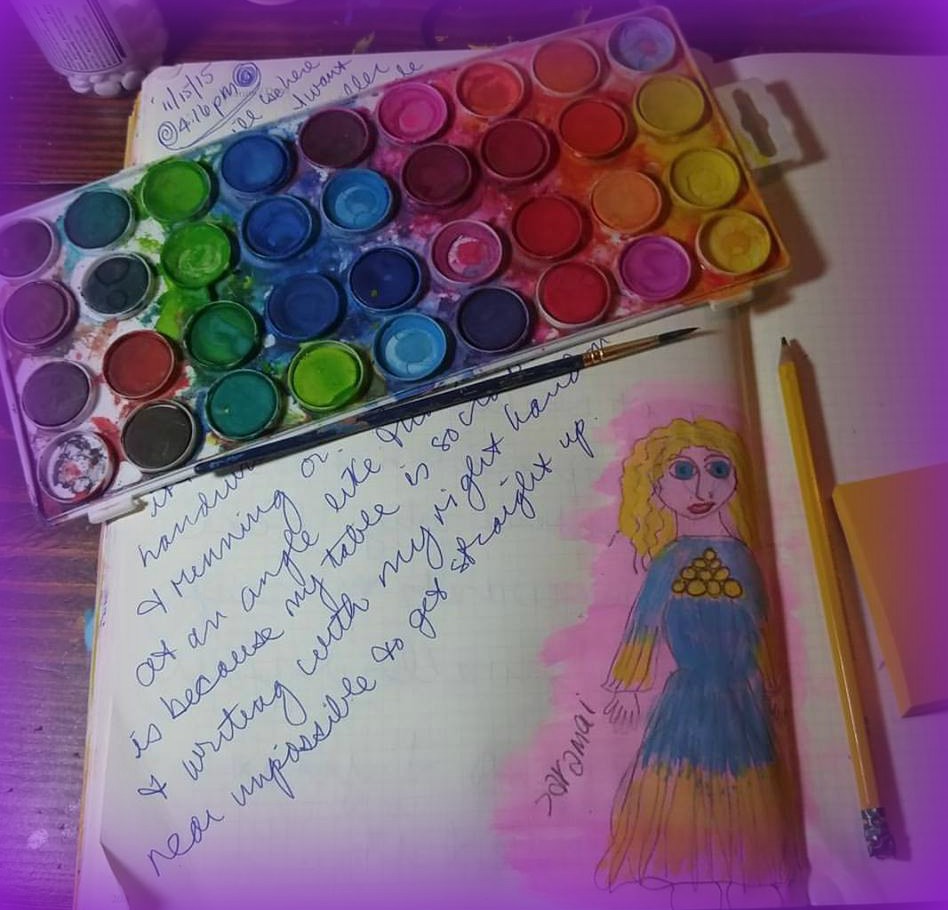 And this is where the waves of creativity will move one forward endlessly from one project to the next in a round of pure pleasure and endless delight. As I am a writer I can tell you than in the days I just sat writing a book if I hit a wall it nearly undid me and I fought it and my brain screwed all up but it needn't be that way. When you work in different streams of creativity – journalling, painting, knitting, crochet, collage — whatever you enjoy, then when you get stuck in one mode you simply put it down and pick up another, and one will float you into the next, and your brain relaxes and expands and all of those stuck places become portals of greater creativity, one unto the next. The answers that wouldn't come in your writing are guaranteed to surface when you are doing something else because it's all part of the creative stream and little windows and doors just pop open everywhere inside as you are gliding from one art form to another.
I am getting ready to feed the pugs and come back and work on a new page for Pastiche, my bi-monthly zine. Then I plan to journal and paint more. Knitting will pop up here and there, and will likely circle around to another page of Pastiche. I am floating on creative waves today and it is keeping me centered and far more peaceful than I started out today. Once I step into the flow it carries me where I need it to go. And I don't have to plan it, once you are open to it and have your supplies and projects nearby you just move from one to the next with ease. Your creative brain will move you where you need to go next without even thinking about it.
So off I go and on into the rest of the evening. I am drifting in a blissy state and it feels lovely…