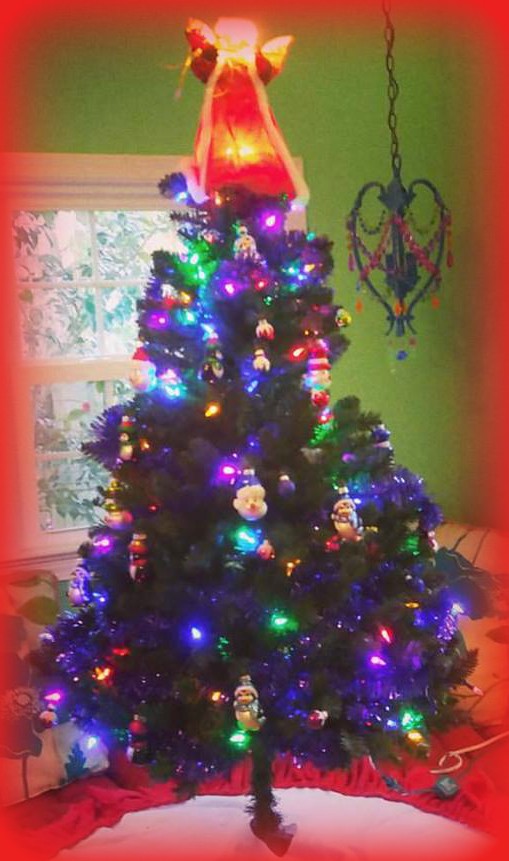 Today I put up my Christmas tree. I am giddy just like the little girl I always am at Christmas. And at the same time today I got it up because a very dear friend that has come back into my life and I talked about Christmas, and making it special, how different it is now that we are older, and how we would put our trees up today. We talked about sadness that arises during the holidays, and how things are different when you are older and the center of the holiday isn't your home, and all of the Christmas traditions that have passed out of our purview or out of our lives. The conversations that we've had over the last couple of days got us going and we BOTH got our trees up today and are delighted that we did so. Today we talked about driving around to look at the Christmas lights at some point over the holidays. What a delightful idea. The holidays needn't be sad simply because they are different and new traditions among friends can be started to fill in the gaps where once other things took their place.
And Christmas Carols. We talked about how we listen to Christmas music. I used to have quite a collection of Christmas cd's and I have no idea where they are now. Probably lost in the fire last year. But that's okay, you can listen to Spotify or one of the other internet stations or do what I do which is to find favorite songs on youtube. The Celtic Woman Christmas cd was always one of my favorites, especially "O Holy Night" and here it is now…
And you can find some collections of Christmas music on youtube that are hours long and just put it on. It goes great with the fireplace I showed in the last post. What are some of your favorite carols? I love Christmas music, it makes me feel joyful and lifts my heart up to the heavens.
What other things can one do through the holidays? A dear friend and her mother knit shawls for The Prayer Shawl Ministry through their church. That's something I would love to do some day. Other people knit scarves as a comforting gesture for women in need, and there are caps knitted for women who have lost their hair to cancer or premies at the hospital. These things are a wonderful gift at Christmas time and I think one of the best ways to get through the season is to think about how we can give, of ourselves, through the weeks ahead.
I would like to bake this year. I haven't done it for 2 or 3 years now and am a little afraid about it. I won't push myself but if I can do it I would feel delighted to have cookies for my family. I lost all of my cookie things and my special cookie cookbook in the fire but you can look up recipes on the internet or Pinterest. I have a big Christmas board on Pinterest with lots of handmade ideas and food and so forth. You can click the above to visit there. If you have special Christmas boards or blogs leave me the info. in the comments below.
I hope you are all getting into the spirit of the season. We've only just begun but I am really excited. This year we've a new baby on the way to celebrate over the holidays too. So much joy to share with loved ones. Tis the reason for the season as they say.
So I'm decking the halls as best I can, gathering my merriment where I may, and enjoying Christmas as it comes with the mellowing of the years and dear friends who knew us when. There is no Christmas like the one we create today…