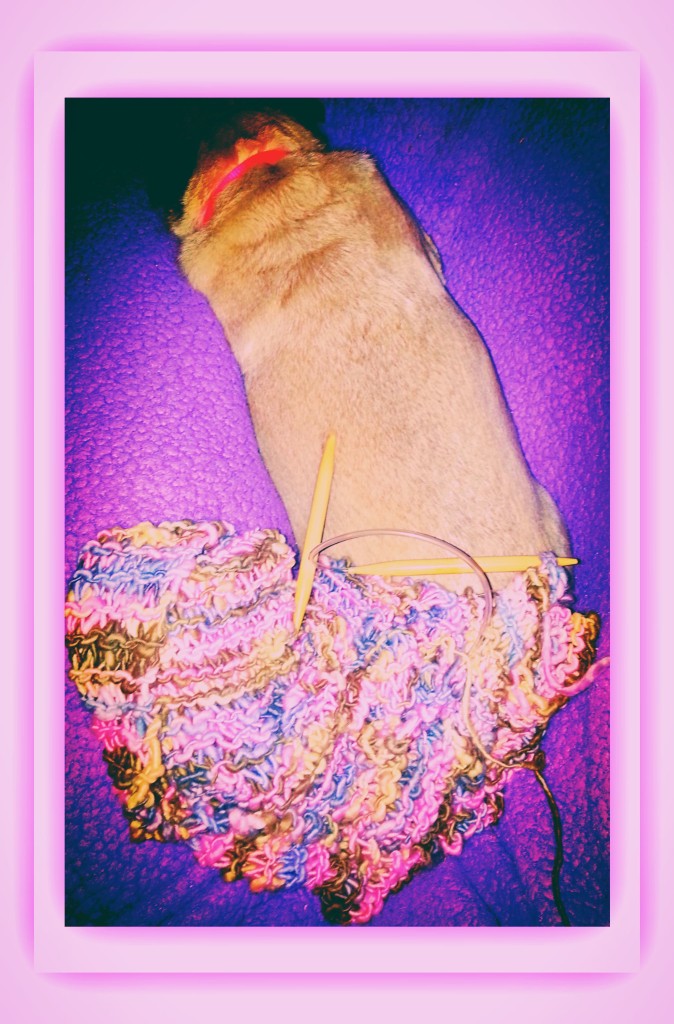 One of the things that I talk a lot about is that I have a lot of self-care practices in place. Being with my animals is one, knitting is another. And I had a very odd thought just as I was about to write this post. In as much as living with my bi polar bits jangling around from time to time makes life not especially comfortable the very fact that I am bi polar makes me be hyper aware of the fact that I better stay on top of things or I will go swirling down the drain with the last of the bathwater. I choose not to go that path even if some days I feel like I am hanging onto the stopper chain with all my might.
Today has been a good day, a peaceful happy day, a quiet day. I am not as far along with my work this weekend as I'd hoped but I am moseying along at a fairly steady pace. When I hit a bad patch I just pick up my knitting which is always right next to me here at the computer and I tell myself "Just 24 stitches and you'll be fine."
Now don't ask me why 24 stitches because I haven't a clue. The thing, you see, is that one day I decided I missed my fiber art terribly. I am a fiber artist with every kind of fiber tool known to modern fiberwoman, or thereabouts. I knit, crochet, weave, spin, spoolknit, I hand-card wool, I make batts which I love to do, and I think I have a few semis full of fiber in tubs in my garage and shed. I have about that much yarn too. I thought I would make my living as a fiber artist but while I really loved it it became apparent that the process was too slow for me to produce enough fast enough to earn a living with it. I am not a production artist and made big pieces of fiber art that could takes months or longer to finish. Wonderful work, but it just wasn't going to support me. I started flailing about in terror over how to make an income and put all of my fiber things aside, some packed up and out in my shed or garage to make room for other things, and I didn't realize that I was unravelling faster than a ball of yarn thrown out of a moving car. I need my fiber work. It needn't be anything special and certainly not something to make money with. (I said some time back that I was going to get out all the yarn and just knit my way through it all over time and open up an etsy shop and… Those are the kind of things that occur to me when my bi polar bits are on the teeter totter, sigh…)
The thing is I have been running scared for so long I would try all different sorts of things, go full tilt into a manic state in utter terror spending every dime I had and some I didn't have. Bankruptcy, while sadly not an uncommon thing for people with bi polar disorder to fall into, is not a pretty thing. However not being able to have credit cards has really saved my life because there is no way for me to have an idea about a business I'm going to start and go full tilt into buying everything known to modern man or woman that I think I might need only to cast the business idea away faster than the packages arrived from eBay that contained all of the accoutrements I was absolutely positively sure I needed for abovesaid business that didn't happen. Let's just say one brief look around here, in my little garage, or 2 sheds, and you will see that my living Zen spare isn't likely to happen in this lifetime.
It was an absolute revelation when I realized that I could actually just do something because I enjoyed it without opening a store in my house to justify doing the thing. I could, say, just pick up one ball of yarn and knit. Just like that. No plans for an etsy shop, or knitting my way through the 176,000 balls of yarn that are very likely out there. One ball of yarn, one pair of knitting needles.
I didn't trust it at first. A minimalist I'm not, though I have bought pretty well every book on minimalism there is. I love the idea, part of me longs for it, I am absolutely in love with tiny houses. Oh, tiny houses. I subscribe to every tiny house newsletter I can find, I watch all the videos, I "pin" them like mad on Pinterest. It's one of my favorite boards on my Pinterest page and for once I think I can say with a fair degree of certainty that the fact that I have, currently, 105 boards on Pinterest, 16,936 pins, 15,493 likes, and 11, 193 people following me on Pinterest does not indicate that my bi polar bits are having a field day. Pinteresters are all crazy as loons pinning night and day. Just look around. For once my mad obsession with something I have fallen in love with makes me in with the in crowd and that's a first! Why, if you ask me, a good many Pinners are just bi polar wannabees. Even I can't keep up with them. And, ahem, I just have to say that it tickles me to bits that some of the advocates of tiny houses seem to be sitting in their tiny houses pinning like mad all over the place. We all secretly have great big lusty spirits wanting to do something with wild abandon!
I'm so sorry. It seems Lucy and Ethel kind of ran away with themselves when we got to Pinterest. I should never have started down that path. I kind of like to think of my "bi polar bits," as I call them, like Lucy and Ethel in that famous scene in the candy factory where they start okay but the thing just goes faster and faster and they are eating the candy, stuffing it down their bras, falling all over themselves, and going haywire. If you see me running far afield here and there I apologize, truly, but Lucy and Ethel will have taken over and I'll do my best to reign them in. Often I delete those bits when I'm editing. Sometimes one of the girls is still just enough awake that she will hit *Publish* before I can edit the embarrassing runaway bits out. I sometimes even go back and cut things out the next day. I have even gotten up in the middle of the night in horror realizing that I should take something out which unnerves the pugs no end. When I jump up in the middle of the night, tossing pugs in every direction, galloping to the computer like a racehorse to edit out the superfluous nonsense (Like these last 2 paragraphs or so.) it does not make for a peaceful night, but that's just the way it is here.
Oh, that's right, 24 stitches. Now do you see why mindfulness is the most important thing for me to do in my life? They say we teach what we need to learn. I am writing these entries, which will eventually be edited down to a book, to hang onto my sanity!
I actually just let my writing have free reign here, and will not edit all of the superfluous bits out, because I want you to see what happens for me. It also happens for a lot of people who aren't bi polar. Perfectly normal people have brains that will get the best of them. It's why someone came up with meditation a million years ago and why the practice has survived to this day, and why there are more books about mindfulness out than you can shake a stick at. We need them. The human brain at best is an unruly animal. Start practicing now while there is still time!
So, there I was, with one ball of yarn, and one pair of needles. Circular bamboo needles, size 15, and I just thought to myself "I will cast on 24 stitches and just keep going…" I thought of it as knitting with no destination. It felt very zen to me. And it fell right in with my mindfulness practice. When I begin to get very afraid, or panicky, or Lucy and Ethel start to run amok, I sit down, take a deep breath, pick up my knitting needles, and start. "Just 24 stitches," I tell myself, "just 24 stitches, and you'll be okay." And I am.
There is something magical about knitting. It is as though it was created by the same person that created meditation which makes me wonder if it wasn't a shepherd that started it all? That would make perfect sense to me. You can't knit and not find yourself relaxing, falling into rhythm with your breath, letting go of everything and finally there you are, sitting in the present moment. No past, no future, just the next stitch, and the next, and nothing else in the world exists in that moment.
I bet Buddha was a knitter. No one will convince me otherwise. That makes me smile, and in this very moment I feel completely at peace. As soon as I sign off here I am going to pick up my knitting and go back and forth, 24, 24 , 24, 24 and so on until everything in me comes to a stop. That, my friends, is nirvana.