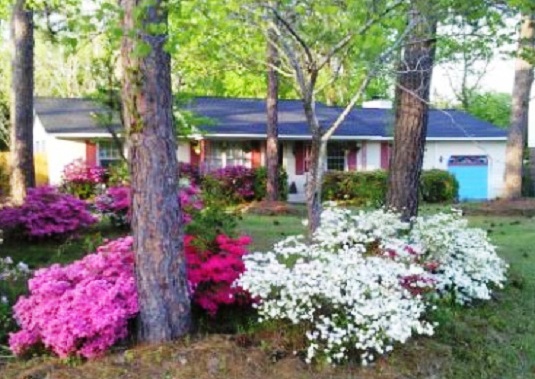 Dragonfly Cottage, May 2010
What is most startling of all is that looking at this picture you would not know that a whole life had been built and lost here. We have had a warm winter and even the azaleas are blooming already. This is a picture of the little house I fell in love with in the fall of 2009. When I was able to buy a house in January 2010 it was still available and I was ecstatic. I had the yard fenced for my dogs and moved in February 1, 2010. I had a new roof put on and the front door and garage door painted sky blue, the shutters the color of the adobe homes I loved in New Mexico, and I started to build what would become a magical world in my dream home and garden out back replete with a life size Magic Ship. But almost 4 years to the day, February 5, 2014, after an ice storm, the house burned down, and a week later in another ice storm a tree fell into the Magic Ship and destroyed it. In the blink of an eye my beloved Dragonfly Cottage, and the storybook life I had built here, was gone.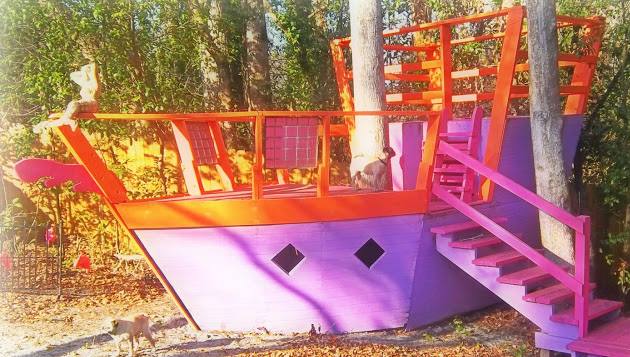 The Magic Ship
The thing is, you see, that even though they did demolition from the roof down, everything inside was gone, it was an empty shell, because it was a brick house on a concrete slab they rebuilt it and the outside looks the same, but inside those four walls the life I had carefully and lovingly built was gone. And because I was gone most of a year while they rebuilt the house the garden was all but dead when I returned, the ship was gone — they had torn it down and hauled it away — and I re-entered a house that looked deceptively the same from the outside but it was radically different inside. It had been a 1970's house and all of my furnishings were older vintage and antique finds. I moved back into a house that looked brand new with everything new inside. A beautiful house, I'll grant you, but not mine. And most of my fiber art and tools were destroyed, my beloved kitchen which had looked for all intents and purposes  like a dollhouse with an old vintage high-backed wooden booth, and high shelves that went all the way around the kitchen filled with my collection of antique and vintage teapots, everything in the kitchen where the fire started was destroyed. Gone. And most of all my 4 beloved parrots that I had hand-raised from babies and had for 20 years, the little ones who sang to me and talked to me and gave me kisses, died in the fire. I was simply devastated, the loss of the material things didn't matter next to the loss of my little ones, but it was all such a terrible loss I couldn't breathe, and when I returned I went into deep shock and denial. Not only was everything that I loved about the place gone or different, but I had no money to rebuild the dream I had built, I lost the business I was creating, and the dreams I had for my future which were seated in all I had dreamed into being in my beloved Dragonfly Cottage. There was no way to begin again, I could barely survive.
I have spent the last 3 years trying to piece together a life. A life with no health insurance, eliminating everything that I possibly can, finding out what I qualify for for help with medical costs — I don't qualify for most things — trying to figure out how to survive as someone with a mental health condition who cannot work outside the home and who doesn't qualify for disability, and on and on so that taking time to grieve lost dreams was not a luxury I had. I was literally in survival mode and to a large extent still am. I didn't know if I would lose my home, tried to sell it, and ended up doing a reverse mortgage to stay here. That puts me in this house for almost twenty years but money to live on is very tight. I am not complaining, it is merely a fact. And it is the reason that I have got to start a business from home. And now, with the reverse mortgage, and some degree of stability, I am able to stop, take a breath, turn around and look back and say, "What happened to me?" While obvious to everyone else that there had been the fire, most people I think can't understand why I "haven't gotten over it" by now. I haven't gotten over it because all of the lovely things I built were in the background. Survival was key, and it has been hard.
Now, I am taking a deep breath. I have to say to myself, "Okay, things are very tight, a lot of things are gone, much has been lost, but we have a roof over our head and food to eat. I am learning how to survive, and I am ready to move on. I am still, in my deepest heart of hearts, who I have always been. I have these gifts, and I want to do work that both supports me and helps others, how shall I begin? And I am beginning.
I am taking Marie Forleo's B School again because it is something I paid for in 2013 and never finished and can take again for free and it might help me now. It is a business school for those who want to have heart-centered businesses. It is an excellent business school. I am taking it because I am a creative person whose strengths lie in creativity, not in business, and it has been the downfall of every business venture I have ever tried to start. I have this big heart, I want to give it all away. I can't do that. If I can offer something of value that make's people's heart sing, makes them feel loved, and supported, and cared for, then I can expect to offer something and be paid in return. This is a new concept to me and a scary one. It is not comfortable. I am from the hippy era of free love and giving it all away. I am no longer a hippy. I am an almost 63 year old who needs to survive. And in the middle of that I want to create that heart centered business that enriches other's lives. Can I do it from this decimated Dragonfly Cottage with no garden and no magic, no spinning wheel and handspun yarns in process, no paints everywhere and paintings on easels, no crystals and scented candles? I am a writer, I am a teacher, I have myself, my heart the size of the full moon, more love to give than I know what to do with, and I am good at what I do, without all the bells and whistles I lost in my cottage with fairy lights in every room. How do I survive and work in this house that is just a house, stripped of all of the enchantment I had built for nearly two decades? How do I do it? I simply do. I have been stripped down to essence, a soul trembling, naked, in the wilderness. I have come through the fire and tremendous loss. I truly am the Phoenix Rising. Now, having risen, what in God's name does the Phoenix do? She goes to work.
This is unimaginably hard. There are books, notebooks, journals, and paraphernalia piled everywhere. I am not a good housekeeper, nor very organized. I live in my head and my heart and I rarely leave this spot in front of the computer where I write most all day long, and work at dreaming and designing a whole new world into existence. And I am a survivor, I have stories to tell, and I want to hear other's stories, want to help them shape the stories that will save their lives, yes, stories save lives, they matter, and I want to create a community where I can reach out, and touch others, and listen deeply, and make a home online for those who need one. And many more need this than I ever knew. This is my work. And I have begun it.
Pray for me, will you? I really need prayers right now. And good positive energy, and know that I am working so hard, with everything I have in me, to create something that might help you too if you are reading this. Know that I care, that I want no woman reading this to feel alone, or frightened, or anxious, feeling that there is no one who cares. How do you make a business of this? I am in the process of finding out. They say leap and the net will appear. I am a little warier than that now, but I have spread my wings, and taken a deep breath. I believe it for no other reason than that I have to, and I have survived so much. These wings are ready, I believe I can fly.