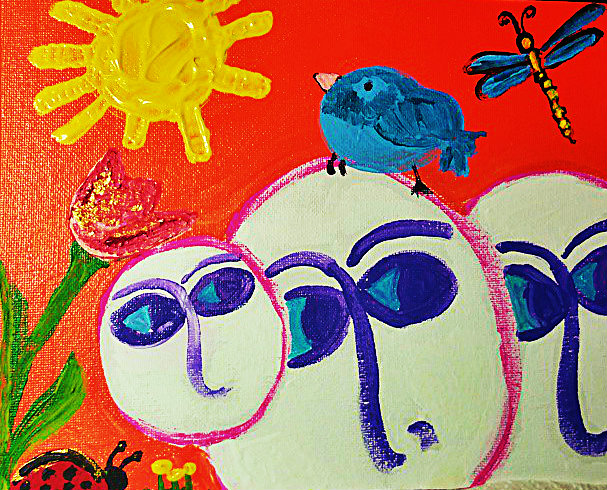 Title: "They Were Always Looking The Wrong Way"
Note: They wouldn't know the Bluebird of Happiness
even if he was sitting on their head.
I started the above painting a few days ago and three odd little faces lined up looking off to the side. And I knew instantly that I wanted to fill the painting with beautiful things in nature that would be all around them but they never saw them, so fixated, leery, and paranoid were they about everything that they saw in the world around them, when all they would have had to do was turn around and look the other way to completely change their lives. So, too, do we do this very thing.
How often have I been afraid, depressed, upset over a particular thing holding so fast to that one thing that I could not move out of the near death grip the depression had over me. And the important thing, at a moment like this, is not to fight the depression or try to rid oneself of the thing that seemingly has one held captive in a dark place of despair, but to turn around and look at something else. It can be as easy as that.
The minute I walk out my door into the garden, my little pugs scattering and running and dancing all around me, the flowers swaying in the breeze, beautiful colors everywhere, the energy in and around my body completely changes. Many is the time I am sure I cannot cross the threshold to get to the other  side but once I take that step, smell the fresh air, see the birds and the squirrels, the dragonflies and the ladybugs, my beloved trees, the ground now strewn with creamy orange and yellow flowers from the tulip tree, it is as if walking into The Wizard of Oz at the very moment it turns from black and white to full blown technicolor. Oh! The beauty, the wonders.
I have begun to do this with painting as well. I sit down, open my heart, and let what wants to come, come. A couple of nights ago I had such vivid dreams of fairies all night, an absolutely enchanting, magical dream, (I am not one prone to dreaming of fairies, though I love them.) that I decided I wanted to paint and create Fairyworlds everywhere, in the cottage, in the garden, and in my paintings. This was the beginning of the first fairy painting….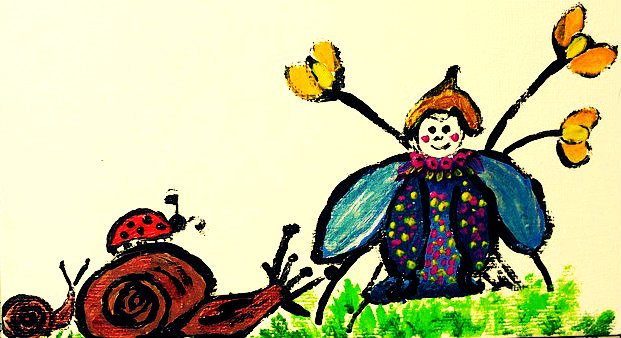 … and it made me SO happy. We are prone to thinking that if we are adults we are supposed to be beyond all of that. Well, pish tosh, I've only just begun.
And we homeschooled all three of our children through highschool. I have decided to homeschool myself, learning how to create a magical life via the Waldorf School method of felting and dollmaking and nature crafts and good food and the whole Waldorf world which I find so incredibly beautiful I am swept away just looking at the books and pictures. At 61 and healthy I could have 20, even 30 or more years left. I intend to build a whole new life and world. The fairies, the wee folk, my puglings and parrot, and every little thing I can make and create to give myself a world to wake up to each morning filled with awe and wonder, joy and delight, well, this is my goal now for the rest of my life. I am creating a land of enchantment right here at Dragonfly Cottage. Magical indeed.
If the curtain of depression drops over me but I have an apron full of wee dolls and colorful clay, paints and a garden waiting to work in and explore, how could depression hold me in it's grip? It can't unless I let it. I think that one of the things — and I surely know this cannot always be the case — we can do if we have to really push ourselves when in the throes of depression, is to give ourselves a heave-ho and turn around and look in a new direction.
And I truly believe that animal companions are essential for our emotional well being. I sit each evening in a huge, overstuffed recliner that fits all 4 pugs and I. I have one on each thigh, and 2 between that area between my knees and ankles. We are all cuddly and snuggly and it is pure bliss. My daughter Rachel was here last night watching a movie with me (We watched the delightful "Bread and Tulips," an Italian movie that was quirky and reminded me, though a different kind of story, of the magical "Amelie.") and I said "Look, this is why I don't get lonely." She laughed looking at all the pugs and I snuggled together. They are little soul healers. I think animal companions are essential. And a garden, oh yes, a garden for sure.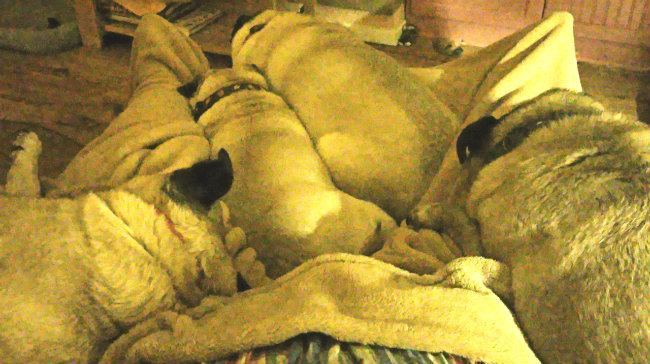 I am going to chart my course, here on this blog, of creating an even more magical place than the cottage already is, and it is, I have worked at this for years. I believe we were made for magic and wonder, and you can start simply by making a cheap excursion to the Dollar Store. Buy play-doh and paints, bubbles, and whatever else lights you up, and go from there. Begin at the beginning and let your heart soar. And remember, if it is a hard day, a difficult time, turn toward all of the magic you are making, go outside into the natural world, and don't fight whatever is  depressing you, invite it along into the great outdoors and watch it dissipate like steam on the pavement on a hot day. The natural world trumps just about everything. Even loved ones we have lost, people or animal companions, have now joined the natural world again and are present all around us. That is a great comfort to me in my life.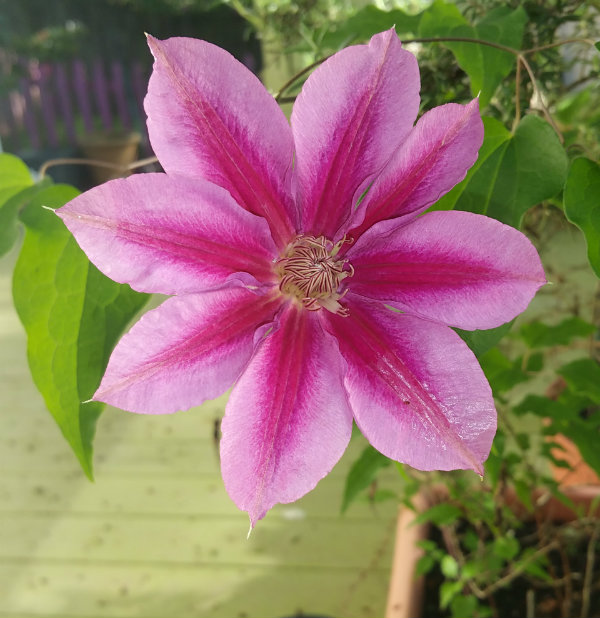 Blessings dearhearts, find joy and comfort wherever, however you can…
Love,