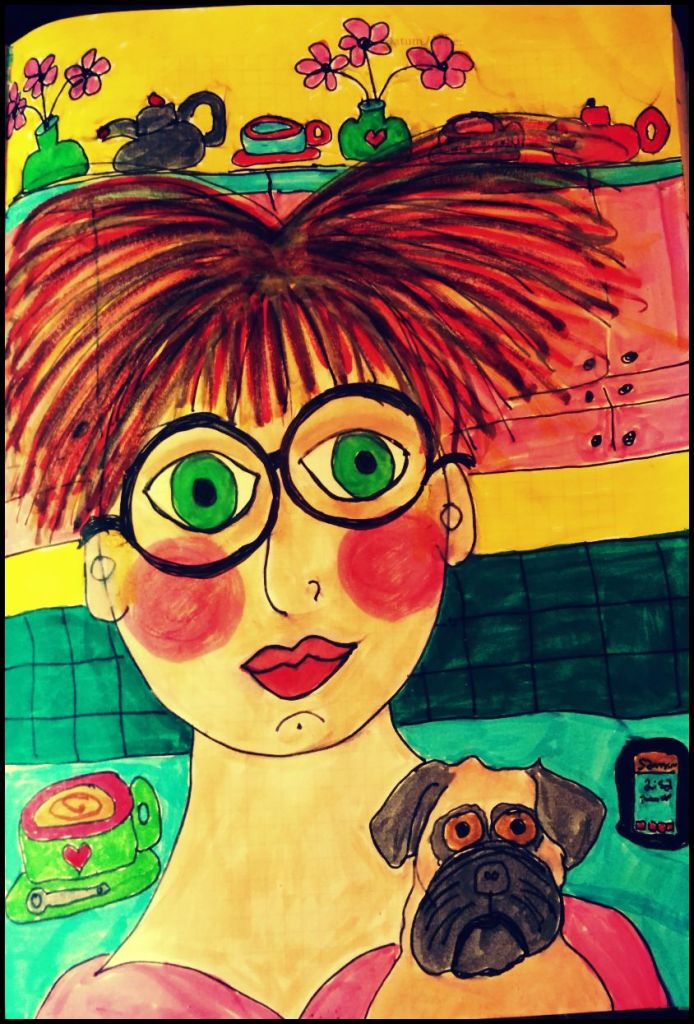 Tallulah and Georgia LOVE their new kitchen!
There are many versions of this "Trust The Process" quote and I hate to say that I can't remember who wrote this particular one but it's the one I have remembered for more than 20 years. Trust the Process is good advice, but add "It's Larger Than You," and you put yourself in your place. Who are you to worry about the quality of your art? Really, your job is to keep doing it. And to know that every single day there will be mistakes. And you have to love them anyway.
I intend to share my process with you, to let you see that despite it all I just keep going. Never mind that I didn't start drawing seriously until just before my 59th birthday a little over a year and a half ago. I have been so in love with the process since the get-go after waiting over 50 years to finally get going that ding dong dagnabbit nothing was going to stop me now! I think it took me 6 decades to realize that the process is indeed larger than me, and when you get that, ego gets drop kicked out of the picture.
There are so many mistakes in this picture that I could, if I were in a different frame of mind, cringe, but I am just too in love with the whole thing. Tallulah and Georgia are family now. How could I possibly not keep drawing them every day, developing them as real beings with each stroke, drawing them a little better each day, and in loving them, mistakes and all, I love myself a little more too. I am less afraid to be imperfect, I am more courageous for continuing on under all circumstances, if I don't make a kerfuffle over every little oopsie daisy stroke, not to mention my new drawing pen with, ahem, permanent ink that ran all into the watercolors as soon as I started. And you know what? While the mistakes are obvious believe it or not they become part of what is and make this drawing/painting just exactly what it is supposed to be in it's own wabi sabi way.
This is a little painting full of mistakes and absolutely perfect to me. It is all about compassion and kindness, toward my art, toward myself, toward my life. Truly, how could I not embrace it all? I would have a pretty unhappy life if I couldn't just (if I were able) do cartwheels all over the house with joy just because I finished this picture. And I finish everything, no matter what my one rule from the get go is that I don't get to stop or do anything else until I finish it. It is a spiritual practice. Carry through, carry on, trust that it is a very important part of the journey and one you could not continue on with dignity and honor without finishing, and appreciating every single step along the way. With every single mishap, still, I trust the process. It's larger than me. The process is my teacher. And I am happier, more at peace, and in a better place in my life than I have been in so long, even long before the fire, that I don't know how to tell you.
Take one thing, any thing, something you've always wanted to do, or maybe started and stopped many times and lost your nerve. Take it, and begin by vowing to yourself that this time you will do it, and every step along the way you will accept the gifts given you that day no matter how the work turned out. The process has enormous power, and it is so much larger than you that you will never understand it, not really, and you don't have to.
It is with Goethe that I sing out to you, bursting with joy and love and hope and promise…
Until one is committed
There is hesitancy, the chance to draw back
Always ineffectiveness.
Concerning all acts of initiative (and Creation)
There is one elementary truth
The ignorance which kills countless ideas and splendid plans:
That the moment that one definitely commits ones self
Then Providence moves too.
All sorts of things occur to help one
That would never otherwise have occurred.
A whole stream of events issues from the decision
Raising in one's favor all manner
Of unforeseen incidents and meetings
And material substance
Which no one could have dreamt
Would have come your way.
Whatever you can do or dream you can, begin it.
Boldness has genius, power and magic in it.
Begin it now.
I am singing, I am laughing, I am bursting with joy and I am asking you to join me, please, will you? Do this with me, begin it now. Isn't it time? Whatever it is that you have been waiting to do, the thing that your soul calls for, begin it, comment after these posts and let me know how you are doing and I will answer you. I have also committed to answering, individually, those who take up the challenge and comment here. There is strength in numbers. Let's rock this thing!
With love and absolute belief in you and in me. We can DO this!