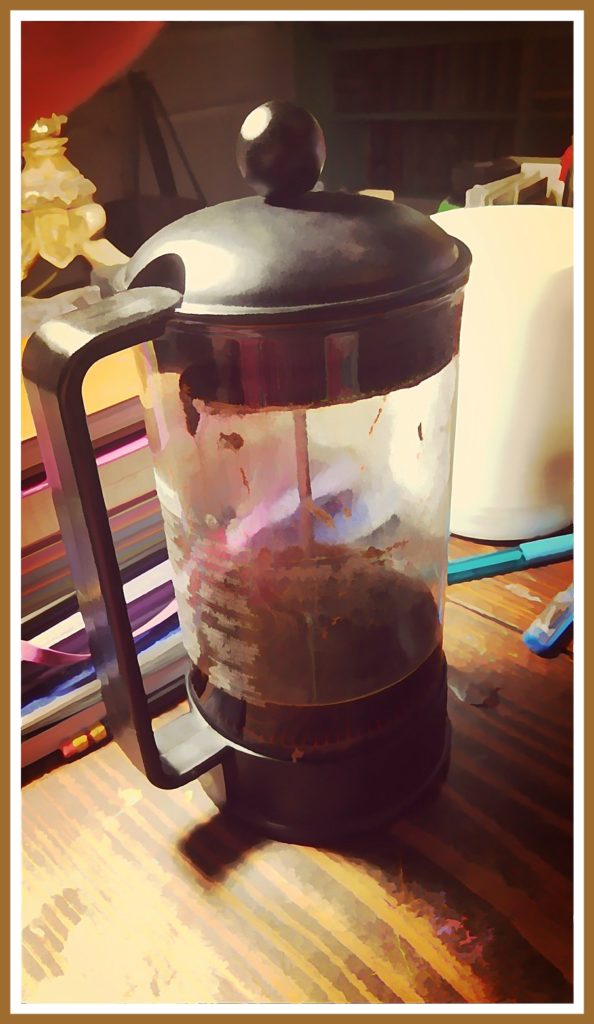 It is a Sunday afternoon in early autumn, my favorite time of the year. Last night was a perfect night of cooking with friends, Noni and Lynn, and today was a late rising day with subtle Sunday overtones, the kind of day that is quiet, peaceful, and filled with thoughts bubbling up that beg to be captured before they are lost. Let me start with the coffee, where it all begins…
I like hot strong coffee, the kind only achieved by making it in a French Press or Italian Moka pot, coffee that has tooth, and later sets your teeth on edge and makes your eyebrows tingle. It brightens the mind and enlivens the atmosphere around you which then sparkles as the synapses pop and crackle, and today it has filled me with thoughts as potent as the first bits of coffee bubbling up in the Moka pot, the aroma so tantalizing it can make you swoon. Bits of thought stored on ragged pieces of paper in the mind that can disappear if not written down immediately, and so, while my coffee is still warm, I will jot them down here.
First is the matter of leftovers. I have written here in the past weeks about getting together with my friend Noni to cook on Saturday nights. Lynn has joined us a couple of times much to our delight. And the thing is nothing tastes better than a meal cooked and shared with friends, and nothing more poignant and delectable as leftovers from the meal. We decided early on that we would double or triple the recipes so that we would have food leftover for the week ahead. We were buying the ingredients after all and doing all the work of the prep and cooking so why not double up and have goodies to eat in the week ahead. And more satisfying than I could have imagined are the leftovers themselves which are not just left over food from the night before but replete with memories in every bite of the meal prepared and shared with love and laughter and the wine of good friendship. Each singular bite wraps you in love and the cozy feeling of a night of feasting.
Today while having coffee I decided that I was hungry and not just hungry but hungry for that chicken. I ate it right out of the container, each bite dripping with the wine sauce and covered with peas, mushrooms, and sweet onion. It was so good cold I'm not sure I shall reheat any of it, and each bite made me smile remembering the fun and good conversation with Lynn and Noni the night before. I ate half of a breast, covered and put it away, and went back straightaway to finish it off. It was too good to stop half way and there are two more breasts left. We cook to create a bounty for the week ahead and that is part of the fun.
Now it is Sunday night and I have returned here, the last of my cold coffee left in the cup from earlier today. Noni came by after she got off work with fajitas that we shared for dinner. We paged through magazines looking at recipes for the weeks ahead and then watched a couple of episodes of our current show Rosemary & Thyme before she headed home. Another lovely weekend of food, friendship, and fun.
A sip of cold coffee as I sit here takes me back to my rambling thoughts of earlier today when I sat down with a fresh brewed pot of coffee and began to think about the blossoming of friendship and the way it has changed my life, and how I have to allow life to flow as it will. My tendency is to grasp that which is happening now and hold on tight because it feels so wonderful. Noni talked about the fact that for years she has wanted to live in the mountains, and now her parents and sister are building a house there, and that perhaps in several years she could move there too. My heart sank like a stone. This beautiful friendship and all that we have developed and are developing and growing into is something that I had painted in my mind as part of the landscape of the rest of my life and to think that in a few short years that could change devastated me, but I realize that just as this has come life will continue to grow and if I am open will bear fruit and flower in ways that I cannot now imagine, and as Noni said tonight it would be years and maybe not at all. We none of us know what the future holds, the important thing is to live fully each day that we have with an open heart and mind, letting it all in, open to all the potent possibilities abundant.
At 62 life becomes ever more precious, and each thing in it is a jewel to be polished and cherished, or a hard time to weather and grow through. Life will bring both in equal measure and the sweetness in life helps soften the hard days and makes them more palatable. Noni's presence in my life now is a jewel beyond measure, and I am deeply moved and grateful for each day, each time that we have together. Friendship in the golden years is a very special kind of friendship, more of a treasure than ever before. I am deeply grateful that she is here in my life now and I can't worry about what may happen years into the future, I need only cherish this day as it is now.
It is past ten as I write this, the pugs are snuffling and snoring in their beds here under my work table. Another weekend is coming to a close and another day is ending. I am tired but feeling peaceful. I know how blessed I am to have this life and I whisper thank you in this silent room. The years of loneliness have shifted and whether or not Noni stays in my life through the years her presence will not only have enriched it but I will have learned how to be a friend, how to have a friend, how to grow a friendship. That is something I will never lose. That brings me peace tonight and I can rest with that. Yes, it is enough for now to know that we have time ahead to enjoy and my life is forever changed for what we do have. It is good.
Time to close here and get ready for bed, time to face the week ahead. It has been a good day, it is a sweet night.