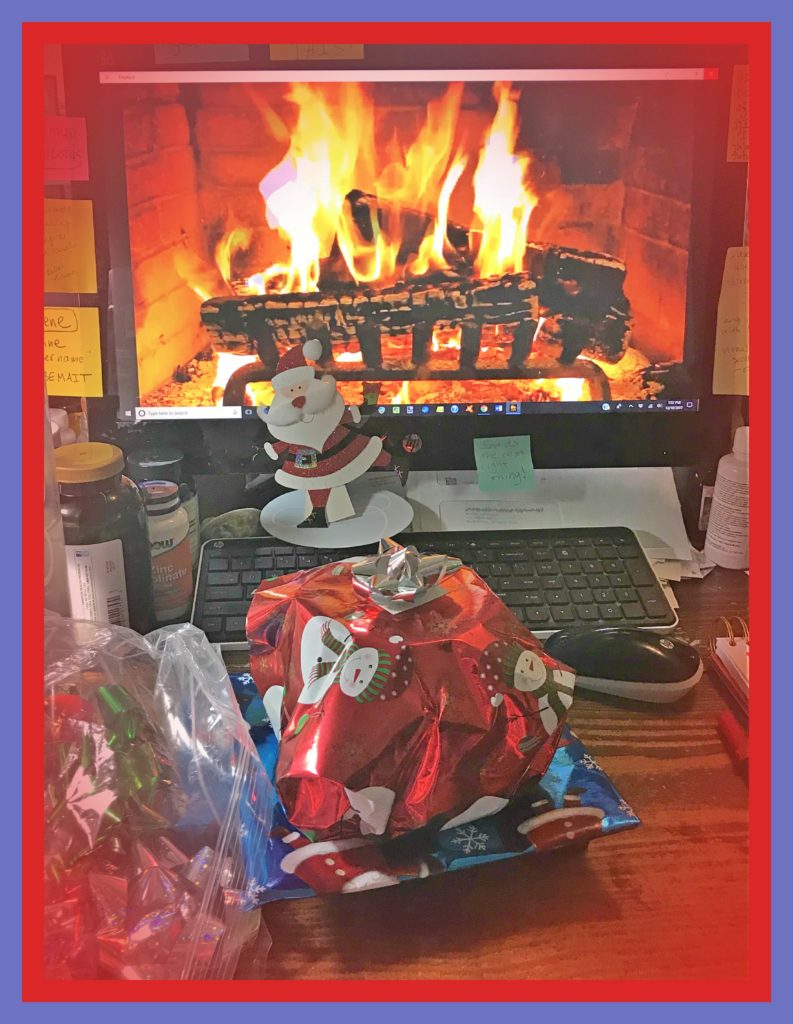 I've finally started wrapping today and now I am really IN the Christmas spirit all the way! Something about beginning to wrap makes it all real. I have a living room full of presents for my grandchildren and my gift exchange recipient, packages from amazon and UPS  and other places. Now I have to get them all unpackaged and in here in the studio ready to wrap. I'll start on that this evening. The gifts above are for my dear friend Noni who will be coming over this afternoon. I will give her her gifts to take home and put under the tree for Christmas morning. She has not been able to come for the weekend since the end of October due to having no car, health issues, and more, but we will see each other today and then not again until after the new year. A week from today my out of town kids come in with their families ON Christmas Day and Noni has all 3 of her children and grandchildren here in town so it is a busy time for both of us. I wrapped with my fireplace app fullscreen and it pops and crackles and blazes and I have some lovely Christmas music playing. It is perfect. Noni's gifts are all in a Christmas Elf bag now, by the Christmas tree. All the trees are lit and the Frasier Fir wax melts are making the house smell just lovely. Here we go!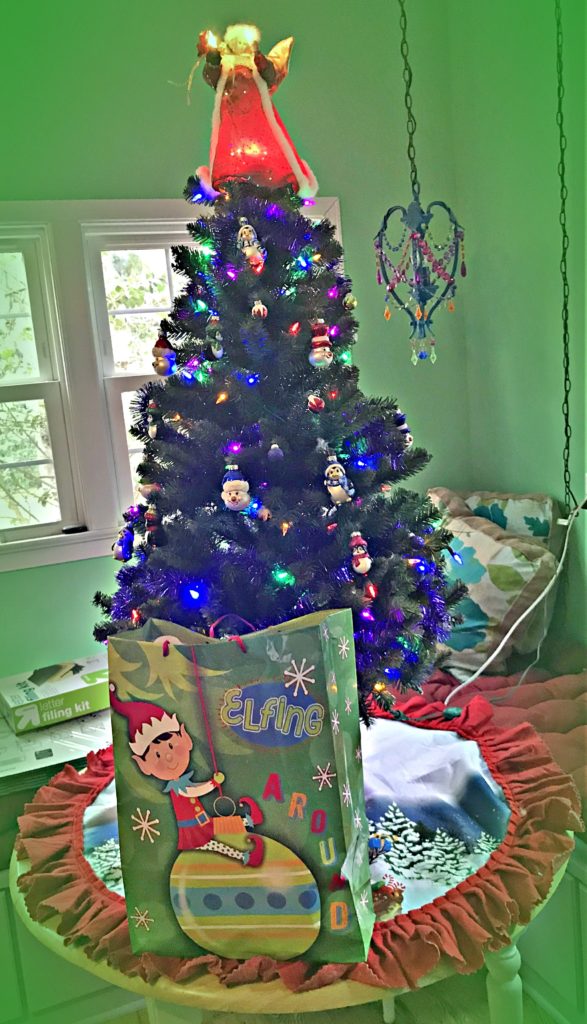 And then the most exciting thing happened today. The birds haven't come to the feeders yet but a little squirrel has spotted the bounty I put all along the windowsill for them. I watched him for the longest time and realized that there was no way for him to get up there. I had forgotten that I used to have tall plants in tall plant stands all along that wall before the fire and the squirrels would climb them. He was just sitting on my wooden fence on the other side of the deck swishing his tail and trying to figure out what to do…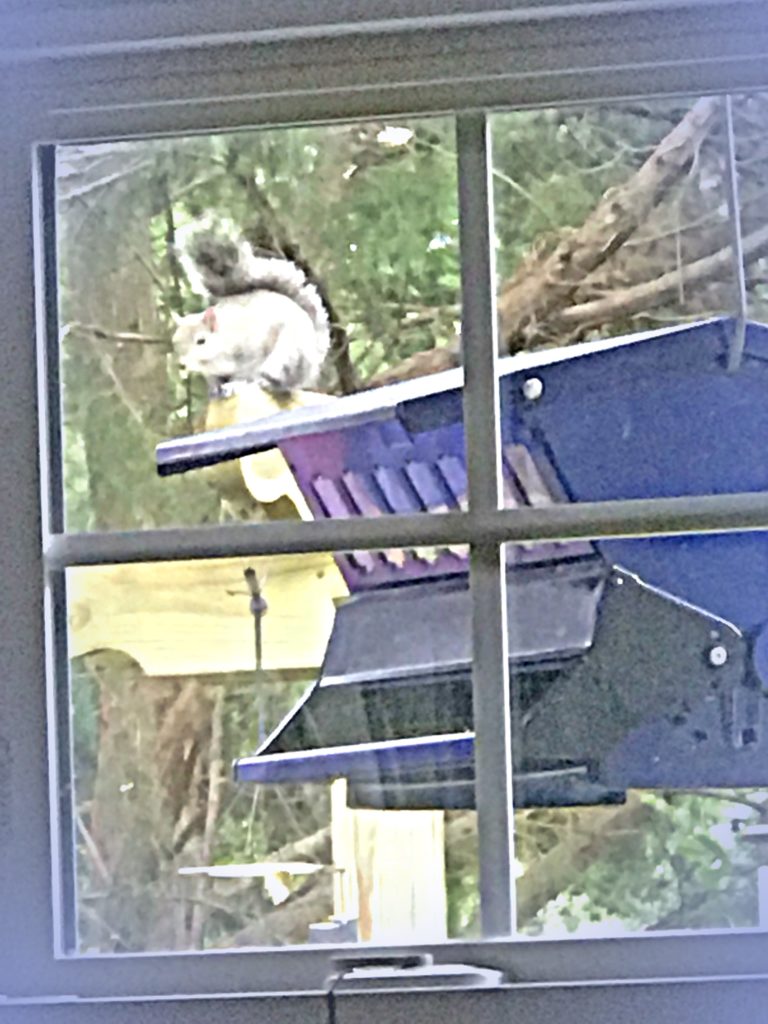 So I got my step stool out again and set it up just under the windows and put a big cup of seed on the top so the squirrels have something to climb to get to the windowsill for the seeds I put out for them. I will look for a better solution but this seems to be doing okay for now.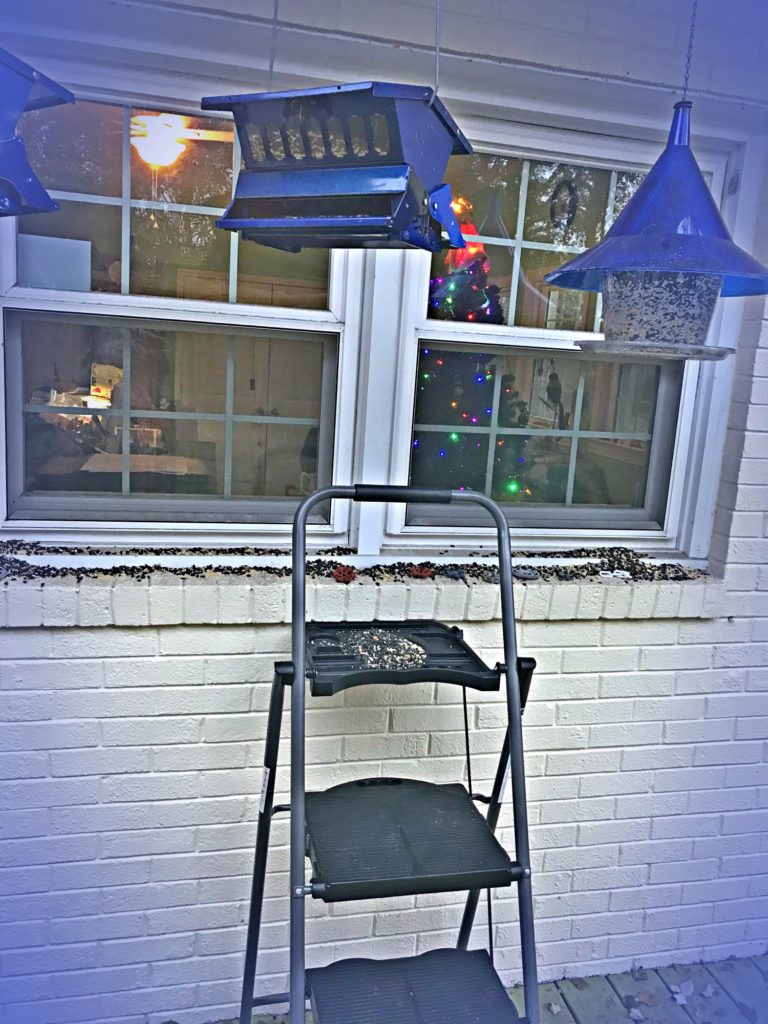 After all of this was done my dear Noni arrived and we had been going to wait until Christmas morning to open our gifts to each other but like 2 little kids we couldn't stand it and opened our gifts and I nearly keeled over when I opened mine. I fell instantly in love with it and am just thrilled beyond words. It was, as she said, "for the family" meaning, of course, the pugs, and it is a vintage jar with lid that I will use for dog treats BUT JUST LOOK AT IT!!!
EEEEEeeeeeeee, I just squealed with delight! Could there BE a better present for someone who lives with 3 pugs? And now they have a special treat jar. This is just perfect, and she loved her presents from me too. And we sat together and talked and hugged and were just so glad to see one another again. Ah, something very special and sweet about having Christmas with a dear friend. And she will soon be back to have our weekends again. the greatest gift of all.
I have been writing this blog post off and on all afternoon and it's time to come to a close. I hope your holidays are beautiful and bright. I am wishing you so many blessings, so much love, and good cheer. You are in my heart, always…


The Experiment ~A 365 Day Search For Truth, Beauty &
Happiness: Day 1 ~ Introduction To The Project
"Do or do not. There is no try."
Yoda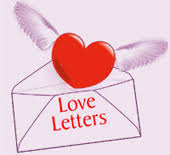 Sign up for my newsletters now & get free Love Letters,
surprises & delights all throughout 2018!