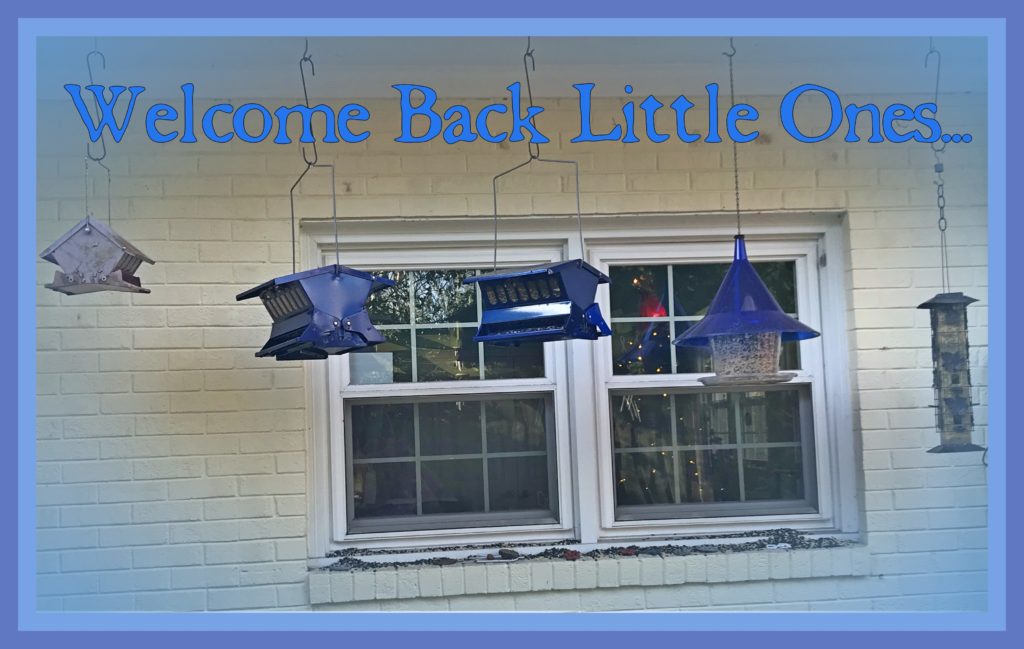 (Right click and click on "Open Image In New Tab" to see full-size picture!)
I finally did it! The leaves were ankle deep on my deck, the pugs almost got lost out there! And the bird feeders all needed to be cleaned out good before filling. And I would have to get up on my step ladder — all the way up on the top step to hang the second feeder from the right! Scary! — and I've been putting it off for weeks because it was all such a big job but it's mid-December and I need to feed my wildlings.
Today I charged out there with the leaf blower (scaring the pugs no end!) and blew off the whole deck and the benches all the way around, cleaned all the bird feeders and filled them, and yes drug the step ladder out there and climbed up again and again to hang the feeders. The three middle ones are especially big and hold a LOT of seed, and yes, that's seed all along the bricks just under the windows for the squirrels — all my feeders are squirrel proof but they've got to have something to eat too! I feed the squirrels and the birds all winter long (and usually all year long because I like their company. These are windows looking out from my studio on the deck side, once the birds find them again we will have quite a crew coming and going out there and squirrels aplenty. And f.y.i. I get my birdseed at Costco, a really big, 25# bag of seed for $16, and it's really nice seed. At this price I can afford to feed them year round and I love that. This is the first year since the fire that I have all of my feeders up and I am just delighted. I will keep them going now.
Like finally decorating again for Christmas it really makes a house a home to have bird feeders out to feed the little ones, even if you just do it through the winter. You can see my studio Christmas tree through the windows, and I can sit here at my work table and watch the birds coming and going. Watching the birds while I'm having my morning coffee is one of my favorite things to do. I cherish those first sips of coffee while watching all types of birds come. And I think it's time to get some suet cakes to hang from the other side of the deck. Yes, my deck is a big feeding station for all of my wild friends. It is a miracle and a blessing to have them here. In spring I often see cardinals at the feeders with their babies, teaching them about the big world, and there is nothing cuter.
And this was my deck before the fire. In the spring I hope to start my pot garden out there again. And yes, the deck was bright flamingo pink before the fire. I miss that.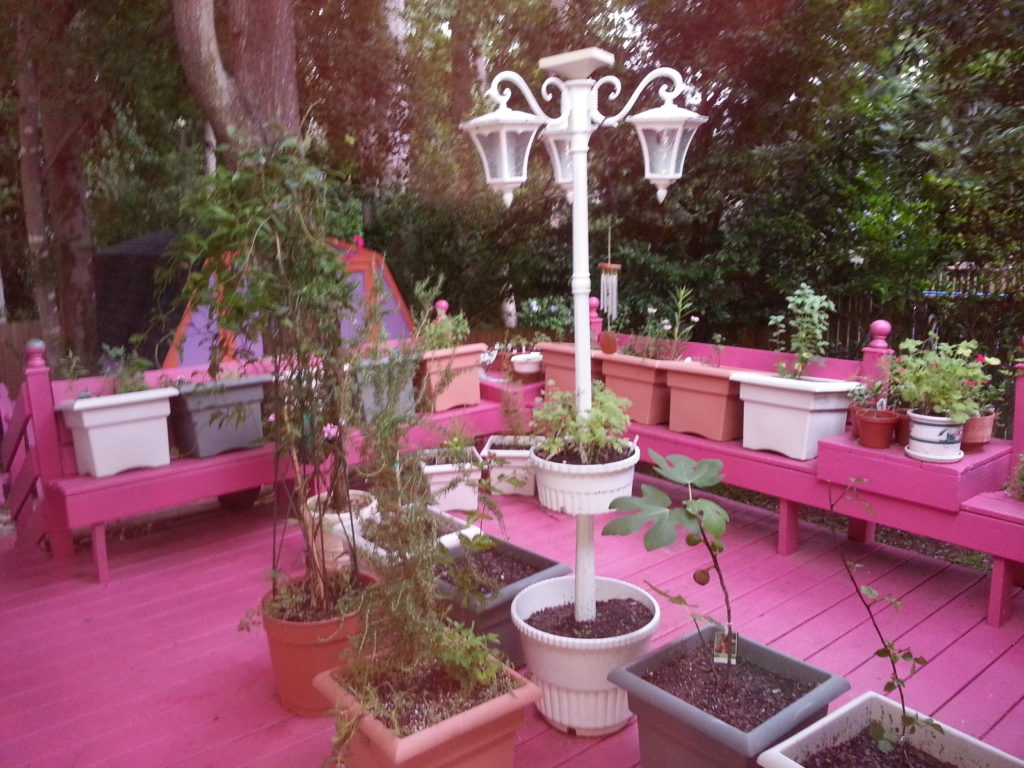 It is after 5 now and it is getting dark. There will be no birds at the feeder tonight. I hope they come back soon. I hope tomorrow they'll return. I'll be on the lookout for them and I will be over the moon happy when they are here in the mornings again as I sip my coffee and start the day with birdsong and pug snores. I am engaging with the world more now, even here at my little Dragonfly Cottage. I wonder what 2018 will bring?


The Experiment ~A 365 Day Search For Truth, Beauty &
Happiness: Day 1 ~ Introduction To The Project
"Do or do not. There is no try."
Yoda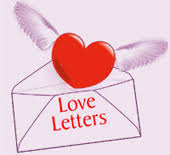 Sign up for my newsletters now & get free Love Letters,
surprises & delights all throughout 2018!