Aren't these Chinese paper umbrellas beautiful? I just had it in my heart this morning, on this Monday, the beginning of a whole new week full of possibilities, to just gaze at something beautiful. I spend hours going through the graphic site that I use to pick out pictures to use for blog posts and I save them in a folder on my desktop. I have had this one for some time and never found a good reason to use it. But today the bright beautiful colors just moved me. I want to find all the beauty in the world that I can, I want to soak it in, I want to smile my way through the days as much as possible, or at least feel peace in my heart. This gives me peace.
What do you see, right now, what is in your line of vision that is beautiful, that brings you joy? I have the most stunning bouquet of alstromeria on my desk here in the studio. I purchased them last week for Noni and I to have on the table  for our weekend dinners. But Noni wasn't well this weekend so she didn't come. I moved the flowers in here so that I could enjoy them as I sit here and write and work. I am a huge advocate of having fresh flowers in the house. I buy them inexpensively at the grocery store for $4 a bunch. I'm not talking about a floral display. Right now I am looking at these flowers and they make me smile. This is not a gigantic, over-the-moon, life-changing thing, it is simply something that makes me happy. We need to surround ourselves with things that make us happy.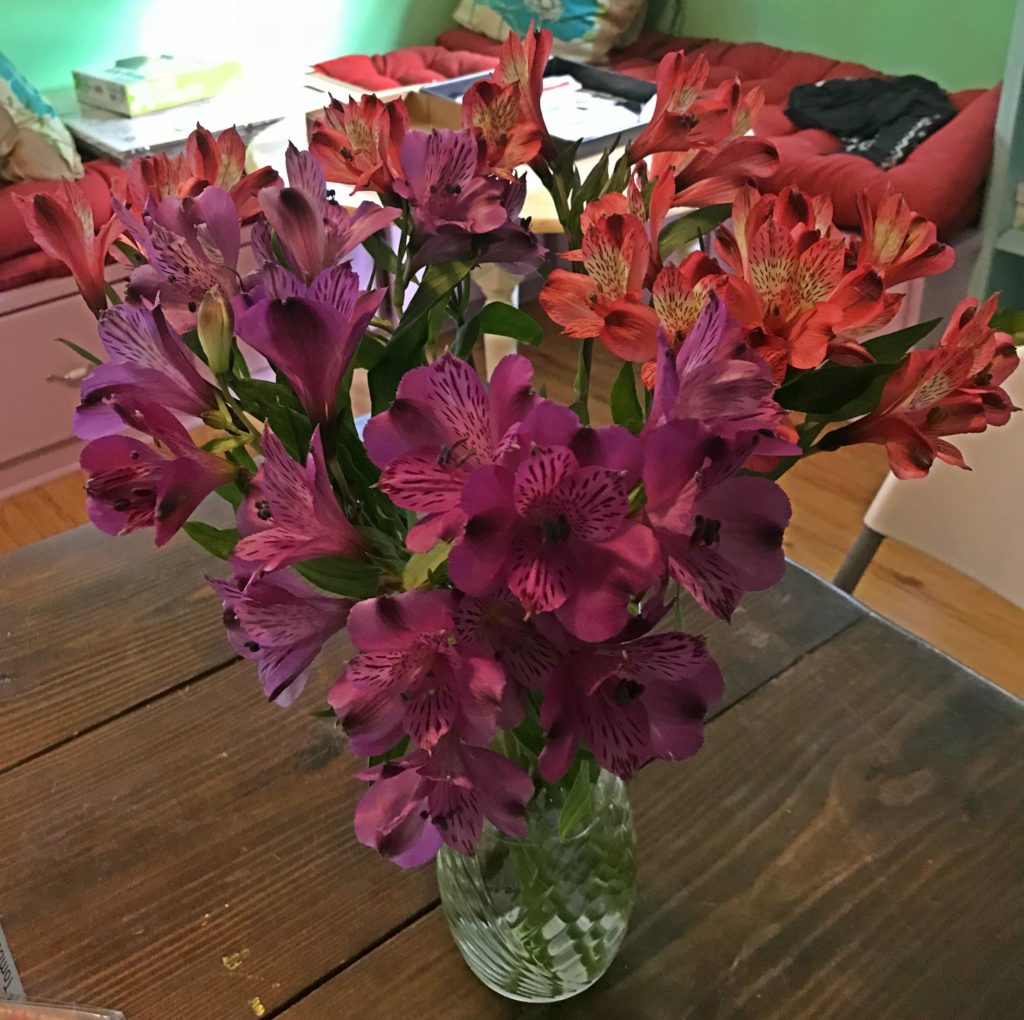 And I have my fireplace app going on my desktop, and it is beautiful and soothing with it's popping and crackling as it does each day. I've kept it on all day every day since I found it. And I look out my studio windows, the pride of the place, windows run all the way down two walls in here and I look out at my beautiful woods in this little forest that I live in, and I count myself lucky every single day when I sit here facing these windows looking out at the beauty of nature. I feel so blessed. I AM so blessed. Despite the ongoing challenges with mental health, which have thankfully been much better lately, but still there hovering at the edges, I am so deeply grateful for all of the beautiful things in my life. Here is my view out my studio windows. If you right-click on "Open image in new tab" you can see them real big!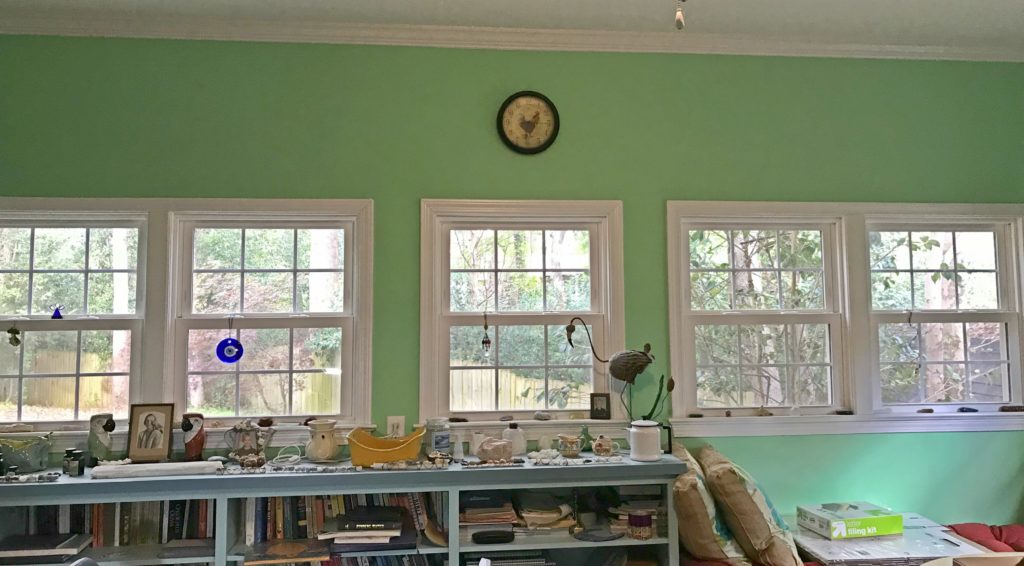 And my little pugs are snoring sweetly under my table and my heart and mind are full of so many things. It is a Monday with a whole week stretched out before me. Today I go to my med management appointment, and then grocery shopping, and then to another grocery store where they have a reverse osmosis water machine out front. I will fill my 8 big glass gallon jugs (We have a water issue here in Wilmington and the tap water is not safe to drink.) and I will come home to my babies and cuddle them and maybe take a little rest with them in our chair. It will be a good day. It will be enough.
I am still adjusting to the Daylight Savings Time change. It gets dark so early and this somehow really affects me. I generally like it when it gets dark earlier, it is soothing to me, hunkering down and cozying in as the world outside my windows disappears and it is only what is happening here inside the house that is my realm. It is the time when we move from the outer world to the world inside, we reconnect with our heart, our dreams, and we begin to look back over the year behind us and ahead to the year before us. It is a thoughtful time. But yesterday late afternoon was unsettling to me. I am finding ways to adjust.
I hope you have a beautiful week dear friends. I hope you are feeling gratitude for lovely things around you. Would you share with me in the comments below some of the beautiful things right now, in your line of vision, right where you are? I just had a funny little thought, something that I would like to have here on my worktable, something that would bring me joy, that would feel good in my hands, something that I think I will look for soon at the Dollar Store. A clear glass dish full of marbles. I'm sure I could get the dish and the marbles for a dollar apiece. And another thing I've always had but not for a long time that I have longsince wanted to get for my studio. I have always had a Beta Fish here for company. I want to get one and I might just do it today when I am out. They are mesmerizing, they bring more life and color to your environment for very little money. What might you bring into your world that would make it brighter, that would lift your heart? Marbles and a beta fish are on my agenda. Tell me what you plan to do to brighten your world.
I hope your day is beautiful. I hope your week is full of surprises and delights. And I hope you are at peace in your heart. I am sending you love, so much love, and waving to you from my home here in North Carolina…

The Experiment ~A 365 Day Search For Truth, Beauty &
Happiness: Day 1 ~ Introduction To The Project
"Do or do not. There is no try."
Yoda