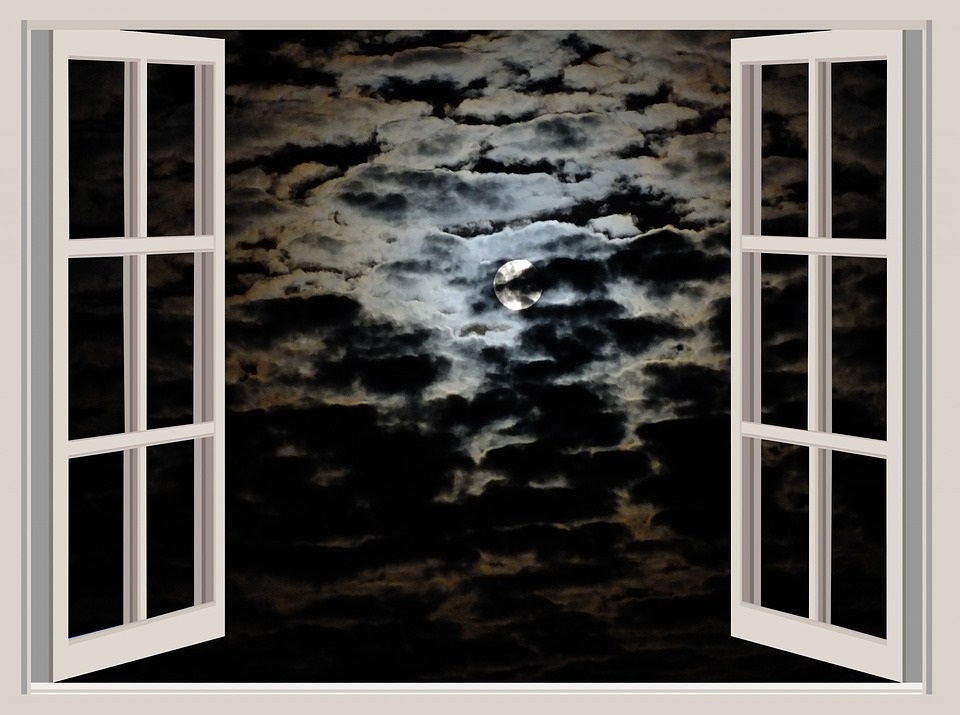 It is past 10:30 and I am so tired I can barely keep my eyes open. My dear friend Noni left an hour or so ago, laden with food from our weekend's cooking. Keto pizza Saturday night, tonight it was keto deviled eggs, roasted brussel sprouts with garlic, and the wonderful keto cheddar biscuits we had last weekend. Both of us are stocked up on leftovers for the week ahead. And she went to pick up her grand-daughter whom she is raising, and I took the pugs out for a good walk, the dishwasher is running and we are all ready to go to bed here. My back is aching, I feel like I can't make much sense of things. There is only time for a very short blog post and to say goodnight.
Just now I am listening to the studio clock ticking loudly, and the windchimes, out on the deck, are tinkling — its grown very cold and windy — I am staring out of windows beyond which there is only blackness and the pugs are sleeping and snoring in their little beds around me. We are all ready to curl up for the night.
I love my weekends with Noni here, we have such nice times. We watched two movies this weekend. Friday night we watched Shakespeare In Love with Gwyneth Paltrow because people have raved about it and neither of us had seen it. It was okay, but we were both a little disappointed. What was the fuss all about? But last night we watched one of my favorite movies because Noni didn't think she'd seen it and I LOVE this movie. It was Love Actually and we really loved it. It is such a feel good movie. Tonight we didn't have time to watch anything because we were cooking until fairly late, we didn't sit down to eat until almost 9. Time flew by.
And now it is the end of the weekend, the night before the week ahead. Beyond this bone weary tiredness is a happiness and satisfaction of another weekend of friendship, cooking, and fun, and I look out now, over the week ahead, and wonder what the week will bring. Every week brings new adventures, but first a good night's sleep.
As I sign off I can't help but think of one of my favorite poems from childhood, and as I stare out these windows I can just about see them sailing through the sky in their little wooden shoe. The poem is Wynken, Blynken and Nod by Eugene Field…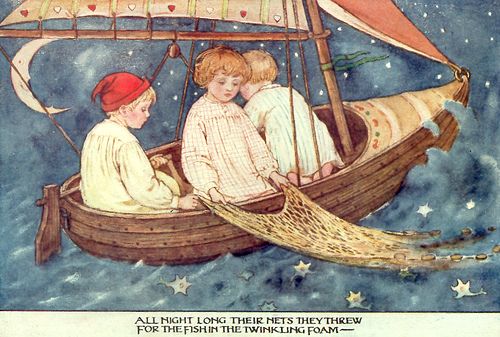 Wynken, Blynken, and Nod one night
Sailed off in a wooden shoe,—
Sailed on a river of crystal light
Into a sea of dew.
"Where are you going, and what do you wish?"
The old moon asked the three.
"We have come to fish for the herring-fish
That live in this beautiful sea;
Nets of silver and gold have we,"
Said Wynken,
Blynken,
And Nod.
The old moon laughed and sang a song,
As they rocked in the wooden shoe;
And the wind that sped them all night long
Ruffled the waves of dew;
The little stars were the herring-fish
That lived in the beautiful sea.
"Now cast your nets wherever you wish,—
Never afraid are we!"
So cried the stars to the fishermen three,
Wynken,
Blynken,
And Nod.
All night long their nets they threw
To the stars in the twinkling foam,—
Then down from the skies came the wooden shoe,
Bringing the fishermen home:
'Twas all so pretty a sail, it seemed
As if it could not be;
And some folk thought 'twas a dream they'd dreamed
Of sailing that beautiful sea;
But I shall name you the fishermen three:
Wynken,
Blynken,
And Nod.
Wynken and Blynken are two little eyes,
And Nod is a little head,
And the wooden shoe that sailed the skies
Is a wee one's trundle-bed;
So shut your eyes while Mother sings
Of wonderful sights that be,
And you shall see the beautiful things
As you rock in the misty sea
Where the old shoe rocked the fishermen three:—
Wynken,
Blynken,
And Nod.
I am smiling and feeling kind of melancholy thinking of being read that poem as a little girl, and I still love it as much at 63. I wanted to read it to you before I signed off. I hope you are all tucked in safe and snug this night. I hope you see beautiful things in your dreams…
The Experiment ~A 365 Day Search For Truth, Beauty &
Happiness: Day 1 ~ Introduction To The Project
"Do or do not. There is no try."
Yoda