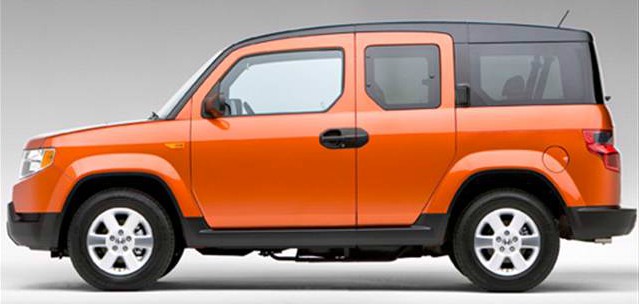 If you could see inside my garage you would see a darling orange 2008 Honda Element. She is my home on wheels. I love her. She is the reason I can go out into the world…
Wednesday's are my therapy day. And since I am loathe to leave my house I try to do a couple of errands while I'm out. This is only possible because my car is my home on wheels, a safe haven, and I have "rest stops" before and after any place I go into. I will get to my therapy appointment 10 minutes early so I can just sit in my car first. I have comfort things in the car, a book, a notebook or journal, pens, stuff. And I have my iPhone. And sometimes I just play a game or two of solitaire, but I have to just sit and let my car take care of me. This is how an agoraphobic rolls. I take my pill, I get into Peppermint Patty. Yes, that's what I've called her since I got her and yes the color is all wrong and she doesn't really look like Peppermint Patty but that's how I've thought of her since I got her. Patty and I are best friends, we are pals, and she knows how afraid I am to go out so she embraces me in her big boxy self. PP is also the perfect car for people with 3 dogs. There is a HUGE crate that can hold all three pugs that takes up the whole back seat and never comes out of my car. People rarely travel with me, dogs do! I am a peculiar sort of person and this is a peculiarly perfect car for one such as me. And the people at the Honda dealership sigh in near desperation every December when I bring her in for her oil change and inspection. They ask, "When are you ever going to start driving this car?" (Patty has just turned to 14,000 miles since New Year's Eve 2009 when I got her. My daughter is responsible for 1000 of those miles.) People stop me in the grocery store parking lot and ask me if I want to sell her. (She still looks newish and they don't make Elements anymore and now people are desperate for them. I say "No thank you, I'll be driving her until I'm 100. Whenever I drive, that is.") Patty and I are a team. It just makes me feel good to know she's out there in the garage. She is a family member. She makes going out possible.
So today I am going to my appointment with my dear therapist Helene. I adore her. She is a fabulous therapist and she has helped me so much. And she keeps me steady in this world. She has had her hands full, to be sure, but she is always there for me. So I drive there in Patty, sit for 10 minutes and doodle about on my phone, then go in. When I come back out I sit for 10 minutes and doodle about on my phone and then I am able to go on. Today I am getting my hair cut after therapy, and then I have to go fill my 8 glass gallon jugs with reverse osmosis water. Wilmington's water is tainted. I won't give my dogs tap water. At least I usually don't but I have had such a hard time going out lately that when I ran out of bottled water on Monday morning I looked ahead into the week and knew I was going out today and the water would have to wait. The dogs and I have had a little tap water. In a perfect world that would never happen. In an agoraphobic's world it just might. This week it happened for us.
Then tonight is my big treat for having made it out and back. My darling daughter Rachel is coming over. We watch out shows on Wednesday nights as I mentioned in a previous blog post. We watch This Is Us — Oh my God we love this show, and I no longer have t.v. so we watch it on Hulu — and then we watch our favorite comedy show, a couple of episodes. It's Catastrophe on amazon. It's racy and a little embarrassing but hysterical. I really need to laugh. Laughter is part of my healing journey. But mainly it is just having Rachel here, and first we will make dinner together, and eat and talk, and then watch our shows. It's the carrot before me all day since I have to go out.
I suppose today's post is a Love Letter To Peppermint Patty. My thanks and appreciation for the car that sees me through. She is not just my mode of transportation she is my hiding place, my resting place, my home away from home. Without her I don't know how I would ever make it out of the house. Three cheers for Peppermint Patty! I love you Patty…
The Experiment ~A 365 Day Search For Truth, Beauty &
Happiness: Day 1 ~ Introduction To The Project
"Do or do not. There is no try."
Yoda