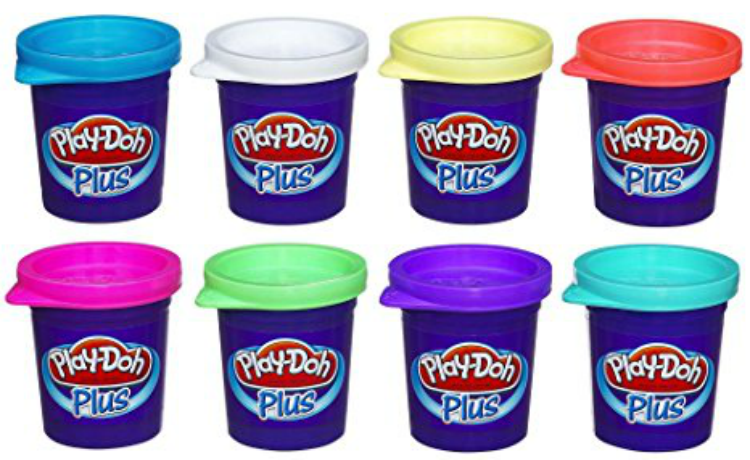 I have the most magical friend. Her name is Bekah. We met several years ago online and became dear friends. For a good bit of this time we have talked weekly on the phone for maybe 3 hours each call. She has been a lifeline, she has saved me more often than I can tell you, she is an angel in my life. Bekah is 36 and I am 63. She is a very special person because while she is much younger than me she is a very old soul. She loves things from the 1950's, she is an artist and writer and so much more. And she has a wonderful blog at We Live Inspired. She has lifted me up and out of the darkness more times than I can count — I have things that Bekah has written to me when I was going through a really terrible time on a post-it note stuck to my computer — and I love her dearly. But last night we had a whole new experience, something we are going to continue to do. We are meeting again on Thursday, our usual night. Last night we met on Skype and we played with play-doh! We each have the exact set above. 8 tiny cans in the most glorious colors! It has lifted me up to the moon. And I'm blogging about it today and she is vlogging about it! Ha! We are kindred spirits for sure.
And the thing is, this is so important for me, and last night it helped her a lot too. My life has been very serious, and sad, for a very long time as I've battled terrible depression. But with the start of this 365 day project my whole life is changing. I blog here, I search for beauty and happiness in countless ways, I have changed my diet and am losing weight finally, and the missing piece, and so very important, I am learning how to play! Bekah and I also have lots of colorful construction paper and glue sticks and we are going to start to make collages and vision boards in our "Play time." I am so excited I am squealing like a little girl! She makes me feel young again. My child's heart, closed down long ago because of abuse, afraid to "play" for my whole adult life, is opening up. I am smiling, I am laughing, I am feeling joy. And oh how we laughed last night as we made our little figures, and playdoh bracelets, and Bekah made a fabulous little snowman with wings using tiny feathers from her sparrow, Trooper. Bekah was brought this tiny baby bird only a few days old and she saved her and now Trooper is famous online in videos! I made a blue playdoh woman with lime green hair sitting in an orange chair. We laughed and we laughed. And we squished playdoh — SUCH a stress reliever — and we SNIFFED playdoh. We LOVE the playdoh smell. It hasn't changed since I was a child in the 1950's! (And I found the most fascinating article today, about Hasbro trademarking the distinctive smell of playdoh.) And here's something exciting to learn! For all of us who have loved the smell of playdoh for decades but never knew how to describe it, this is the way Hasbro, who invented playdoh in 1956, describes it… "It describes Play-Doh's particular smell as "a unique scent formed through the combination of a sweet, slightly musky, vanilla-like fragrance, with slight overtones of cherry, and the natural smell of a salted, wheat-based dough." I LOVE knowing that!
As you can tell by all the exclamation points in this piece I am feeling like an excited little kid today. And I can't wait for my Thursday play-date with Bekah. And we're going to keep playing and creating and making things and manifesting whole new beautiful, happy, JOY-FULL lives by playing together and talking together and being together as we long have.
And don't tell me this isn't possible for you! Bekah and I have sadly never been able to meet in person. We met online. She is in Michigan and I'm in North Carolina, but we have become the best of friends through this sometimes iffy medium and it is a friendship I will treasure my whole life long. If you are reading this blog you must have met and made friends with many people online. How about approaching them to talk on the phone and then perhaps Skype and have play dates? Or you could eat dinner together via Skype or knit or crochet together or have your own little reading club. Bekah and I do everything under the sun. And we shall continue. If you do this already with a friend I'd love to hear about it, and if you are moved to do so because of this blog post I'd especially love to hear about it. There's no need to feel cut off and alone today. You can have dear friends and lots of fun via Skype. It will change your life!
I was so excited to share this with you today. I feel giddy and excited. Get yourself some playdoh and squish it and squeeze it and sniff it and make things with it. You'll be so glad you did. And your Bekah is out there somewhere! Approach her (or him) now. I love the saying "It's never too late to have a happy childhood." Never too late indeed! Oh, and I was just texting with Bekah and I reminded her of this song. It made me laugh and she knew it too from when she was young. I'll leave you with this…
It's time to play! What are you waiting for?

The Experiment ~A 365 Day Search For Truth, Beauty &
Happiness: Day 1 ~ Introduction To The Project
"Do or do not. There is no try."
Yoda