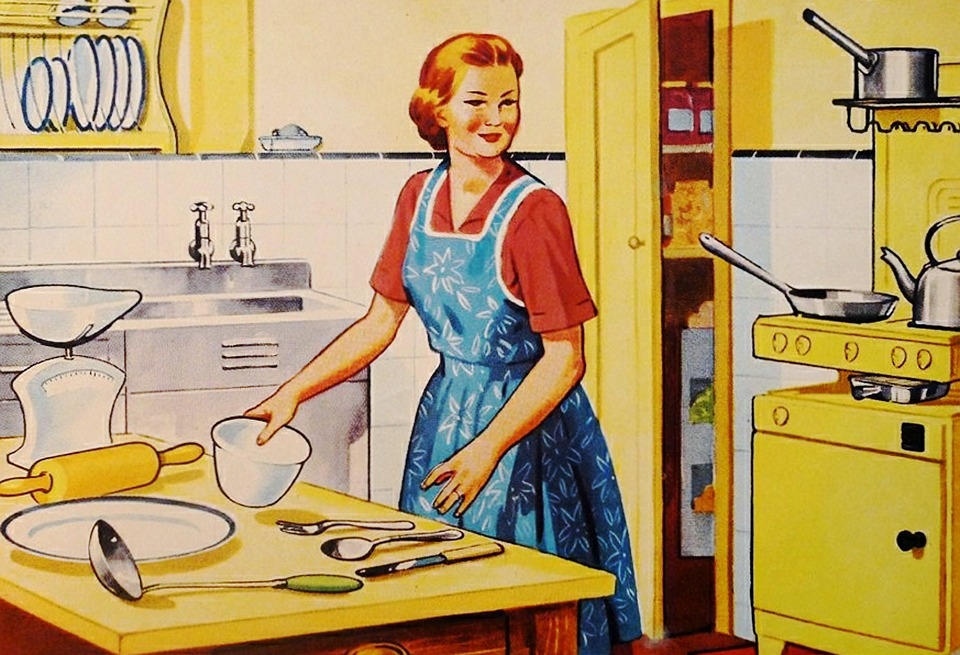 Well, I'm scared, but I'm going for it…
The things I liked to cook were 1950's style comfort foods and, well, I don't care what kind of diet you follow, that lovely food pretty much blows every kind of diet out of the water! And the thing is when I was married and having children we became "vegetarian health food nuts." I was a vegetarian for 8 years and let me tell you came the day when I felt like I wanted to throw myself out of a moving car. It just wasn't food that made my heart sing. Eventually my husband and eldest daughter did most of the cooking. They thrived in the kitchen. I did not have the kind of weight problem then that I do now, I was overweight but it wasn't bad, but when that day came I did something that was the first step to obesity. I had to have meat. I felt like I was going to die without it. I became a closet hamburger eater.
We were homeschooling and I was home with the kids all day. My husband was very supportive of me having time for myself, time to write, so when he got home from work I went out to a cafe for a couple of hours to write over cappuccinos. Those were such happy times. But then, well, one night I just broke. On the way home from the cafe I went through Wendy's and got a double cheese burger. I felt like I'd died and gone to heaven! That led to me getting a burger every night on the way home, and because I was ashamed to be eating meat and didn't want the family to know I came home and ate the nice vegetarian dinners with them every night so nobody would be the wiser. But these were the first steps into a lifetime of struggling with obesity. And I came to hate the kitchen. Most of what I would have loved to cook my family would not have eaten. I was so depressed. Finally the day came that I had to "come out" to the family. I was a closet meat eater eating 2 dinners a night and gaining a LOT of weight and I was miserable. I wasn't cut out to lead a secret life, it made me so afraid and ashamed I didn't know what to do with myself. I don't do well with lies. So I told them all and it was hard. It was hard but mostly still handled by all of us eating vegetarian at home and me getting meat when I was out except I'd have a little sliced turkey in the fridge for sandwiches or frozen Weight Watcher dinners with meat. But this was a terrible way to live. My husband and 3 children were all strict vegetarians, and I was the lone meat eater. I felt like the scourge of the family. I was a stranger in a strange land. It felt hopeless and I started on a pattern of binge eating, hiding food, eating foods I wanted when I was out, sitting there alone, wishing I could really enjoy a meal with my family that I loved, but it just wasn't going to happen. My food life was out of control, and it has been a downward spiral to this day, until, that is, the day I started the ketogenic diet.
And the thing is that while the ketogenic diet can be a really hard shift for people to make — I've tried many strict diets eliminating sugar, etc, but could never keep up with it. I felt too angry. Too many years of not being able to eat what I wanted to eat living with my own family, I was almost belligerent about my food life being restricted in any way. — I am doing it now with joy and excitement, I've given away so much food from my house it's shocking. I am stocking up on all kinds of keto foods. It was fun reading and studying about what to eat and what to buy and making up the grocery list. It was fun shopping for it. My dear Noni helped me put away my big shopping last night. Now I have a refrigerator and cupboards filling up with healthy food, but, well, all of a sudden the reality hit me. I don't mind the dietary changes, I am enjoying eating this way, BUT ALL OF A SUDDEN I HAVE ALL THIS FOOD HERE AND I HAVE TO DO SOMETHING WITH IT! I have to make things. I have to cook! I felt bewildered and afraid and lost.
I have spent the whole day online searching for keto recipes for Noni and I for this weekend. I have to grab the proverbial bull by the horns. At 63 I have to re-enter the kitchen and actually cook. And the thing is I am gobsmacked, as my Canadian friends would say, over how many recipes there are that look SO good, I mean, things that feel like the old 1950's way of eating, only healthy, the keto way, that I am getting a little excited, if still scared, about actually trying these recipes. I want to make and eat meals that I enjoy. And this weekend I'm starting with these…
For dinner tonight Noni and I are going to make Chicken and Asparagus with Three Cheeses. It looks to die for, and it's all keto. To go along with it I am making a keto friendly cheddar biscuit (made with almond flour) that my therapist swears is as good as Red Lobster's famous cheddar biscuits! And the other thing I am going to make is a keto cheese sauce that Noni and I can have over scrambled eggs in the morning and I will save the rest to go over vegetables. Eating more veggies is a struggle for me, but I can eat ANYTHING with cheese sauce on it! I also saved a recipe for hollandaise sauce to make keto friendly Eggs Benedict sometimes. The fact that you can have cheeses on the keto diet — it is a high fat diet — is what's saving me. I don't eat a ton of cheese, that wouldn't be good for me, but I do have a little each day on this or that and it keeps me from feeling deprived.
I am on a whole new journey, it's about embracing my kitchen again, learning to really cook at 63, learning to do things for myself that excite me and make me happy. And I'm still scared, I am in fact very nervous about having to cook some of these things tonight, but there's no time like the present! And now, today, this moment, it is really important for me to take the first steps toward happiness and wellness. This literally does feel like the first day of the rest of my life. If not now, when?
This all makes me think of one of my all time favorite quotes from a poem by Mary Oliver. She wrote, "Tell me, what is it you will do with your one wild and precious life?" This is what I'm doing, this is how I'm starting. This blog, this diet, and searching for things that make me feel happy, whole, and free. I've lost too much of my life to bad food choices and just not caring enough about myself. That changes right now, here, today. I don't know how I'm going to manage it but I'm going to do it. It's time.


The Experiment ~A 365 Day Search For Truth, Beauty &
Happiness: Day 1 ~ Introduction To The Project
"Do or do not. There is no try."
Yoda