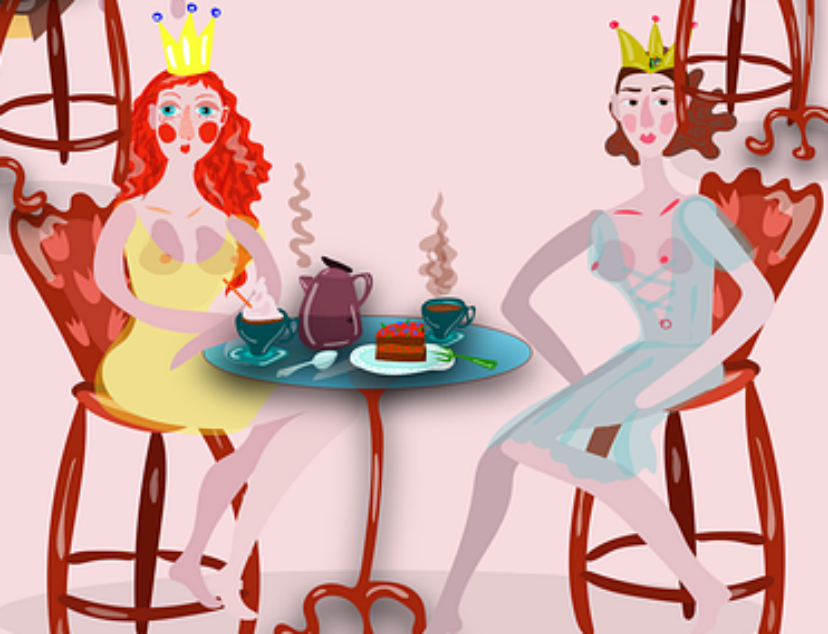 This is Noni and I in our minds. Ahem. The truth is we're grandmothers in our 60's but girls can dream!
I am late here today because today was a Sunday With Noni, my favorite time of the week, well, besides Saturday night, and now Fridays, and sometimes Sunday nights too! She has been a miracle in my life. Some of you know about my sweet friendship with Noni, many won't, and I tell you this, especially if you are older, and sometimes lonely, that if you just reach out to someone miracles can occur.
I have had such a very hard time for years, living alone, and lonely, BUT one day I got a bee in my bonnet. I don't know where I got the courage — I mean I'd known Noni for many years but it was a friendship that never really fully blossomed — and what it turned into was like nothing I ever knew was possible.
One day in July of 2016 I had just had enough. Weekends were always harder somehow, even though I rarely left the house and nothing really changed on the weekends on the weekends no one was in their normal place, the Monday to Friday weekly routine that everyone establishes in their own way, even if they are at home all the time, changes. There is no structure like there is during the week and I dreaded Fridays coming and was relieved when it was Monday again. People went back to work or school, regular t.v. programs were on (I still had cable t.v. then which I never watched much but it was company for me at night) that were not on over the weekend, and I was always lost. The hours seemed endless. So one day I got the abovesaid bee in my bonnet and I called Noni and I asked her if she would like to come over the coming Saturday and cook dinner with me? She said yes. I was excited but scared. And then I/we proceeded to have one of the best weekends ever. We did elaborate cooking with the intent to cook more than we needed so we would have leftovers for the week ahead. We put on music on Pandora, and we drank wine and danced in the kitchen! It was so much fun! That first night, as we were finishing our delicious dinner, I looked at Noni and said, "I've just had the BEST time! I wish we could do it every Saturday!" And she looked straight at me, raised her glass and said, "Let's!" And we've been doing it almost every single Saturday for over a year now, except when we have family obligations or she goes out of town which isn't very often.
We went on like this for awhile and had so much fun, looking forward to every Saturday. We would choose recipes together, divide up the ingredients we needed and each buy some of them, and we would cook and eat and listen to music and dance sometimes and watch a movie after dinner. It was absolutely lovely. Weekend evenings were "free" times for Noni because she is raising her grand-daughter Kyra but Kyra is with her grandfather or mother over the weekend. Noni works during the day on Friday and Saturday and Sunday afternoons so the weekend was a perfect time for her to have some time on her own and for me the bliss of a friend to make and eat dinner with.
Came the day that I looked in my freezer which was full of food because I had gotten, after the fire, on a program of buying mainly meats online and yet I seldom was inspired to cook much for myself. I called her and said, "Noni, we do our big cooking on Saturday night but you have to work all day on Friday and I have a freezer full of food that needs to be eaten. Do you want to come over and we can just pull something out of the freezer and throw a simple, quick dinner together?" And she said YES! And our Friday routine was born. And then since she didn't have her grand-daughter on the weekends and came over for our big cooking night on Saturday and our cooking tended to be a big affair and took time and what with having wine and a movie after and it getting late I asked her if she'd just like to stay over because I have a darling little guest room that no one ever uses. And she said YES! She didn't have to be to work until 1 on Sundays so we started getting up on Sunday morning, I would make us coffee, and we would sit at the kitchen table and have coffee and talk — you know, about everything! our kids and the grandkids and world issues! — and there was just something SO special about having had such a wonderful time on Saturday night and then getting up and having coffee together Sunday mornings, with our funny morning hair and in our jammies, and the pugs jumping around. And EVENTUALLY she started coming back for dinner on Sunday evenings, just because, and then she would go get her sweet Kyra and they would head on into their week ahead and I would have had the BEST WEEKEND EVER!!! It changed my life. It changed BOTH of our lives, and now, we grandmothers whose children are grown and into their own lives, who formerly spent the weekends alone, are doing it up big time.
Now we both buy things at Costco, say, and split the cost of things, the meats, big packages of toilet paper, all kinds of things. We are now more family than just friends, and I love her kids and she loves mine and it's lovely to watch our children grow and interact with them and then talk it over with each other. And somehow there is just something SO special about Sunday mornings together, having coffee, maybe some biscotti with it, hanging out, maybe playing cards. I just love the whole weekends together but Sunday morning with Noni is very special.
And THIS weekend was very special because today is Noni's birthday! And her car broke down and is in the shop so yesterday afternoon I picked her up from work at 4 and we went by her house so she could pick up the things she needed and we came here and cooked and ate AND we watched the last 4 episodes of Downton Abbey! We've been watching the whole series for sometime. We watch all kinds of things. We are MAD about Grace and Frankie! I got her a coconut cream pie for her birthday because she loves it and I got smiley face candles, 6 little ones, from the Dollar Store, and we had pie last night to start celebrating early and she had pie with her coffee this morning! She will of course be spending her birthday evening with her kids, but I took her to work today and came home and now here I am! Another wonderful weekend with my darling Noni, and today was Sunday Coffee With Noni!
I could never have dreamed what that one little scared dinner invitation would grow into, it is the most special friendship of my life, we are now more like sisters than friends, she is Auntie Noni to the pugs! and she does things like reorganize everything in my house so that I can't find anything! Ha! Our weekends are such lovely happy times, I hope they go on and on. But for today it was Sunday Coffee With Noni and Happy Birthday Noni Macaroni!!! I love you!
If you are lonely, reach out to someone, it can change your life!


The Experiment ~A 365 Day Search For Truth, Beauty &
Happiness: Day 1 ~ Introduction To The Project
"Do or do not. There is no try."
Yoda