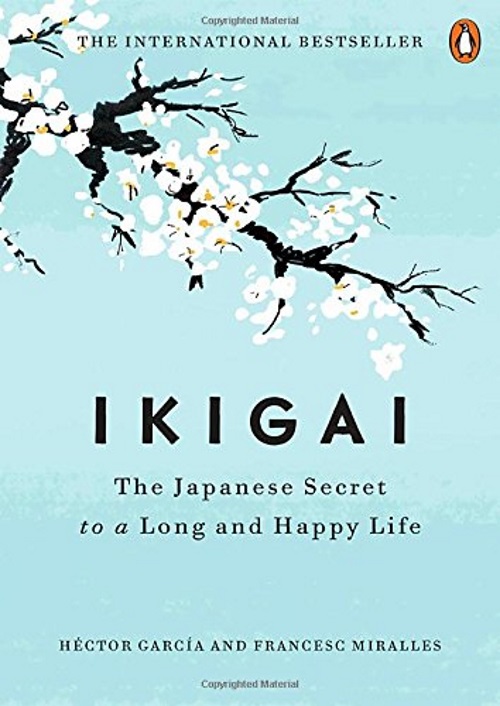 As I was answering comments after yesterday's post about trying to find my way home to my body after living for so many years disconnected, unable to live comfortably in my own skin, I told a friend that after writing that post I was thinking of something I heard author Glennon Doyle Melton say. She said "We are all trinities — body, mind and spirit." And I thought yes, we are trinities, but we, a great many of us, are fractured trinities, broken, body, mind, and spirit disconnected, and we go through life trying to heal this coming apart at the seams in many ways that simply are not healthy. We are scared, we are lost, we don't know how to find our way home to our sacred selves, all of a piece.
I continued on with my day thinking about this and lo and behold came upon an article (3 Japanese Words That Lead To A Happier Life) that referenced this book that simply blew me away. (You can click on the cover above to get more information about the book at amazon.) I have spent hours reading everything I could find about it online, I ordered the above book and plan to carry it around with me like a touchstone, reading and rereading and studying it. It is the missing element. I can change my ways of eating, exercise more, and get more comfortable in my body, but if I don't also, at the same time, tend to the mind and the spirit, I will never get to the place I want to be. Enter Ikigai (pronounced ee-key-guy).
From the information about the book on amazon…
"According to the Japanese, everyone has an ikigai—a reason for living. And according to the residents of the Japanese village with the world's longest-living people, finding it is the key to a happier and longer life. Having a strong sense of ikigai—the place where passion, mission, vocation, and profession intersect—means that each day is infused with meaning. It's the reason we get up in the morning. It's also the reason many Japanese never really retire (in fact there's no word in Japanese that means retire in the sense it does in English): They remain active and work at what they enjoy, because they've found a real purpose in life—the happiness of always being busy."
I sat up suddenly and my mouth dropped. After the fire I lost my ikigai, I could find no reason for living, I could not see my way into the future, I didn't have a reason to get up in the morning other than to care for my dogs, and love them dearly, as I certainly do, it wasn't enough to propel me forward, to make me present in my own life. Yes, the new diet is good, but finding my ikigai is even more important.
On the Penguin website on the page dedicated to this book there was the most beautiful video. I sat mesmerized watching it. It is a slow, gentle video and you must have the Closed Captions turned on because it is in Japanese. If it comes up for you without the closed captions simply click the [CC] button on the bottom of the video screen. It will soothe you and make you happy just to watch this video. These are the oldest living people in the world, they are beautiful, phenomenal, and their simple, happy lives are the reason for their long lives. I just can't tell you how very much I am hoping you will get this book. I would love for us to read it together. If you buy the book and read it you can come back to this post any time — bookmark it — and share your thoughts with me and I will surely answer you. I realized, with a kind of surprise and delight, that doing this 365 day experiment is, currently, my ikigai, and it is moving me forward in my life in a way I could never have imagined. To have you comment here, to have a dialogue, could be very important for all of us in helping us reunite our sacred self, our trinity, as we bring body mind and spirit back together. This is my deepest wish and I am excited about where this year long journey will take me and what other gems I may find. I am on a mission and it is, yes, I can say it, thrilling!
I am going to leave you with this beautiful video. I hope you will take the time to watch it. I am going to publish this blog post and then watch the video again. It has caused an enormous shift inside of me, given me hope, I know that finding out about ikigai will have been one of the most important elements to my recovery and coming back to life when this year's journey is through. I hope that you will join me.
With sincere love…


The Experiment ~A 365 Day Search For Truth, Beauty &
Happiness: Day 1 ~ Introduction To The Project
"Do or do not. There is no try."
Yoda