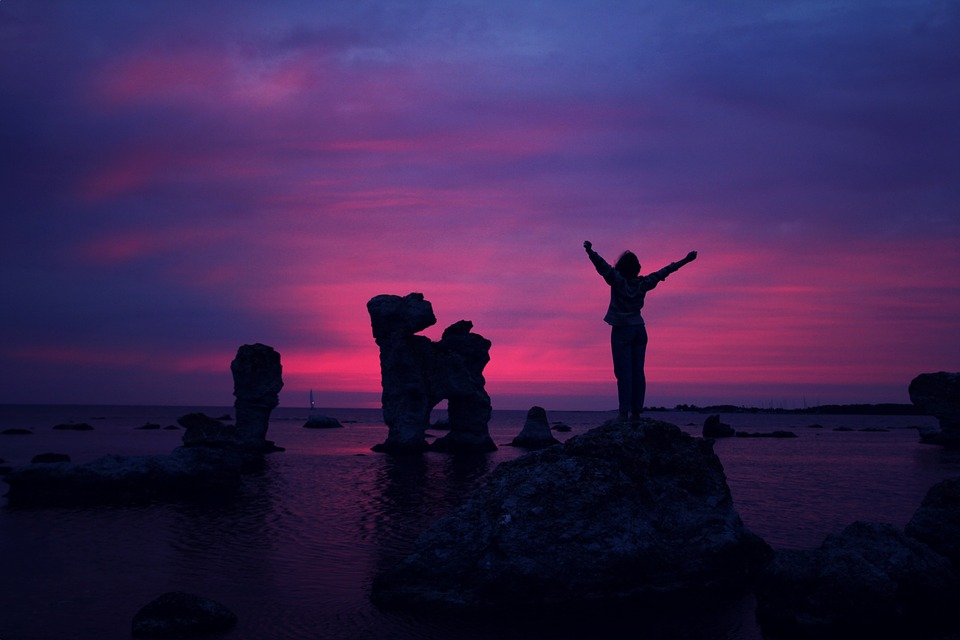 Today's music, my new theme song, Destiny's Child's "Survivor!"
First of all, you have to understand how huge this is for me.
Since the fire I, who have spent my life living with and loving music, being a singer and musical theater major in college, and always having music playing, stopped listening to music entirely. I simply couldn't bear it for some reason. It hurt me. I retreated into a kind of sterile silence and have preferred life around me to be quiet ever since. It was as if every nerve in my body was so sensitive I couldn't tolerate it. And it's been very sad, a terrible loss really. It was as if part of me had died that night too, and indeed it had.
When I started singing around the house again in these last months — of course I've always sung little songs I made up to the pugs but that was it — I knew something was changing but with rare exceptions I still didn't listen to music.
I always loved the song "Survivor" by Destiny's Child, I had the c.d. from years ago and it survived because it was in my car. I had 2 c.d. cases filled with c.d.'s in my car the night of the fire so I still have them — I had a huge collection of c.d.'s in the house but lost them that terrible night — and I just didn't listen even to the ones in the car. Either silence or Public radio talk programs. But today something happened to me.
I had to go out to therapy today, and to do errands afterward. I started to put on Public radio as per usual but I stopped. I picked up the c.d. case and flipped through it and when I got to the c.d. with this song on it it was as if something in me woke up. I put the c.d. in the player in the car and sat and listened to the song. I was practically holding my breath while listening to it and then toward the end when Beyonce sang…
"After of all of the darkness and sadness
Soon comes happiness
If I surround my self with positive things
I'll gain prosperity…"
… tears just ran down my face. I DID it! I survived! DAMN! I MADE it! I made it through so much darkness and sadness for so long but I started to surround myself with positive things when I started this exercise on this blog and then I started making lots of changes and oh my God! how my life has changed! My therapist Helene is just amazed and delighted and cheering me on. It is truly a miraculous thing. And oh YES…
"I'm a survivor (what?)
I'm not gon' give up (what?)
I'm not gon' stop (what?)
I'm gon' work harder (what?)
I'm a survivor (what?)
I'm gonna make it (what?)
I will survive (what?)
Keep on survivin'(what?)…"
I'm telling you, everybody NEEDS a theme song! Do you have one? If so I'd love it if you'd share it with me, I'd really love to know what song inspires and delights you and gives you the courage to go ON!
As I drove around doing my errands after therapy I played the song over and over, sang with it, nearly danced with it as I would stop at stoplights! and just felt all LIT UP and POWERFUL!
And then something wonderful happened this evening. I got home and sent my theme song to Helene and she loved it, and then she sent me a song because she knew I'd love it. It's from a movie that's out now that she said may be the best movie she's ever seen, The Greatest Showman, with Hugh Jackman. I HAVE to see this movie asap! The song just knocked me OUT! And it made me cry in the most wonderful way, and I listened to it several times and am going to play it again now, and I want to share it with you. I'm telling you, you really want to watch this. The song is called "This Is Me" and it's not only a showstopper, you want to stand up and cheer! I will be listening to this a lot in the days to come. I can hardly sit still in my seat to write I am loving this song so much!
If you don't have a theme song, get one, now! We all need a theme song. I'm gonna crank mine up and DANCE! Dance with me!


The Experiment ~A 365 Day Search For Truth, Beauty &
Happiness: Day 1 ~ Introduction To The Project
"Do or do not. There is no try."
Yoda