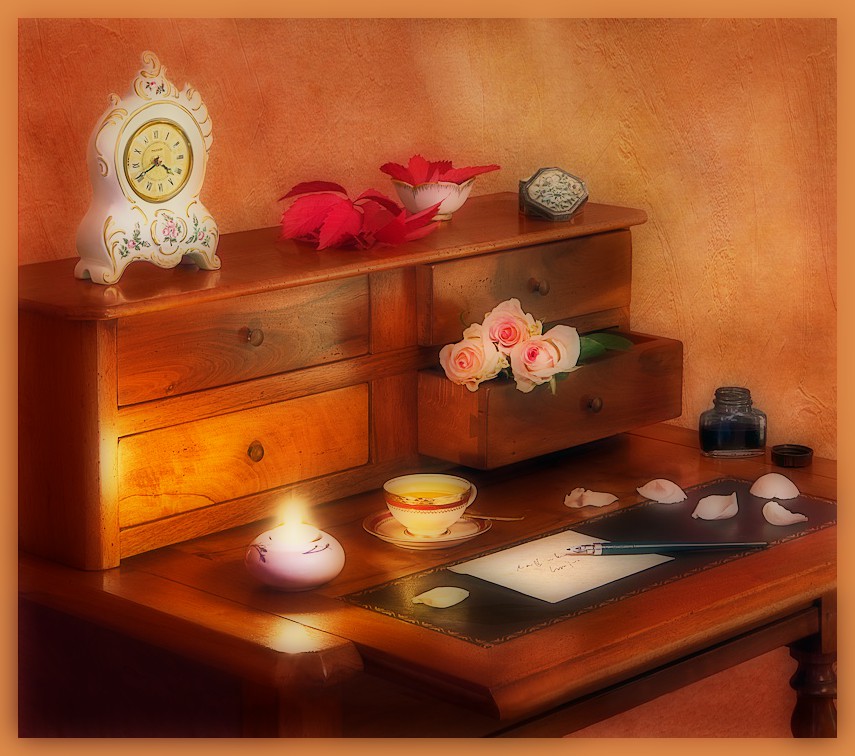 I do not believe in minimalism, I think it's just plain sad, nor do I think being over-indulgent and squandering our resources is the answer. In my case I no longer have the resources to spend mindlessly, but I do intend to increase abundance in every area of my life in 2018. Abundance, I've decided, is my word for 2018, because I am going to learn about all kinds of abundance in every area of my life. That's what I'm asking the universe for in 2018 and that means far more than money. That means love, and joy, and beauty, and kindness, and the incredible wealth that friendships bring, it means giving and receiving freely, it means accepting and embracing it all.
Before the fire my home was filled with sweet vintage and antique things, not expensive things, kind of like the things you used to love and remember from your grandmother or great grandmother's house. I cannot recreate those past things and that is okay. This is the year the word lush will be felt in every area of my life — roses from the garden, a ripe avocado, natural wax melts making my whole house fragrant, a special candle lit next to me while I write. It will mean writing with fountain pens and filling them from a bottle, it will mean cherishing every moment I can spend with my family, and it will mean giving and receiving as many hugs as I can. I want to build abundance in every area of my life and weave it all together and make the security net that I need to get through the rest of my life. Yes, financial abundance is something I add to that list but it is not the be all and end all. And not being afraid to ask for what I need at the same time I am giving everything I can with everything I've got to the world. I am not ashamed to ask for donations if this blog means something to you, or has helped you in some way, and you are able to make a donation in whatever amount you can, and only if you can. This is the work that I am giving the world. And I spend a lot of time answering people every day because that is what is in my heart to do. But I will be making humble offerings too and they will come out of my writing. Not just this blog to which I have dedicated my life but other writings in other forms. I have asked the spirit of The Magic 8 Ball what form these writings should take and the answer is coming up slowly from the depths of my being. These kind of answers to questions are riches too.
I had a completely different kind of blog post planned for today and then I got an email from someone I admire listing books she had read and loved in 2017 and at the top of the list was a book on minimalism and oh, please do pardon me, but I said outloud, "Oh HELL no!" We are not meant to live some bare bones skeleton existence! And I'm not talking about spending a lot of money. My darling little Christmas tree from the Dollar Store may be my favorite tree ever. I've known people that had very little money and created homes that just sent you into a reverie. A lovely scarf on the table with a vase of flowers from the garden, mismatched dishes from a thrift shop and a good home-cooked meal in a candlelit room and there was just nothing more you could wish for. And animal companions at your side to love and care for, and tiny treasures found here and there. I am talking about things that bring you joy, things that make you light up, and glow inside. I want my whole house to glow from within and have an aura of love all around it. I am creating my own reality and by God it is going to be glorious!
I'll give you a little example of what I mean. I know "minimalists" that don't believe in hardly any Christmas decorations if at all, they eschew "things" and I will stand that up against something I saw this Christmas that made me cry because of it's unbelievable beauty and memories and history of generations past. It was a large real tree filled with ornaments from grandparents and generations past, from the woman's childhood and the years of raising her children up to recent treasures from friends or finds in random places. It was a tree that just made you go all soft inside, a tree filled with "things" that yes somewhere take up space and have to be carefully packed up and stored for the rest of the year but oh my goodness gracious, I have never seen a more beautiful tree. Give me the tree full of things, of memories, of beauty, and homemade things from the hands of children, and lights and color that fill you with enough warmth and joy to last a lifetime. That's the way I want my whole world to feel. It's what I want to create, what I want to give to others, through my writing. I want to encourage you to create beauty and joy every way you can, all around you, and revel in it. Color, twinkly lights all over all year round, textures, natural lovely fragrance, soft beautiful music, a soft, cuddly, furry friend or three, can't you just feel this? Don't think "tiny house" think "house lush and beautiful with joy, with the gifts from the garden, with handmade things, and amazing free finds from nature or other adventures, whatever lights you up, whatever makes you happy…" WHAT ARE YOU WAITING FOR? You are alive NOW! We are not guaranteed the next hour, but we could live for decades and we should plan as though we will. Oh yes, I want abundance of all these types in 2018, to give and receive. It's all possible if you believe, and you can't just sit and believe and dream, you've got to get off your duff and MAKE THINGS HAPPEN. I will repeat what I wrote yesterday —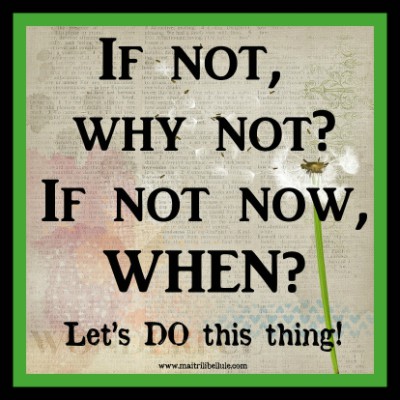 When indeed?
This is the year I am going to cast my bread upon the waters, I will feed hungry souls, I will hug everyone I meet, I will send waves of love out to everyone and — I am looking at you now — I invite you to join me this year, right here. Let's not wait anymore! Let's create the lives we've been waiting for, there is no other time but this. It's time to make our NOW a thing of glory. Buy good coffee, get yourself a bouquet of flowers at the grocery store, hug everyone you can, feed the birds, offer what bounty you have inside and out to others where you can, make this the year you decide to live the life you have imagined. If I live one more day or forty more years the life I create is going to be a lush tapestry woven from many threads of every color under the rainbow. Nothing is impossible. I am going into this year believing everything is possible. THAT'S how I am going to step out of 2017 into 2018.
Ask and you shall receive. Seek and ye shall find. Give thanks and praise and gratitude for all that you have and then make every corner of your life a soft place to land. Oh I am so ready, I truly am, aren't you, really? Isn't it about ding dang dong time?
Take my hand, let's take the first step down that yellow brick road. We're off to see The Wizard in 2018. There's no place else I'd rather go!
Happy New Year Loves, I hope to see and hear from you a lot in the year ahead. Let's celebrate every day all year long, shall we? Oh yes, let's!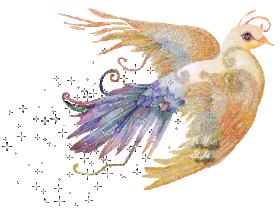 The Experiment ~A 365 Day Search For Truth, Beauty &
Happiness: Day 1 ~ Introduction To The Project
"Do or do not. There is no try."
Yoda