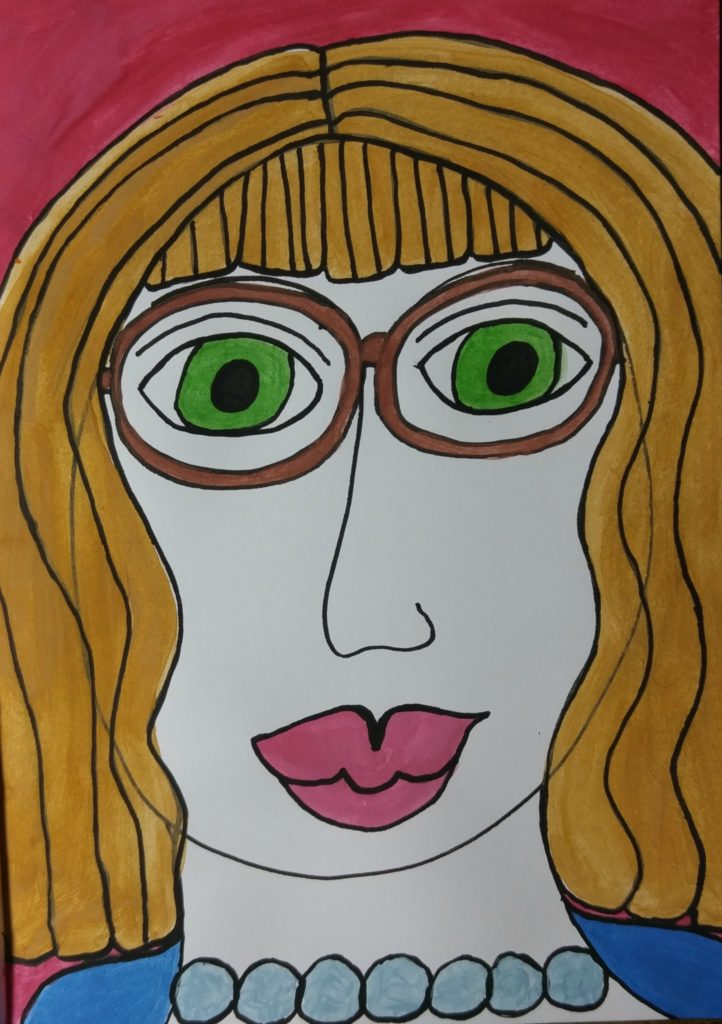 "Mae was only 18 when her mother died, leaving she and her 4 younger brothers and sisters motherless. Mae gave up her scholarship to college to stay home and raise her brothers and sisters and tend the house while her father worked. It was a hard job but Mae adored her family and tried to do what she imagined her mother would have liked for her to do. She watched them grow and go through all of the special moments her mother missed, and took a motherly pride in their good grades and achievements, and she saw each one of them off to college with a special pride she could not describe to others who felt badly for her that she had missed out on her dreams of becoming a teacher and teaching in college. She could not make people understand what a precious thing it had been for her to have raised her siblings and watched them go on their way, but she felt shy as though she wasn't on a par with them without a college education. She read constantly and wrote her secret thoughts in her diary that while never complaining were wistful and just a little sad. She worked as a Customer Service representative at the local department store and treated everyone she met with kindness, and on her 45th birthday she began taking night classes at the local junior college. She would make up for some of the education she had missed, would enjoy the classroom and the assignments. Even studying for tests was a joy. She would treasure these moments and perhaps go further after her associates degree. For now it was the joy of learning, nothing more. Her days outside of work were mainly celebrating the lives of her siblings, still, the only family she would have, and she considered herself blessed with a life she loved. She never regretted a thing."

Mae's story was inspired by Mae Dineen, my beloved grandmother. She died in September 1977 when my eldest, Jennifer, was only 8 months old. Her mother died when she was in gradeschool and she quit school to raise her 5 brothers and sisters. She would go on to have 5 children of her own, raise them, and take care of her father and in laws until they died while she was raising her own children. Her children and grandchildren were her bright shining stars. My Jennifer, her first great grandchild, delighted her no end, and I am so happy she got to hold and love Jenny while she was still alive.
When I was growing up my grandmother was, and still is to this day, the sweetest, dearest person to me, and, though she was shy and ashamed feeling "uneducated," she was without a doubt the wisest person I have ever known. I loved her dearly, as did all of her children and grandchildren, and my happiest childhood memories are centered around my grandmother. I was remembering her just the other day, thinking about Christmases past. She would always say she didn't want anything for Christmas. When I was six my grandfather went in the hospital on Christmas Eve and died on New Year's Eve so the holidays were always hard for her. One year after quizzing Grandma about what she wanted and getting the same old response my cousins and I decided to wrap up a bunch of empty boxes and give them to her. Of course we had real presents too but we wanted to teach her a lesson! She never said she wanted nothing again because she realized her stubborn family was going to get her gifts come what may! So many of my happiest Christmases were spent with my grandmother celebrating with us on Christmas Eve when we opened out gifts and Christmas Day when the whole family came over.
And more. Oh, I remember when I was little, long, long before malls entered the culture, when we would shop at the big department stores in St. Louis. We especially loved the tea room at Famous-Barr. We would go to the tearoom and I remember the tiny creamers, little glass bottles with cream for the coffee that my grandmother would let me drink. And they had a special menu for kids with lots of fanciful sounding meals. (They were mostly just peanut butter and jelly or similar kid friendly fare.) Grandma took care of me while my parents traveled a lot and she got one of those kid menus and would have me come home for lunch from school and she would make me one of the "special" lunches from that kid's menu and I felt like the luckiest kid in the world.
And while I grew up in an affluent home with lots of fancy decorations and two Christmas trees it is my Grandma's Christmas tree that I remember the most. She had never had much money and her home and tree were modest, but they had the old 1930's and 40's decorations, simple and sweet, and I remember them and treasure those memories to this day.
Grandma was the most incredible cook. Before Grandpa died we would all gather routinely at Grandma's house on Sundays and we would eat big meals, a table full of amazing food, fried chicken and all the trimmings, and one year nobody could find me — I was 4 I'm told — and when they did I was sitting on top of the table on the porch eating all the meringue off the lemon meringue pies! I would have killed me! Grandma just loved me to bits and served meringue-less pie!
One of my fondest memories took place on weekends when we cousins spent the night at Grandma's while our parents went out. Grandma would make homemade donuts and let we kids eat the donut holes. I treasure that memory to this day and would take the donut hole over the whole donut any day.
I'll never forget how pretty she looked at my wedding. A tiny Irish woman not much taller than 5′ and roly poly with wiry curly hair and the bluest eyes I've ever seen, she wore a long turquoise dress to my wedding and was so proud. I loved her dearly.
I sat with my mother and my aunts at her deathbed for hours but missed the actual death because I had to go home in the middle of the night to nurse my baby. I was heartbroken not to be there and I have never gotten over losing her. Now all of the old folks have died but one aunt whom I am no longer in touch with. Parents, grandparents, aunts and uncles nearly all gone, now I am the grandmother, the older generation, while I miss my own grandmother still.
I love being a grandmother but it is very different being a grandmother today when children are far flung and live in distant places with the babies only seen on holidays twice a year. I feel very fortunate that my middle daughter Rachel and her husband Jeremy and my eldest of four grandsons lives here in Wilmington. I have been part of his life since he was a baby and watched him grow up. I am, in fact, going to my daughter's house tonight for dinner and she and my 12 year old grandson Lucas and I are going to watch a movie. Not a Christmas movie but just being with them is one of my happy holi-days this year! My eldest daughter Jenny and her family live in Chicago, my youngest child, my son Aaron, and his family live in Atlanta. Oh how I wish they were all here but it is not to be.
It is something about the holidays, I think, that makes melancholy memories rise to the surface. Memories about parents and grandparents, memories of Christmases gone by, memories of our own young families growing up and our parents as grandparents to our children, but memories of my grandmother are the sweetest memories of all. I will savor these memories for weeks to come, and tell my grandchildren stories of their great, great grandmother as years go by. As long as we tell the stories we keep their memories alive. I will keep her memory alive forever in my heart, and treasure memories of her until the day I die. I am blessed by her still, and ever shall be.