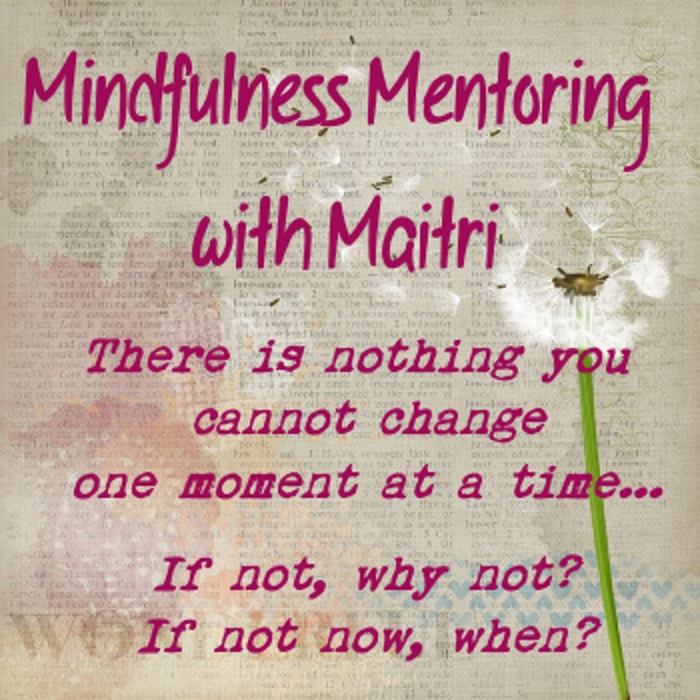 What is Mindfulness Mentoring With Maitri? It is a powerful vehicle that transforms lives. It is never too late to come into your power through a practice of mindfulness that transforms every moment into a vehicle for both finding inner peace and the building of a firm foundation that can effect profound change.
For nearly forty years I have used mindfulness partnered with the keeping of a journal as the primary practices that have supported, transformed, and changed my life in every area on the deepest levels. They have brought quiet to an unquiet mind, and helped me navigate my way through life one moment at a time. In teaching these practices to thousands of students over four decades in both private sessions and groups at churches, universities, women's centers, adult education programs and as a supportive practice for those in therapy I have helped people find inner peace, a sense of well-being, and contentment after years of suffering through doubt, pain, confusion, lack of confidence in themselves and their ability to move forward in life to achieve their goals and dreams.
As a Reiki Master and Shamballa Master Healer I help create a gentle space for our work together, each call a sanctuary where you can feel safe, and I will send gentle healing energy to help you on your journey.
All we ever have is this singular moment. The past is gone, the present not yet here. Today, well tended, will help create a more beautiful future, help you find clarity about the areas of your life that, coming into balance will make your life as a whole easier, more stable, and will help you function better in your relationships, at home, at work, and in the world.
Students speak about working with Maitri…
"I have suffered with an anxiety disorder and bouts of depression for most of my adult life. After years of therapy I was only somewhat better even while on medication. Since Maitri and I have worked together in private Mindfulness Mentoring phone sessions I now have the tools I have needed for so long to alleviate my symptoms and I have regained the hope that all will be well. Maitri's gentle, soothing voice and clear, compassionate demeanor have been such a blessing to me. She provides practical, real life suggestions and draws from her years of experience of working with others as well as her own practice of mindful and vital self care. Maitri provides me with meditations, journal writing exercises, and suggestions that I focus on weekly and these things have proven to be invaluable in my healing. She is a wonderful listener, teacher, mentor and guide who even stays in touch with me via email to see how I am doing. Maitri came into my life when I most needed her and I am so happy that I placed my trust in such blessed, healing hands. This is one of the best things I have ever done."
Donna M. Houghtalin, Fishkill, NY
~*~
It was a blessing to have done a Mindful Mentoring session with Maitri.
I had a wonderfully inspiring mentoring session this afternoon — thanks, Maitri. The process was lovely, intuitive, and most importantly, transformative, for the place that I'm in, and where I want to go. I totally recommend it — it was a clarifying experience and pinpointed some truly important messages.
I've been stressing about a transition beyond "paid work" into the next step – which is totally where I need to go – she helped me imagine a brighter future, bringing all the gifts and talents that I have forward into the next phase of my life.
Fundamentally, I need to seize the opportunity to create something wonderful and new in the next chapter – it's time to write a new story with grace, courage, and bringing forward all that I've already done.
Thank you, Maitri, for helping me over the "hump"!
Lisa W., Asheville, NC
How It Works
When you decide that you would like to schedule a session click on the PayPal button and make your payment. When I receive the notice of payment from Paypal I will contact you to schedule your appointment.
After scheduling a session I will send you a brief questionnaire to fill out that you will e-mail back to me. It will give me an idea of what area you want to work on in our session, how I might best serve you, and what tools might be most helpful. It also helps me attune to you energetically, to send you loving, healing reiki so that you are prepared when I write back to you after you send me the questionnaire. It is the beginning of our relationship, and I take this seriously. And joyfully! And each moment we spend together is celebrated and treasured.
The sessions are broken up roughly into 3 segments but there is also flexibility to allow for a fluid experience. In the first segment you will tell me what the issue is that you want to work on, and what your desired outcome is. This will also be dealt with ahead of time on the questionnaire. In this way we are able to establish a firm foundation from which to work and move ahead with clarity. In the 2nd segment I will respond fully to all that you have shared, answer your questions, and talk to you about the ways that you can achieve your goals with a mindfulness practice and other helpful tools. I will gently guide you through the whole process with great care. In the third segment I will give you a set of 3 journal exercises to take with you to augment our work together. We will also pull together all the threads that we have been weaving together through the session so that you leave our time together feeling that it was time well spent and that your needs have been met. You will leave with the seeds of a practice that you can immediately put into place to help ground you and more easily manifest your desired outcome.
PLEASE NOTE: Appointment times are limited and may need to be scheduled out weeks in advance due to availability.
* Also, please know that when you schedule an appointment you are entering a sacred contract with me, and I with you. I will begin to work with you on an energetic level from the time you schedule and I send you the questionnaire. To this end there are no refunds so please make certain this is something you want to do. In a serious case of illness or family emergency an appointment time may be rescheduled one time in accordance with availability.
Additional:
The call will be recorded and I will send you a link to the recording after our session as well as additional thoughts I have had after our session. You may download and keep the taped session to use and work from as needed. This is especially helpful so that you don't have to worry about taking notes and can relax and concentrate on the session.
Click the PayPal button below to make your payment and let us begin this exciting adventure together!
Warm Regards and Deepest Blessings to All,
BUY A ONE HOUR MENTORING SESSION WITH MAITRI BELOW…

(Fee includes working together ahead of time to prepare for the session,
tools that you will take with you to use after the session, and email
access to Maitri before and after session.)
$150
BUY A PACKAGE OF 4 MENTORING SESSIONS WITH MAITRI BELOW…

(Fee includes working together ahead of time to prepare for the session,
tools that you will take with you to use after the session, and email
access to Maitri before and after session.)
$500
A $100 savings!
NOTE: If you are not ready to invest in Mentoring Sessions but need someone to talk to you might want to look at the Comfort Calls with Maitri. They are very popular and only $1 a minute with discounts on multiple call packages. Click the phone below for more information!