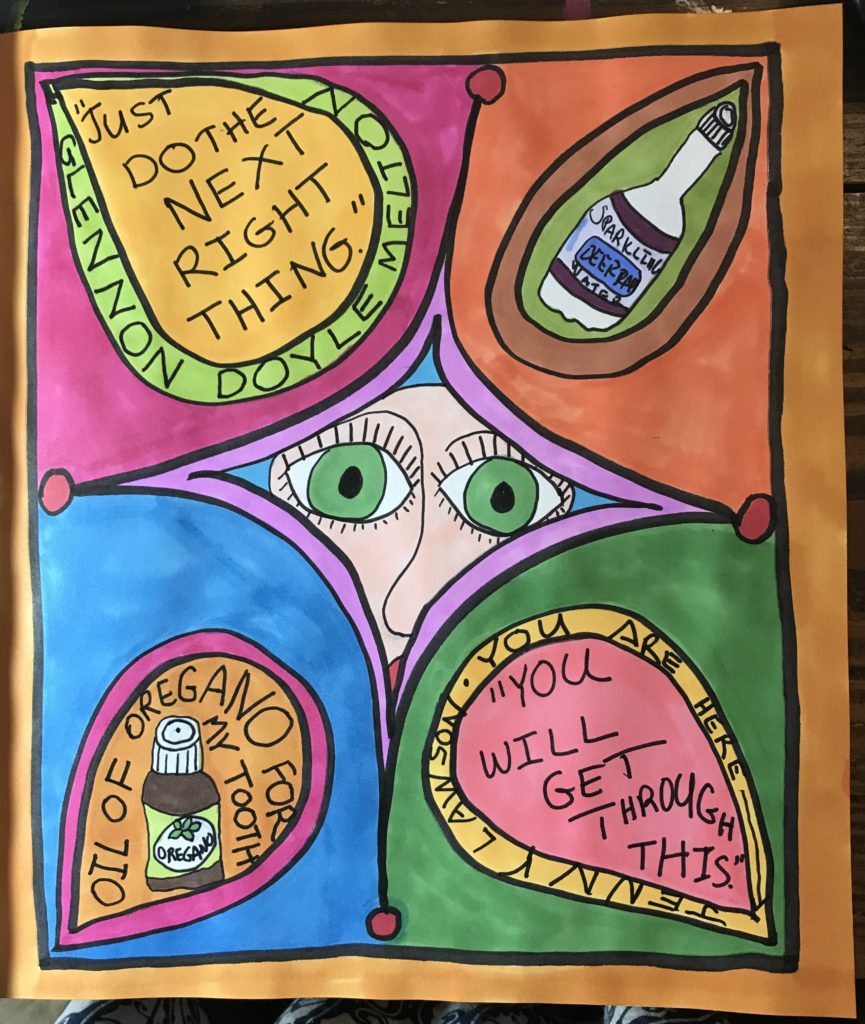 You will have hard days.
You will be told that you should "make art" because it is "so healing."
You will be terrified because you "can't draw a stick man" and "don't have a lot of money for expensive art supplies" and surely, "you're really not an artist." Yep. Been there, been told that, thought all those things, and knew that I was never going to "be Georgia O'Keefe" but do you know what? Neither is anybody else.
Do you want to be "the greatest artist in the whole universe" or do you "just need to get SOME kind of relief from stress, anxiety, depression, and more?" If you are the latter, come sit by me, bring something to draw ON and something to draw WITH. It matters not what, a cheap sketch book, a composition notebook, paper from your printer, cardboard, paper plates, anything cheap or free, available, or easily gotten — if you want to go all out — at the Dollar Store. I have even painted with cheap fingernail polish from the Dollar Store, whatever floats your boat. Pencils, crayons, little kids art supplies are cheap and fun to use.
Find a comfortable place to sit, or a place you feel secure, your safe haven. I am in my studio at my work table which is a mess as always (See bottom of post!) but you might be curled up in a corner of your couch, your bed, or at the kitchen table. It doesn't matter. Just spread your stuff out around you and get comfy.
For me because I'm bipolar and my mind can go in 27 directions at once it helps me to have something to listen to to take care of the noisy side of my brain while the doodly part of my brain doodles. Tonight I listened to two hour long podcasts from The Good Life Project that I mentioned yesterday. I finally did listen to the podcast with Glennon Doyle Melton, and also listened to a wonderful podcast with Liz Gilbert. And I doodly-doodly dooed. First in black and white, then in color. You might listen to music. You might, as I often do, just want it quiet, there are no rules except your own.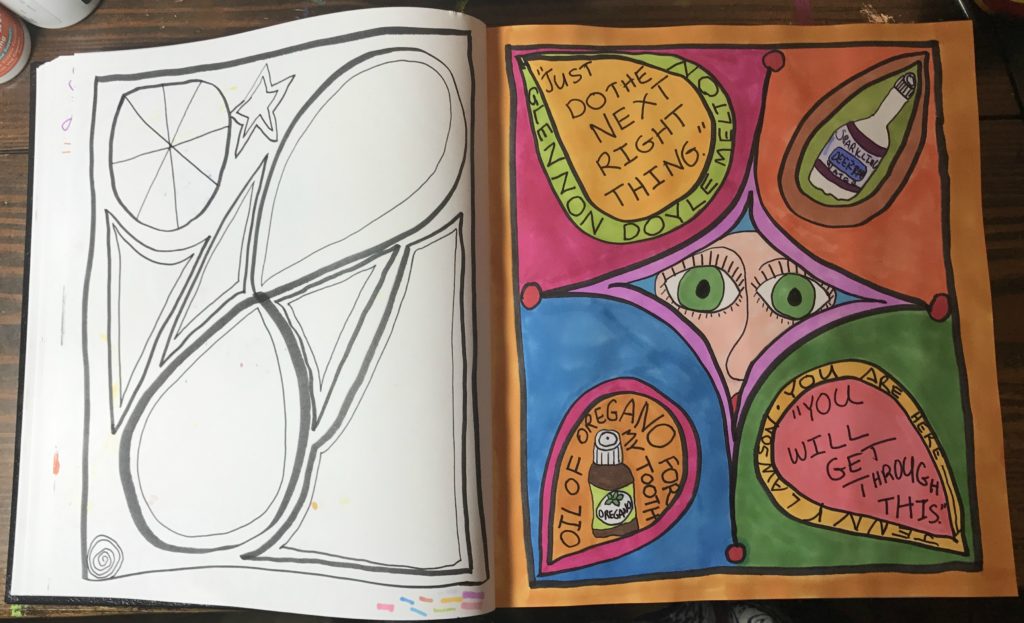 Today I had a day that started out very sweet, coffee with my dear friend Noni, and then she left and I kind of got scared and went numb. I spent the afternoon in my Big Chair with my pugs alternately reading and napping. At 5:00 I thought, well, gee, maybe I really should get up and DO something. I took the dogs out, dispensed meds to them and to me, gave them a treat and sat down here with a bottle of ice cold sparkling water. It is now 11:02 p.m. and I have not yet even gone to Facebook all day long. I finally got the dogs dinner, made my dinner and then sat here like a stone. I knew I had to get a grip on myself. I opened my giant sketchbook, got my markers, turned on the podcasts, and just doodled.
I don't have a lot to say tonight. I'm about to go back to the Big Chair with the pugs and read until it's time to turn out the light and go to sleep. I just wanted to share a little something with you before I head out of the studio for the night. And as you can see below, a sketchbook or something you can doodle in can be a calm oasis in a stormy sea, or a kind of lost day, or in the midst of chaos or your too messy desk that you are always depressed that you can't get/keep cleaned up. Don't worry about it. Shove stuff aside. Just doodle.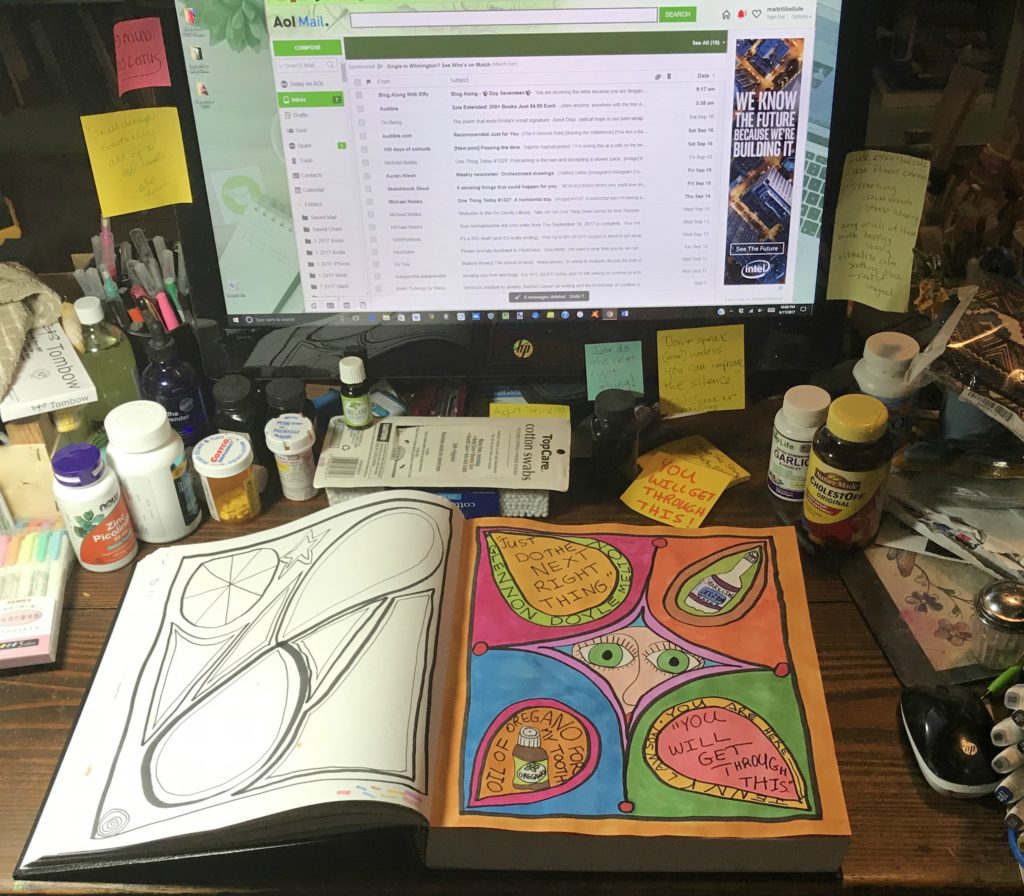 I'll come back tomorrow to chat with you again. My desk won't look any better but I'll make room to do what I have to do. That's all you have to do. It's all okay. Everything's going to be alright.

( September Blogalong Challenge With Effy  Day 17)