I sat here late this afternoon, thinking about my day, making notes for this blog entry, but unable to write it yet. My fountain pen moved languidly across the page, I was drunk on the heavy perfume of the Casa Blanca lilies in the old, cobalt blue bottle. This is the perfect way to work, I thought, with fresh flowers, a latte, and a pile of books beside me. A slow afternoon, a good day. I thought about how often I have written about bi polar days, but more often than not the days are good, sweet, satisfying, and so I thought I would share this day, so reminiscent of other days, most days really. I need to write about the good days more often.
Before coming to my desk I laid down with the pugs for awhile, hoping to take a nap, but my mind was too busy. Sampson and Pugsley snuggled against my legs and feet, but baby Tanner, my 4 year old, climbed on my chest. He loves to be very close and it is so comforting. I always think sleeping with the pugs is like sleeping with real, live, warm teddy bears. I rested with my hand on him, falling still on his back after caressing his ears. Perfect peace.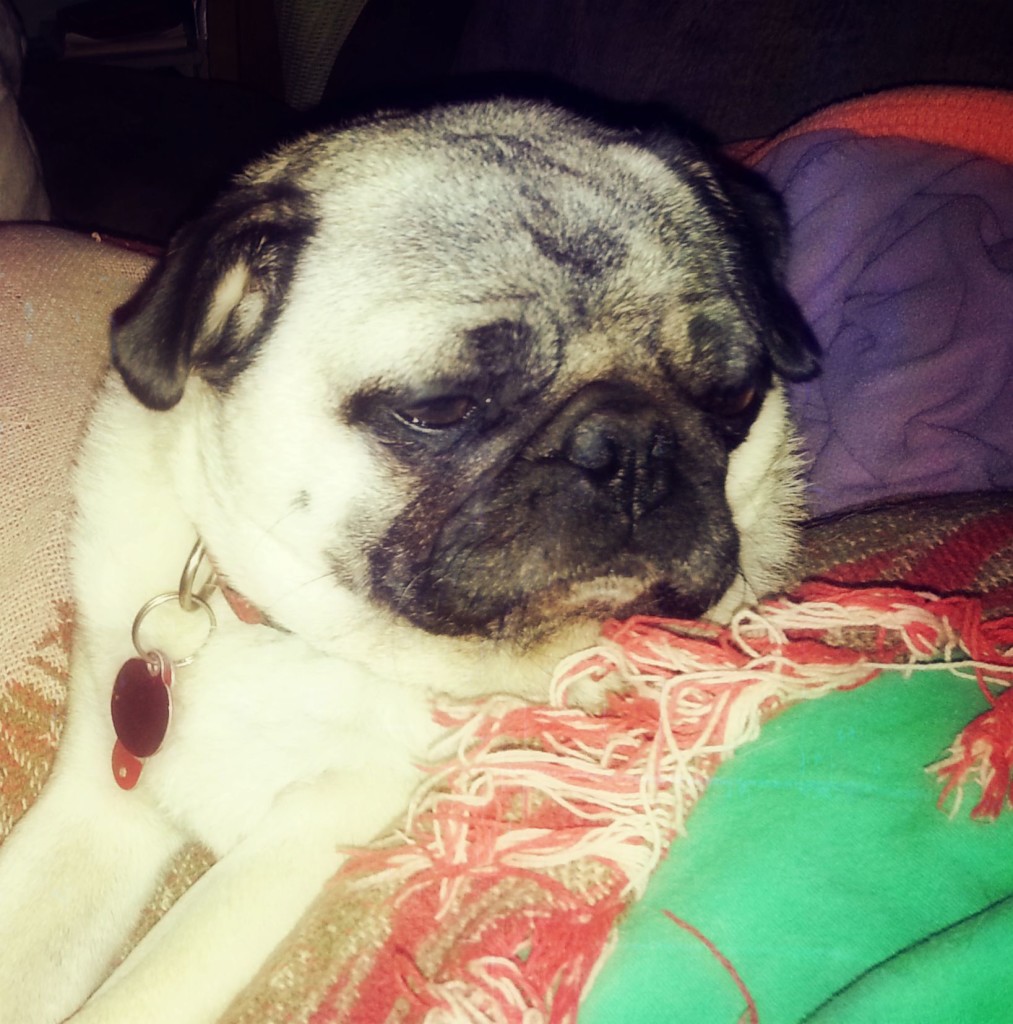 When we got up we took a walk outside in the garden. It was a cooler, less muggy day than we usually have this time of year and a welcome respite. While the dogs wandered around I breathed in the air, sweet and earthy, freshly turned soil, roses, lilies and jasmine blooming all around, and I looked up at the trees. Most of my properly is heavily wooded and very private, and shady which makes gardening a challenge. I use every stretch and path of sun that I can, and the pink and green fenced cottage gardens are filled with cottage garden flowers, cosmos and zinnias, black eyed susan and sky blue salvia, hollyhocks and sunflowers are on their way up and there is so much more.
Across from the green garden are the raised planters I had built last summer. These will be my fairy garden areas. With the dogs wandering around the yard I wanted them up off the ground, and I have been growing the plants the last year. Soon I will begin placing the elements of the fairyland I imagine, and I am as delighted as a child. The little figures will be able to hide betwixt and between herbs and scented mints, wild geraniums, old-fashioned 'Bath's Pink' dianthus, achillea and echinacea, several types of lavender, old fashioned violets, and blue tree form hibiscus syriacus that I am keeping cut short so that the big, satiny blue blooms are almost the only thing you see, sidalcea, ranunculus and other small bulbs. I want to add the tiny species tulips and crocus for spring, and I am tucking in everything I can. And there will be gnomes with the fairies. I love gnomes!
I finally settled at my desk, the pugs crawled into their beds and went to sleep, snoring around me as pugs will, and I read for nearly 2 hours, musing and making notes. I found that I had gotten into the habit of spending too much time on the computer and not enough time reading. Now that I am designing The Outsider's Toolkit which will be 12 weeks of support, encouragment, journal exercises and inspiration I have gotten back to reading a lot more and it is pure pleasure. Next to me are May Sarton's A Reckoning, Colette's La Fanal Bleu, one of the volumes of the letters of Virginia Woolf, and Rilke's Letters To A Young Poet. At night I read my cozy mysteries, my guilty pleasure. During the day I turn to the literature that formed my life as a writer, my teachers through their work, and the books that I loved the most, the pages soft with age with highlighted areas, underlined passages, and notes in the margin. Yes, deep pleasure, like visiting with old friends.
After I finished my latte I decided to finally cut the pomegranate that my daughter Rachel brought to me a week ago after my workshop with Shiloh Sophia where I drew a goddess figure with a pomegranate at her throat. I love pomegranates and it is a fruit that I just never seem to buy. I had forgotten how beautiful they were and as I cut it the sweet red juice splashed up on my glasses and ran down the cutting board, and the seeds glistened in the late afternoon sun coming in the kitchen window over the sink. Pomegranates are the only fruit that I can think of where it is the seeds that are eaten, and you really have to work for them. I finished half of a half which means it will last for four days. A special treat!
Finally after dinner I came back to my desk and started writing the blog entry. I have written bits and then kind of sat back in a reverie, thinking about the day. May Sarton wrote that loneliness is the poverty of the self, and solitude the richness of the self. I think she is right. People ask me if I get lonely here and I always respond, "I might, if I had the time." From the time I get up and my feet hit the floor I don't stop, save the occasional nap in the afternoon. There are nine animals to care for here, a very large garden, housework, and I am at the computer, or reading, writing, or drawing all day long. My work is my life in the best possible way. My days are very full.
Now it is time to put the birds to bed. I live with 5 parrots along with the 3 pugs. It is a lively household and a happy one. They talk to me and sing to me and give me kisses and sit on my shoulder. Often I sit here with Miss Scarlet, my grey parrot, on my shoulder, with the pugs all around me. No, I don't get lonely here. I am at peace in my solitude. I can't imagine any other kind of life.
I'll stop here. Scarlet is saying plaintively, "Time go night-night," which she will repeat, her voice rising in intensity as she says it over and over until I get up to put her to bed. She will not step up on my finger until I rub her head. I love this special time with her. As soon as I get up from my chair she puts her head down and waits. I rub her head and the soft white skin around her eyes, and then she will step up and let me put her in her cage and cover her. And then the other small parrots are ready, and the dogs need medicines and their night time treat, and we go outside for the last time. I commune with Mama Moon and listen to the song of the crickets as the dogs sniff about and then we come inside. I will work at my desk awhile longer and then we head into the cozy room where the pugs will go to sleep on the overstuffed couch around me while I read until bedtime.
I love my days. The dark days and hard times really don't come very often, especially when I am working productively. Tonight I have miles to go before I sleep, I'm usually up reading until about 2, and then I snuggle in with the sleeping pugs and drift off to the chorus of the three boys snoring. I don't need to count sheep. I have pugs and I love the snoring. I often go to sleep smiling.
Morning comes quickly enough and I am up and right out the door with the dogs. The parrots want their breakfast, it's time for the whole ritual of making my latte which I love, and another day begins. I am blessed, and filled with gratitude. I have so much to be thankful for…
Love and Blessings to All of You. May you find peace this night…