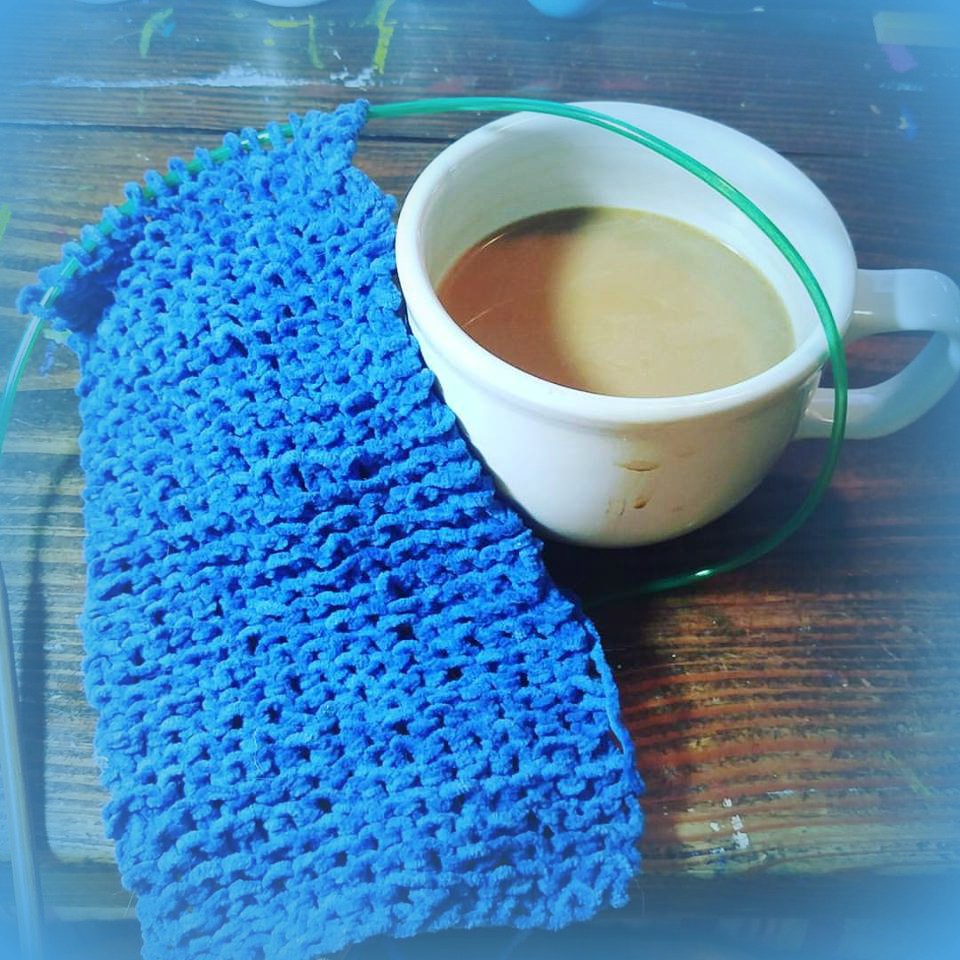 It is Halloween, the first day in what I have always thought of, since my children were small, as The Holiday Slide. For some time I have thought of it more as beginning at Thanksgiving because I don't have young trick or treaters in the house but I have realized that it really does start today. From this day forward we are on one long slide from Halloween to Thanksgiving, then to Christmas (or whatever other holiday you celebrate) straight on into New Years Day. Nothing will be *normal* until after the new year. Every few weeks there is a new holiday now with much preparation and planning going on in the weeks between the whiles and it is all a jumble of busyness, for many of us an overwhelming absence of routine and normalcy, and I start to batten down the hatches and cling to what I can.
I love the holidays but as a woman with bipolar disorder and a basket of other mental health issues having a steadfast routine that I can count on come heck or high water is what keeps me balanced and as sane as might be hoped for. This time of year I start to get nervous because there are so many instances of routines turned inside out and upside down or obliterated completely. To that end I have to implement practices that keep me as calm and peaceful as possible. It is time for what I call *Knitting Without A Destination*, or Knitting Meditation. This is where I cast on a few stitches, start knitting, and keep the knitting always by me here while I work. Many times throughout the day or when I begin to become nervous and edgy I pick up the knitting and go. In this piece I only cast on 15 stitches. It could end up being a headband or some other little something or I might just unravel it, roll it back in a ball and start over. I follow the stitches with my breath, feel my whole body relax, and fall into a rhythm with the stitches as they go. Too, there are essential oils…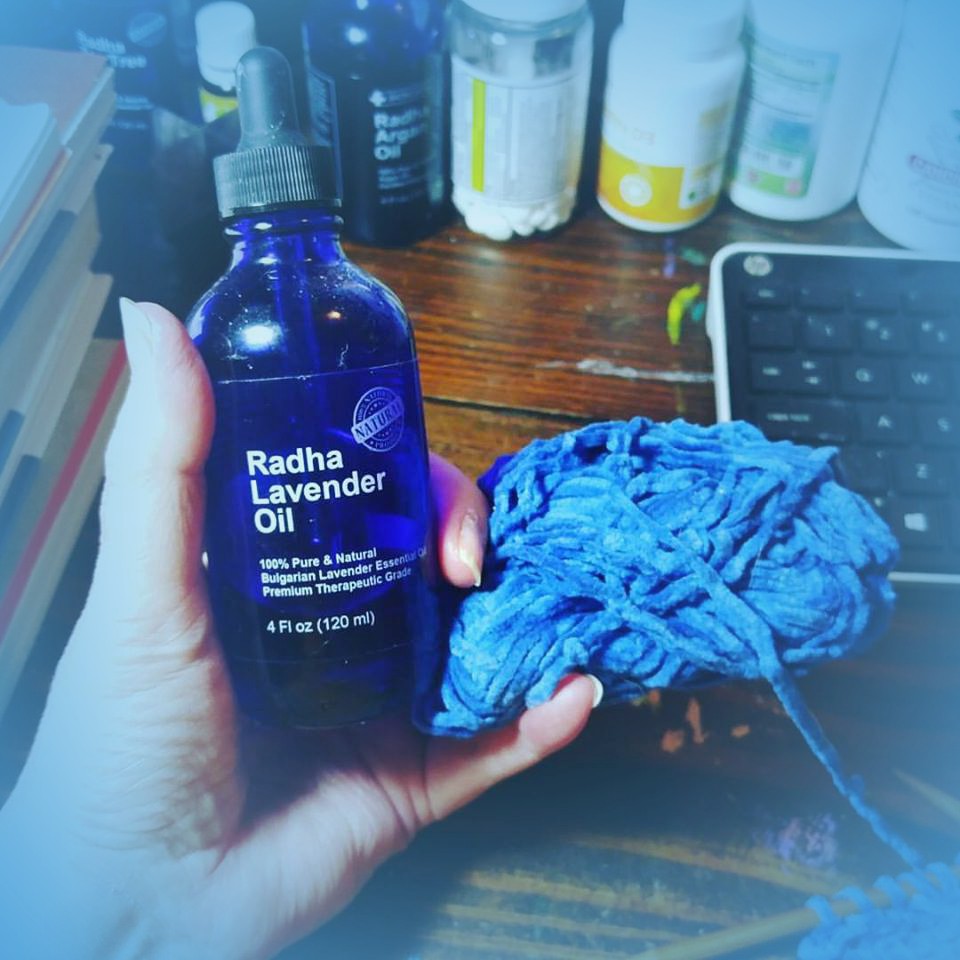 I love working with essential oils, these days I always have a diffuser going here in the studio with essential oils, and I use them for health reasons and for relaxation. My favorite is lavender and when I am knitting in this manner I dab lavender on the yarn and put drops of it on my wooden knitting needles. As I knit my hands and the air around me are redolent of lavender and it is so soothing and relaxing it amplifies the meditation qualities. This is truly the most effective way that I have found to relax, find my balance, and come back to my center. I can't recommend it highly enough. And a diffuser is an incredible investment. I got mine for $30 on amazon and their oils are at amazing prices as well. This brand, Radha, is one of my favorites, and you can get a big 4 ounce bottle for a fraction the price you'd pay elsewhere. This is my diffuser and it holds 300 ml of water. You want that much or it will run out of water too soon…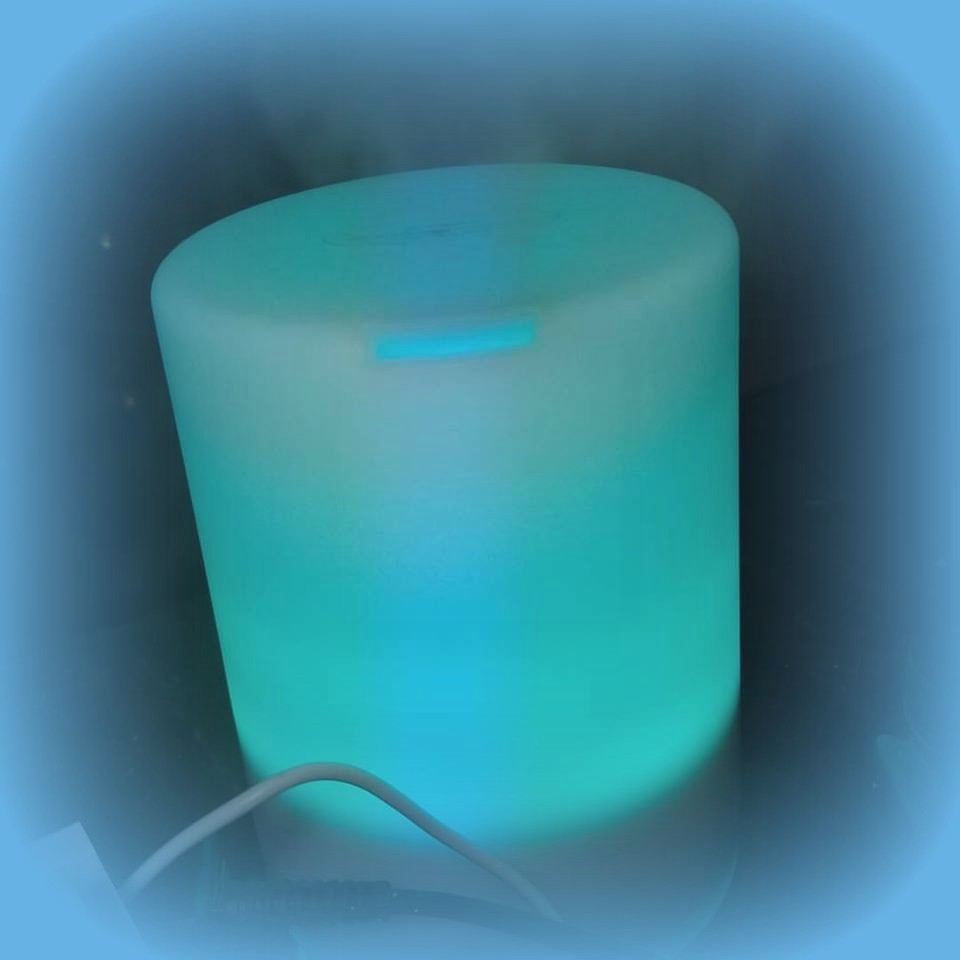 A lovely thing about the diffuser is that it changes colors (You can turn that feature off if you don't like it.) but it is very soothing. With the diffuser running the whole room smells wonderful.
So as I have been writing to you here I have picked up my knitting a few times, added more lavender to the needles, I have breathed in and out slowly with the rhythm of my knitting and the sound of snoring pugs in the room around me, and I am preparing to have a quiet Halloween night. I turn the lights out and don't give candy out. On this street where I live it is almost all retired and older people with very few if any trick or treaters and I would end up eating the candy myself so now I just hunker down with the pugs and watch a movie. Nothing scary!
I hope wherever you are you have a happy, healthy Halloween, and prepare your own calming strategies for the Holiday Slide ahead. They will stand you in good stead especially as we near Christmas and all the hubbub. I have even more practices I put in place as the slide slips along. I will share them as we go.
Blessings dearheart… and… BOO!