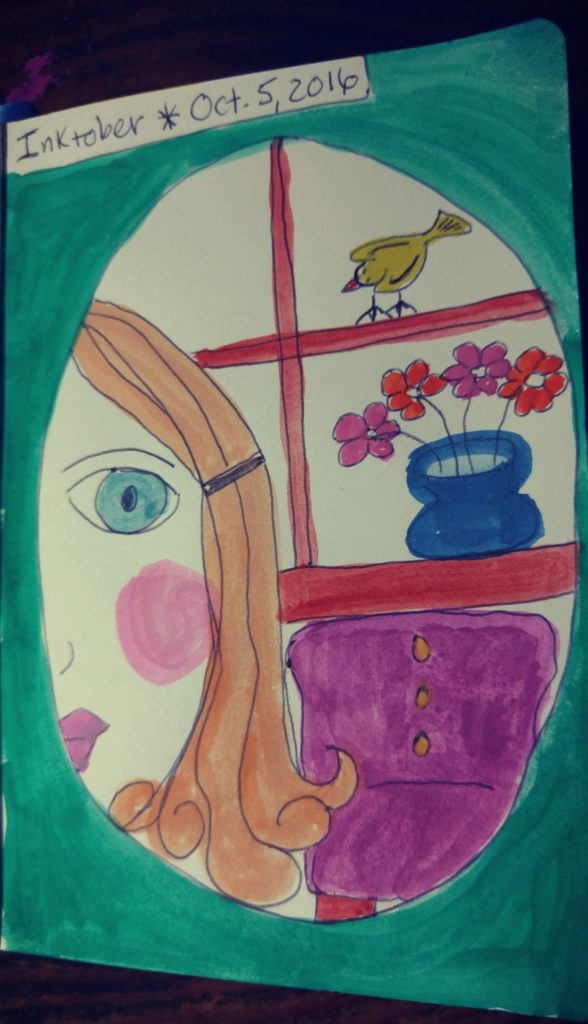 I have been struggling to find my way back into my art. I was painting daily, mostly acrylics on canvases of different sizes, painting with joy and abandon, just for the love of it, up until a little over a year ago when I started publishing my bi-monthly zine, Pastiche, which came to a close with the final issue on September 1. I hadn't thought it would be too hard to get back into my painting but as I've written elsewhere my attempts at finding my way back into my art have been like my pitiful attempts at parallel parking. Backing in, pulling out, trying every which way to get into the space to no avail. So, too, my return to painting. My attempts have been dismal failures until my friend Noreen told me that I might like inktober, a little art challenge for the month of October where you draw with pen so you can't erase or change a little drawing/painting each day. This delighted me, and I am using a tiny 4″ x 6″ sketchbook and watercolors or Derwent Inktense blocks. I paint and draw completely differently when I use watercolors and that's okay. It is simply moving the hand across the tiny page and creating an image, for me something whimsical and sweet like the girl above peeking through the peep-hole of her apartment. You commit to drawing daily but you're not trying to paint the Mona Lisa, you're just making art, without expectation or berating oneself for not having "done better." I have done 3 little drawings now and I am tickled all to bits. It is my way back in to my art. By the end of the month I believe a door will have opened into my art in a wider way just by letting these little drawings be enough. And they are, and they make me happy.
As I started writing this piece I was reminded of something I talked about in therapy today. February 5, 2014 my house burned down, a terrible, devastating blaze, and I have never been the same since. I am more vulnerable than I was before, and I was vulnerable before the fire, but there was some kind of confidence I had in myself that I lost after the fire and never quite got back. I went into my shell and haven't been able to come fully out again. I hadn't realized how deeply this affected me until a video I had made came up on Facebook a couple of days ago. I sat watching this 15 minute video talking about the work I was doing with such confidence and such zeal, I was so excited about the work I was going to be doing that I teared up. That video was made for the new business I started the month before the fire, I had worked toward getting it going for nearly a year, intensively for 6 months working with a phenomenal mentor, starting the website, designing material, and finally starting to do mentoring and creating eBooks and getting ready to teach an ecourse, and it was going really well, and then the fire happened. That video was made just weeks before the fire and my fledgling business that I had worked so hard to start came crashing to a halt as all of my materials, equipment, and more burned and were lost.
I tried in the months after the fire to get going again and I did create some work I was proud of but I couldn't sustain it. And then my life crumbled, the aftermath of the fire's devastation finally caused me to break down in a way I hadn't until I moved back in the newly rebuilt house. It was new and pretty but it didn't feel like mine, and the life I had created was gone, the business I had started had vanished, and not to this day have I had the confidence to rebuild a business that could sustain me. I have been in scary straits financially and otherwise in the aftermath of the fire with no ability to pull myself out. My get up and go got up and went, and I've been searching for it ever since.
My life has taken a turn these last months and I have written about it here. I have found a wonderful friend in Noni and we are cooking every week and enjoying wonderful times together. I joined Weight Watchers and have lost nearly 30 pounds and counting. I am making positive changes in my life but for some reason like my art I have not been able to find my way back into the work that I need to do to survive physically, mentally, emotionally and spiritually. I tried going back to church, I wrote most of a book, then petered out, I have planned eBooks and eCourses but not been able to find my way fully into the work. I am at the edge of a new beginning and yet I can't find my way in. And now there are these tiny drawings and I wonder what they will teach me, what they will open me up to.
I felt really shy with the first couple of drawings. They look like a second grader drew them, I thought. But I have persisted and I intend to keep up drawing daily for the month. It's okay if they look like a child drew them, because I only started drawing at 58 and my little girl was stuck inside having shut down when a teacher told me I would never be an artist and took my little drawing with pink trees and an orange sky and yellow grass to the front of the class, laughed at me, and tore it up. I need to draw my way from that place of a shut down, frightened little girl to the woman I am today and let her grow into whatever she will become. I think inktober might help me do just that.
And can I find my way into my work as a writer and teacher, things that I have done for 40 years? I hope so, I am going to try, one little drawing, one day at a time. Wish me luck, will you? Hold a good thought for me, I think I am getting close to opening up more of the places that were shut down with the fire. Somewhere under the rubble in my mind lies a strong woman. It is time for her to emerge. I think I'm ready.