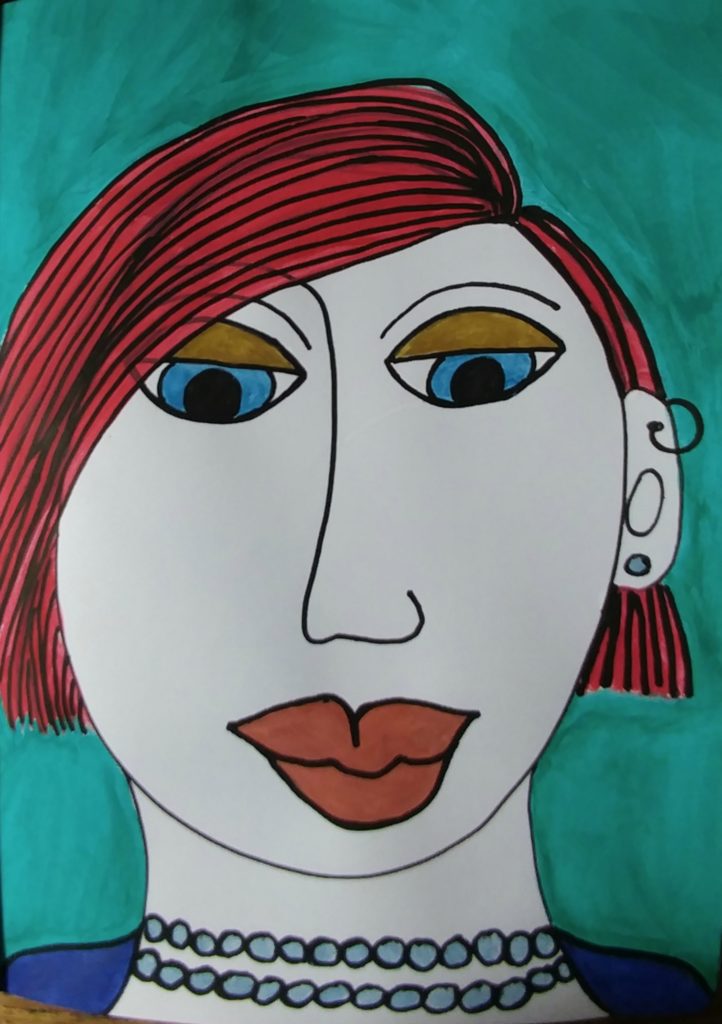 "Ruby sat in the sun with her notebook on her knees. She took a deep breath and then started to write. She wrote about the day, the way the sun shone through the windows and made rainbows with the dancing crystals swinging on colored thread. She wrote about her empty coffee cup and dreamed that she could read her future in the coffee grounds in the bottom of the cup. She listened to her little dogs snoring, and smiled. She wrote about how her toe hurt but her back felt better. She wrote about how her cheeks felt when she smiled, and this made her laugh. She doodled rainbows in the margins and wrote quotes large across the tops of the pages. She took her rainbow stamp pad and rubber stamp and stamped flowers all the way down the left side of the page. She poured her heart out, all of the feelings, the fear, the anxiety, the happiness, the joy trembling at the edges. She wrote big and bold with her colored pens, I AM A RAINBOW. She felt like a rainbow. She was all the colors of sadness, the purples and the blue, all of the colors of ease and peace, the greens, all the colors of passion and happiness and joy, the yellows, oranges, and red. She was everything. The rainbow was her feel-o-meter and she could tell how she was by the colors she was drawn to at any given time. Today she was green, it was a sweet peace she found in this day. She took three different colored green markers and drew leaves swirling down the right side of the page. She wrote between flowers and leaves, under quotes and around rainbows, she wrote the words I AM RUBY really big, she was feeling fully herself without dents or holes or bruises. It was a good day. She was Ruby, and she was feeling fine…"
I haven't been writing here or in my journal for that matter, except in a scattered fashion. I have tried, but I find that my attempts at journalling don't match my passion for writing the Ladies stories. It has just come to me that even though the stories are fiction many of them are autobiographical, and if the facts aren't the same, the feelings are. The rainbow is my feel-o-meter, if I am not drawing rainbows in journals there are rainbows in my heart, I am very drawn to color, the colors are in the ladies that I draw and what I hold in my heart on a given day comes out in their stories. I am learning, in this last day, from Ruby, how to be wholly myself without dents, holes, or bruises. How to let those whole parts of myself shine like the sun and light my way. I can tenderly minister to the broken parts if I focus on those that are strong and brave, that shimmer and shine, that are solid and rooted in the earth, for most of me, if I stop to think about it, is much stronger than I usually give myself credit for.
With each Lady that I draw I unearth another piece of myself, another fragment, like finding a shard of pottery buried in the earth on an archaeological dig. Her eyes peer out at me from the page and her story is transmitted by some magic that is part of me yet beyond me. I am a scribe at the knee of the Lady I am serving on a particular day, and the Lady may be a piece of myself, or a woman in the world that I am meant to serve, to touch, to reach out to, through my pen and paint brush and keyboard. You see it's all very complex and if I stop to try to dissect it it loses its magic and fades from view. Emerson wrote, "Do the thing and you will have the power." In creating the Ladies and their stories I am simply doing the thing and the spark of energy, the power, is transmitted to the world when I hit "Publish" and let it go. I didn't know how to be Ruby until after her story was published. I was defined by my dents and holes and bruises. Now I can see that those things are part of the whole but not the definition of myself.
I created a Lady daily from October through December. Now I am working at creating them steadily, every day or so, and writing their stories, and letting them show me where they want to go. Will there be a book of the Ladies and their stories? Will it be a book about making art past 60, finally coming into myself as an artist, letting art, via the Ladies, teach me and heal me and sustain me? All are part of what I am doing with this project, The 100 Ladies Project, and I want to reach out to other women, to show them that they, too, can be all that they dream of being, and especially to those who want to make art, who have throughout their lives longed to make art but thought that they couldn't draw, weren't artistic, simply couldn't do it, that they can do it, and further, that they must. Because it is in doing the thing that the dents and holes and bruises are banished, and the power unleashed in our lives.
I AM MAITRI. I am so much more than the woundedness I have written about for ages. I am whole, I am a rainbow, I am flowers, and leaves, and all the colors of the world. I am a writer and an artist and a woman who has survived much and who will continue to grow and change and age like a fine wine. I will do it with my pen and brush and keyboard, I will survive, without dents, or holes, or bruises. I shine…