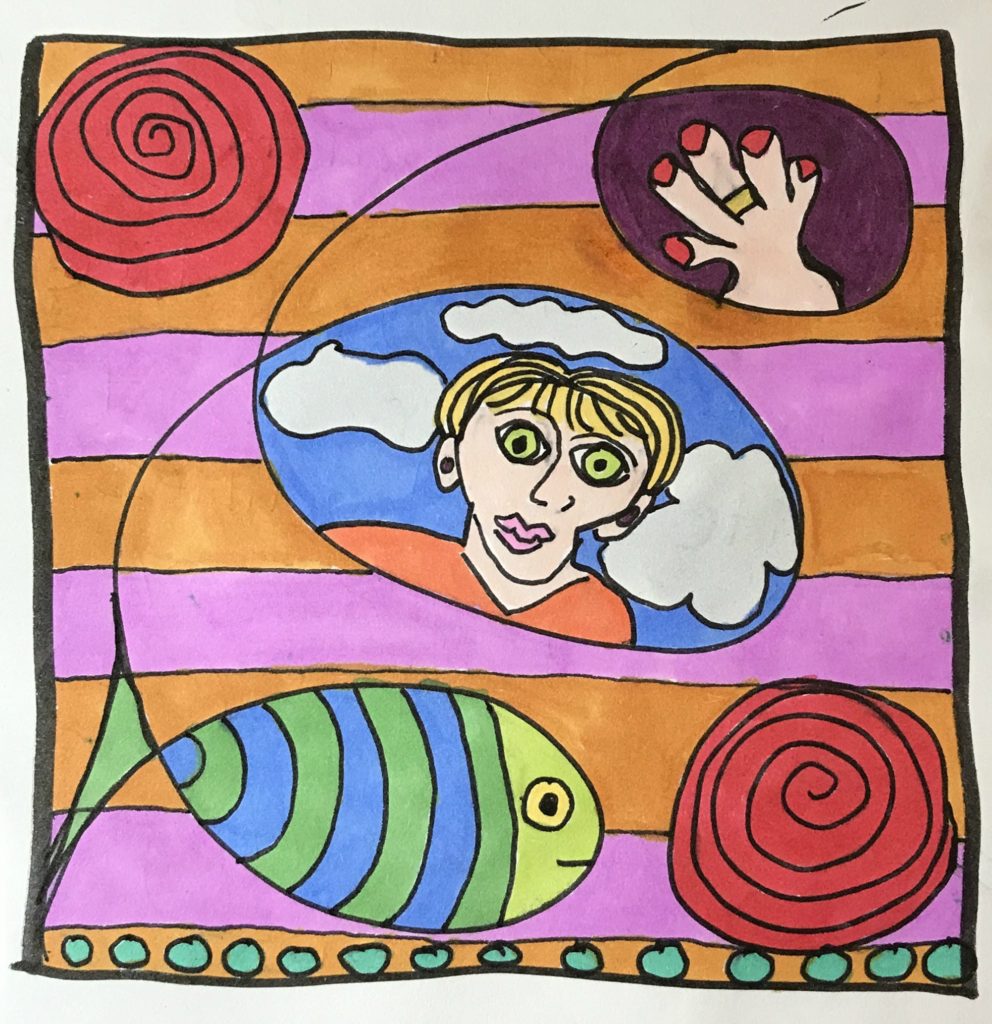 I am back. It was a hard night and a tentative morning, but one of the days when I was able to pull myself together enough to do things that would keep me moving forward. I got the pugs out and fed them, I made coffee, and then I sat with my coffee here at my work table and answered all of you who had commented on last night's blog post and there were so many of you and I was so deeply moved. It just goes to show that if you try your best, with an open heart, and offer whatever it is that you have to give with love, no matter how small the offering, you will reach and touch others, and when people comment back to me it is like being showered with blessings. Thank you so much to all of you who are taking time to comment after these posts. It means more than you will ever know. And so now it is the 4th day of  the September Blogging Challenge With Effy  and I am returning again this evening to tell you about my day and also about someone's work that I have fallen in love with.
After I finished answering people here, and going through the e-mail, and answering people on Facebook I started to sink. There was a brief time of flailing about a little afraid. I have to be vigilant and constantly reign myself in so I don't go off the rails. I returned to my art therapy course. I picked up my notebook and black pen and drew a square, and as we are taught when learning how to do zentangles you draw a line, like laying down a piece of string, all squiggly and with abandon inside the square. With zentangles they use white squares called "tiles" to do this. I just use my Tombow black brush pen that has a brush tip on one end and a fine point on the other. I used the brush tip to draw the square and then the fine tip to draw the squiggly line. That's where my connection with zentangles stops, because with zentangles you are supposed to fill in the space around the squiggly line with abstract things, or lines, dashes, or other embellishments that are not recognizable figures. The trouble with me is that once I have all those open spaces my bipolar brain takes over and flips into doodling. Wheeeee! Suddenly there is a stripey fish, a lady in the clouds, a funky little hand with painted nails, spirals, circles, lines, and lots of color. It is both freeing and relaxing, I just sit quietly and without thinking I just do. I doodly doo whatever comes up and then I get out my big bag of colored markers and start to color.
There's a reason coloring books are all the rage, why people of all ages love to color, and why coloring is especially good if you are struggling with mental illness. My mind wants to gallop away into terrifying places and it can make me too afraid to even move. When I am doodling and coloring in I am peaceful. My body is relaxed, my breathing is even, it is restful. But still, for me, who has never been able to successfully keep up with meditating no matter how many different classes I took or books I read or videos I watched, I cannot expect my bipolar brain to be still and keep focused. So I did what I knew would help, I put on a youtube video and watched a succession of them, and not just any youtube videos, they were the videos of Jenny Lawson.
Jenny Lawson's books recently came into my life when I had been going through weeks and weeks of what had become debilitating depression. I hadn't been able to smile but Jenny's books were so funny they made me laugh until I cried — a happy kind of crying — and I absolutely inhaled these books. They came along and saved me. She writes about mental illness  with a kind of humor it's hard to believe you are reading based on the subject matter! If you are easily shocked she will shock you. If you are bothered by "language" you better not read these books. But if you are mentally ill and have felt alone and afraid and misunderstood, or have people near you that you love who suffer with mental illness and you want to understand them better, or you just really need to laugh, read Jenny Lawson.
I have read them out of order, starting with her second book, Furiously Happy: A Funny Book About Horrible Things, followed by her third book, You Are Here: An Owner's Manual for Dangerous Minds, and am now finishing up her first book, Let's Pretend This Never Happened: A Mostly True Memoir. I'd suggest you read them in order though this worked fine for me. I loaned You Are Here to my therapist and she loved it so much she is ordering a copy for herself and one for her office waiting room as well as Jenny's other books. The thing about You Are Here is that it is very different than the first two and I have kind of carried it around and clung to it like Linus clings to his blanket. It is, well, not a workbook, but full of wonderful art by Jenny to color in, a spacious book with lots of breathing room, sometimes just one meaningful phrase on a page like "You will get through this." (I put that on a post-it note and stuck it to my computer.) The pages are even perforated in case you want to tear them out. I couldn't bear to tear out pages but putting things on post-it notes works great!
So, having fallen in love with Jenny Lawson, and having watched some of her youtube videos wherein she does readings and Q&A and book signings to standing room only, I knew that I wanted to have Jenny for company today. I knew she would make me smile, make me laugh, and help me relax enough to do my zendoodling, and she did, and I drew and colored and laughed with Jenny and made it through another day. In an hour or so I will be snuggling up with my three pugs and reading Jenny's first book, Let's Pretend This Never Happened. I will be reading and laughing long after the pugs are asleep.
So I have made it through another day, and this evening is easier than last night when I wrote near despair. This is living with mental illness, it is continuous ups and downs and you never know what's coming next. But I'll tell you, as long as I keep drawing, and keep Jenny Lawson nearby, I believe I will make it.