Dragonfly Cottage Studio is at the back of the cottage proper and looks out over a very large garden and woods that lead down to a creek beyond the six foot privacy fence. At the back of the property, much to my amazement when I found my little dream home, was a gigantic wooden ship! I had it restored and now The Magic Ship is the focal point of the place. If you look closely you will see one of my family of rescue pugs on deck and in front of the ship in the yard. In this way you can appreciate how truly large this ship really is.
I fell in love with this room on sight because it is very large and has windows all the way around two sides. The back wall looks out onto the garden while the right side looks out onto a very large deck that is painted bright flamingo pink, hung all the way around with numerous bird feeders and windchimes, and my herb garden and kitchen potager are here on the deck. The doggie door is in the door just feet away from me where I write and draw and the dogs and I are in and out all day, out across the brilliant pink deck floor and into the cottage garden. It is a very happy place!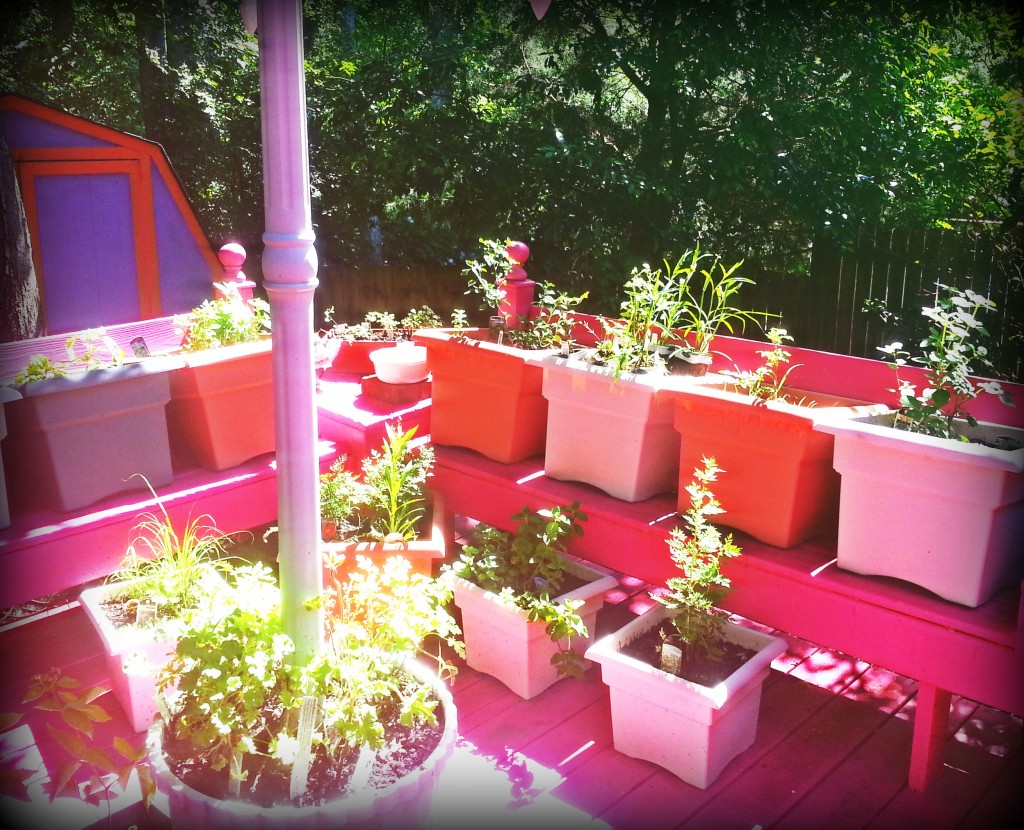 I never get lonely here as I work because I live with a family of rescue pugs (currently 3) and 5 parrots. My latest parrot rescue was a little over a year ago when a nekkidy grey parrot — a life long plucker — joined the family and she lives here in the studio so Miss Scarlet and the pugs are lively company in addition to the numerous birds at the feeders which are just the other side of my window here, so close I could reach out and touch them.
I sit here at a very old, very long hand-hewn farmer's table and am surrounded by floor to ceiling books on the 2 sides that don't have windows (there are over-flowing bookshelves in every room of the cottage), and art supplies galore as well as baskets of yarns, fibers, looms, spindles for handspinning yarn, and all manner of fiber equipment. It is a colorful, cozy place filled with art from my artist friends which are hung in every room of the cottage. I so love my little place.
Dragonfly Cottage Studio is the home of all of my work and where I will be writing the books and creating the art that you will find here. I am currently at work on a non-fiction book titled, Tending Grace, about my journey to arrive at this place and maintaining a life here where everything is sacred, and in silence and solitude, in meditation and prayer, in my garden and with my animals all of the work that I create is born.
I am also at work on The 100 Ladies Project, a book of stories to accompany my drawings of whimsical and soulful ladies whose stories are journeys of the heart, fables, fairy tales, and dreams. I am a cantadora and writing stories to pass down is my way of sharing wisdom and heart teachings to help heal, soothe, and accompany others on their journey.

The 100 Ladies Project is another part of my work that I am exploring and expanding now and there will be a number of small books and merchandise with the ladies along the way until the whole book of the 100 Ladies stories is complete.
Dragonfly Cottage Press is here and is the vehicle for bringing my books to the world, and my art will be available through the studio in the time ahead. You can join the newsletter to get updates and information from Dragonfly Cottage and receive the free eBook, "Embracing Fitting Out When You Never Really Fit In" for signing up.