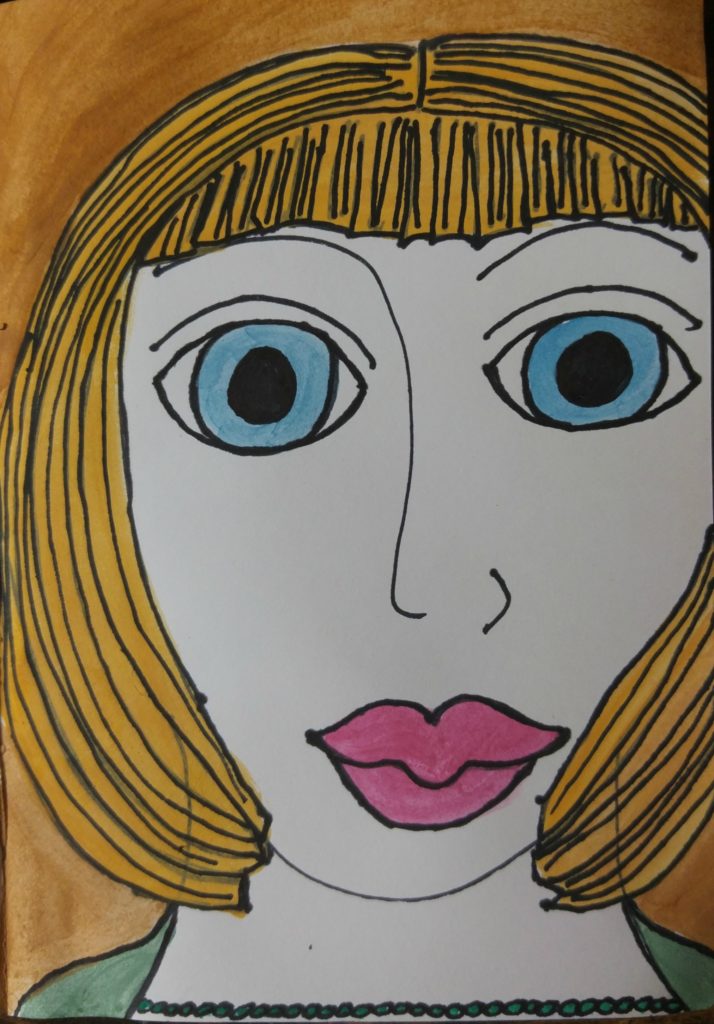 "Melanie works at the local public radio station doing a program late at night called "Soft Sounds by the Seaside." It is a mix of different kinds of music that create a soothing atmosphere, from classical music to jazz and everything in between. She likes the quiet at the station and the soothing music which calms her often jangled nerves. She seemed almost unnaturally cheerful most of the time talking about love and light which she absolutely believed in with her whole being but it was her sometimes white knuckled attempt to keep her bipolar nature in check, to soothe her anxiety and quaking fear that caused her to cling so tenaciously to positive speak and an attitude that she often found wearing herself. She seemed a little too "Love and Light" to some of her friends after the recent election but Melanie was so scared she didn't know how to navigate her way through the hours without keeping a positive spin on things. She was not an angry person, she was a person who wanted, needed, everyone to be alright and she just couldn't see how they could be in this climate. She shed her tears in private and went to candlelight services at the local park where people were gathered peaceably. When the discussion got a little too rowdy and upset for her she made a quick exit, not proud of her need to go but needing most of all to be okay. She was grateful to slip into her booth in the quiet, cool studio and put on The Moonlight Sonata and shut out the noise still ringing in her ears. She wishes she were braver, but she was doing the best she could."
 These days the ladies speak for me. I, like many that I know, have been dealt a real blow with the outcome of this election, and trying to make sense of it all is difficult indeed. I am baffled, in shock and disbelief, that someone who showed such disrespect for women, who spoke out against so many minorities, and even the disabled could be elected. How to make sense of it all? I have no idea at this point. And there are people protesting in the streets, people riled to shouting in anger, but I am much shyer than that, I am afraid and silenced by my fear. I, like many artists before me and along with me, am letting my art speak for me when I cannot. The 100 Ladies Project has become a place in the last several days where the Ladies who are confused and afraid and baffled by this can say how they are feeling.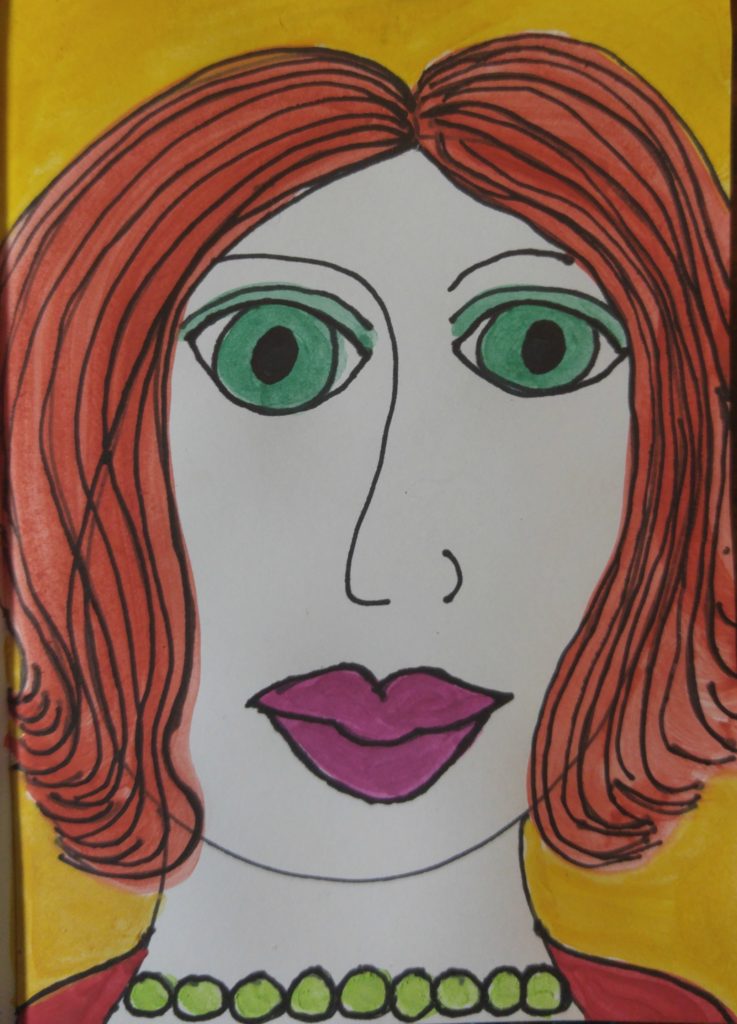 "Sheila worked as a grief counselor at a small practice in St. Paul. She was relieved to have taken a couple of days off mid week but saddened to see how many people were grieving over the election. And with so many people telling her grieving friends that they shouldn't be grieving at all she felt it was her job to step up and talk about the nature of grief, of loss, of the fear of change and to those who feared even for their own safety she held hands and talked softly offering what counsel she could. She felt it herself but was trying to hold to the light and to spread gentleness and kindness everywhere she could. This was going to take awhile. It would not be healed quickly. She prayed that she could do her part and help where she might. She shed her own tears in private and went back out into the night to a candlelight vigil. Go where the light is, she told people. There will always be light. We must seek it, and be it, and spread it. Be the light, not the darkness that extinguishes it. Be the light…"
The day after the election it was Charlotte who came to help me make sense of it all…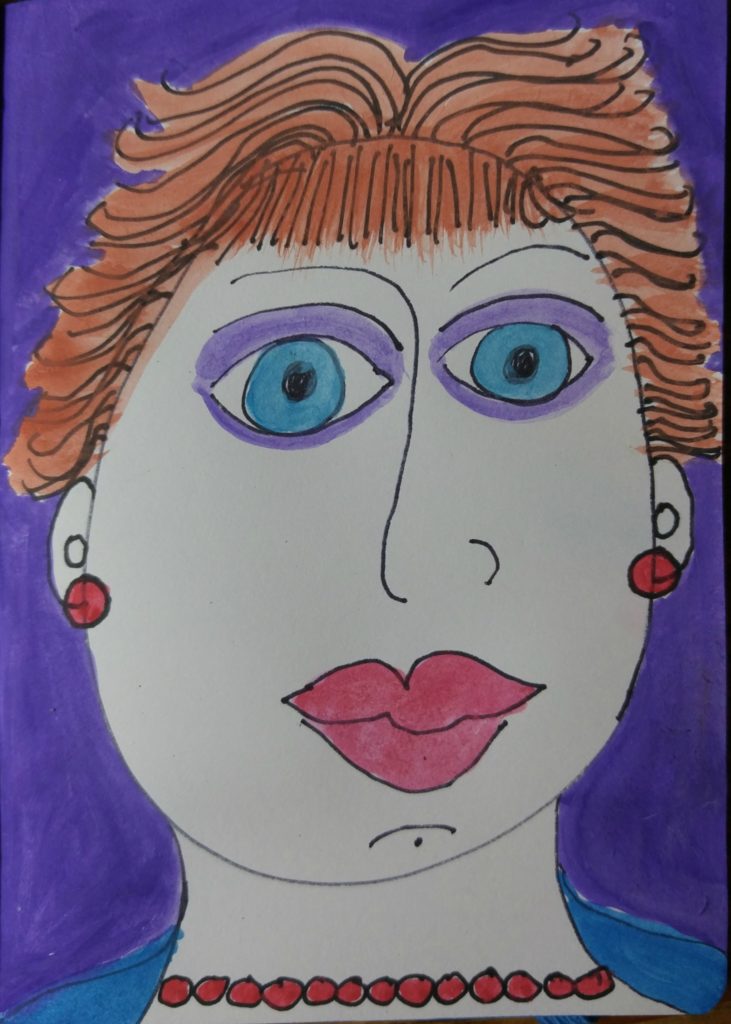 "Charlotte wasn't sure she could leave her house today, she was, frankly, speechless. But the impetus to get out and do something good in the world prevailed and so she got dressed and went to the senior center to read to her favorite of the old folks who always waited anxiously for her to come to read to them. She had tears in her eyes looking at the innocent faces of those who could not understand what had just happened, but she read with a clear voice and the determination to continue to do good in the world no matter what was going on. It's all a person could do. Charlotte had grandchildren who were going to be growing up in this climate so she had to do her part to stay positive and work with love and kindness. It's all a person could do now…"
In the end art saves lives, it helps to make sense of what is going on in the world, it tries to speak to others and offer encouragement. And in this time when I, myself, am confused and afraid, not knowing quite what to do, I draw one of the Ladies each day and let her tell her story and in doing this I am able to move forward, to go on. It may not be bold, nor world-changing, but I am doing the best that I can, just like Melanie and the other ladies, and that is all any of us can do.
May we find peace and rest. May the world begin to make sense. May there be a positive outcome from all of this, and mostly may we find a way to heal and be healed, and to love. This I pray…