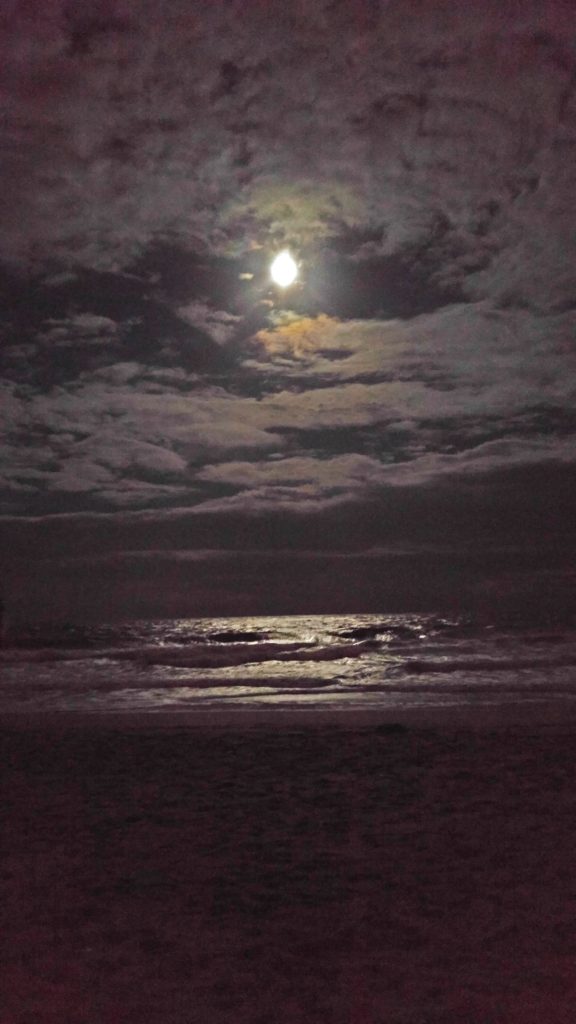 Noni texted me Thursday night, "When is the last time you went out to see the full moon at the beach?"
I replied, "I don't even remember."
She asked me if I would like to go and I said, "Sure, why not?" which surprised her because she felt sure I would say no. She was delighted that I said yes. She picked me up and off we went!
This whole adventure of cooking with Noni on Saturday nights has really started something with me. It has opened me up, if even just a little. I am learning to say yes more, and I even surprise myself. I have done things when I felt a little afraid and shy, like Thursday night when we went out to the beach, and as we walked across the sand to a perfectly positioned wooden bench nearly buried by sand to sit down and watch the full moon disappearing behind clouds and reappearing, reflecting on the ocean's waves I felt both a little afraid and also exhilarated. I had left my house, after dark, left the dogs, and joined my friend on a week night adventure. And there is more.
Next week is Noni's 60th birthday and I wanted to take her out for an ice cream for her birthday but she had just eaten Thursday night so we went BACK out to the beach on Friday night, got an ice cream, and carried it out on the beach to have a little early celebration. There were a lot of people who were also there to watch the moon rise above the horizon over the ocean, surfers in the water, families with small children, couples walking hand in hand. We found a bench and sat and enjoyed our ice cream and laughed and talked. Two nights in a row at the beach.
And our weekends have expanded. The last couple of weeks after we have had our lovely Saturday night cooking together Noni has spent the night in my little guest room and we have watched series that we are enjoying on Netflix. We binge watched Grace and Frankie for 2 weeks, and now are watching Rosemary and Thyme. She spent the night on Saturday, went to work on Sunday afternoon and then came back a little after 4. We heated up left overs and she stayed and watched our current show again. It was so much fun. I make us coffee on Sunday mornings when Noni doesn't have to be to work until 1 and we have coffee and breakfast and talk until it's time for her to go. It is the loveliest thing for both of us who have felt very much alone. To have a dear friend to share time with is just such a blessing, and it has helped me edge out of my shell a little bit. I am beginning to feel like I have a life.
It's something, being in your sixties with your children grown and off into their own lives with their own families, and, having lived a life secluded at home by choice, by chance, and by circumstance I became agoraphobic and didn't leave my house sometimes for weeks. My daughter has brought me groceries or milk for coffee if I was running out and there were times when I scrounged through the cupboard to find anything to eat because I just couldn't go out to the store. Now I go to the store with a carefully planned list every week for things I need + things Noni and I need for our Saturday night meal that we cook together, and we always double the recipes so we have enough for leftovers. My world feels bountiful and richly textured with good food and friendship and all manner of new experiences. I have lived here for 6 1/2 years and never had anyone stay in my guest room. Now I get to use it on the weekends and it's so much fun to have company. And Noni doesn't mind the 4 pugs who can create quite a rucus, in fact she always has one asleep in her lap while we watch tv. That's my kind of houseguest. A dog loving person. The only kind I could have here!
I still feel shy, and on nights when Noni is not here through the week I get lonely at times, but knowing that she is coming on the weekend really brightens up my whole week. Next weekend is her birthday and her family is coming in to celebrate with her for the weekend so we won't be getting together and I will miss her sorely, but we might have a new adventure. She knows all the thrift shops in town and she said maybe Friday morning before her family gets here we could go around to some of the thrift shops. Fun to find things for 50 cents or so, and I am beginning to paint again so cheap canvases or paints would be fun. A couple of weeks ago I got matching placemats and napkins on eBay for $3 for our Saturday night dinners that really make things nice. You can celebrate life on the cheap without spending much of any money. That would be a fun thing to do.
So I am creeping out of my shell. I don't know how far I will go or where I will end up but I am light years away from where I was a few months ago when I rarely left the house and sat here alone night after night. Reaching out to Noni to ask her to come cook with me has turned into a series of blessings and experiences that have opened my heart and mind to a more expansive way of living. I've no idea what I am growing toward but it is a deep blessing and magic in my life. I had feared, not being this age, but being this age so alone. I felt acutely lonely. Now I know it's possible to live a full life just where you are if you are open to it. I am smiling writing this, and little Laverne pug is barking as she does, singing the song of her people, and Noni will be back in a couple of hours for leftovers and a little more Rosemary and Thyme. I have gone from a "Gettin' old ain't fer sissies!" state of mind to "Ain't life Grand!" It's a far better place to be. Onward and upward! I can't wait to see where I go from here.
Blessings and Love to one and all…