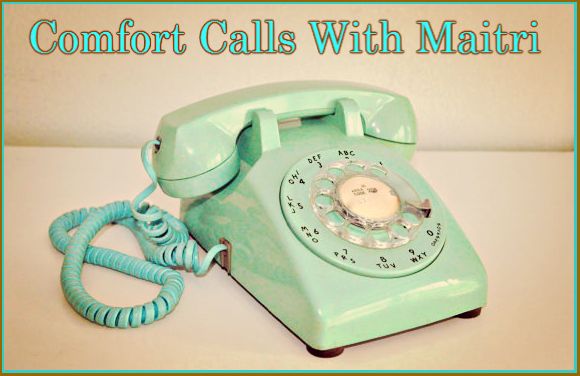 I have been moving toward this for a very long time. In the past years of my home burning down and the hard times afterward I have continually come back to my self care practices and all of the things I have taught, relied on, used for private mentoring, and healing throughout the years. It came to me that sometimes it is a blessing, a necessity even, to have the healing balm of a gentle supportive call to help get you through the lonely or difficult times. In that moment, Comfort Calls With Maitri was born.
I have taught journal keeping classes for 40 years. I am a Reiki Master and a Shamballa Master Healer. I am a mentor to women using mindfulness and other creative practices to help them lead a full and centered life, to help them achieve their goals and find inner peace. I am an ordained Interfaith minister and as well have studied many other spiritual paths. There is so much more, and in the last years when I have loved mentoring I have also found a deep calling to offer solace, gentle guidance, and to offer love, compassion, and gentle kindness to those who need an ear and a shoulder. I call these "Comfort Calls With Maitri" and while I may implement tools that I used in mentoring calls these calls are far less formal, a chat with a gentle guide, someone to listen to you with reverence, and to hold the space for you to share your feelings, so that you know that you are heard and that your feelings are important. One needn't feel alone and lost, and as I have often felt that way myself I know what this kind of support can mean.
And because I also have those days and because I keep odd hours I have come up with something a bit unusual because it works for me, and in taking care of myself I can offer you more, and even further I can help you learn to take care of yourself as well. I'm available, 5 days a week, Sunday through Thursday. Also note that I can only take a limited number of calls per week so call to schedule your time as soon as possible.

During the sessions…
I want for you to be able to relax, enjoy, and get the most out of a session. Before the call take time to center yourself, take a few deep breaths, in through your nose, out through you mouth, and consciously relax your body from the top of your head to the tips of your toes. If you have specific things you want to ask or talk about you might want to make a few notes so you don't forget. And finally, sit in a comfortable, quiet place, perhaps have a cup of tea, or whatever helps you relax. These things will help you get the most out of our session.
On Payment & How It Works…
Comfort Calls are $1 per minute in 15 minute segments, 15 minutes, 30 minutes, 45 minutes, one hour. There are discounts on packages of multiple hour long calls. If however something here interrupts the call that is important and beyond my control (certainly a rare occurence!) we will terminate the call and you will only use the minutes we have been on the line. I have a phone system that accounts for the minutes of each call and will have an accounting of your minutes used. You will also receive a recording of the call to return to so you don't have to take notes and can just relax during our session. Once the call is scheduled and paid for I will send you a number to call. I will call my number and we meet in a special private space. In this way I can track your time and record your session for you.
ALSO! I live with darling little pugs, they are generally very quiet, but the possibility of pug noises is part of the service!
FEES
You may buy time in 15 minutes increments: 15 minutes, 30 minutes, 45 minutes, 1 hour. In this way you don't have to pay for a full hour if you can't afford it or don't wish to talk that long. 
SPECIAL DEALS! Buy 5 hour long Comfort Calls and save $50! Buy 10 and save $100! You can use your hours whenever you need them as my schedule allows.
How To Make Your Payment
I look forward to hearing from you and talking to you. When you are ready to buy a session simply use the Paypal link below to make your payment and I will contact you about a time as soon as I receive the payment. There are discounts on multiple call packages!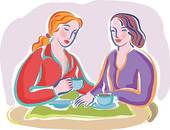 Let us take a moment to talk, let heart to heart sharing be the healing balm that can set you right, change the tenor of your day, and let you know that you are beautiful, that your life matters, that you have choice. Choose happiness, choose peace, choose joy, choose love, and call today…