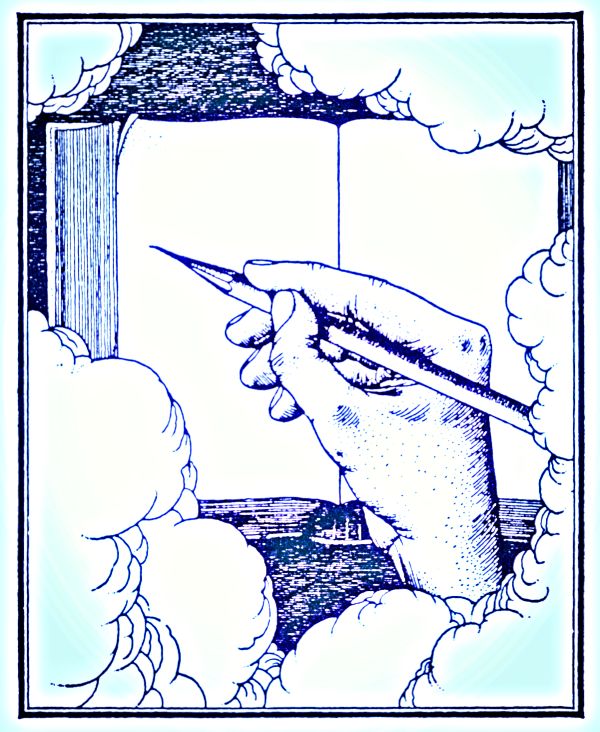 "I noticed I was gradually forgetting a whole lot of ideas. I realized I'd have to do something,
so I gave up trying to remember and started writing things down. And everything got so much
easier. Best of all is that I can let my mind go blank, since I've already written down what I
need to remember."
~ Yataro Matsuura ~
Our Thoughts On Writing By Hand
My life is changing in fundamental ways. For the most part I would say that I am returning to my roots.
When you live through a fire you are forever changed. You learn what really matters. You separate the chaff from the grain. You look at your life and think, "I made it out of that fire and I have a chance to live more deeply, in a more fulfilling way, and I am not going to waste time, and I am not going to make excuses, and I am, by God, going to get on with it.
In the 8 months since the fire I have realized a few things that shocked me. Most of all that the internet had swallowed up a lot of my life. and for 8 months I struggled and fought myself not understanding this fully or what I should do about it. The most profound changes have happened since I have returned home.
I have lived for the internet instead of living my life and that is going to stop. Mind, I love and appreciate the net and will always be present here, but whole days have been swallowed up online, and worst of all, most deeply shocking to me, was that I spend so much time online I had nearly stopped reading entirely. I lost a lot of books in the fire, although thankfully some were saved, and I bought books for my kindle after the fire because when you watch your house go up in flames and swirling clouds of toxic black smoke your desire for physical things goes up with them. But something unexpected happened.
When I returned home I found that an amazing number of things had been saved. Thanks to the incredible technology they have today they could clean books, the ones that didn't burn or weren't too badly damaged by smoke and water. They saved a lot of my clothes, taking them through some sort of special cleaning process. This is kind of an odd problem because being gone from here for 8 months, and figuring my clothes were all gone, and thanks to the incredible generosity of many people who sent me gift certificates for clothes after the fire — and thank God and bless them because I wouldn't have had any clothes for 8 months! — I have gotten a fair amount of clothes, not everything I needed but enough that now I don't know what to do with what they brought back. I will be donating a lot of them.
But back to the books. Not having held a book for 8 months when I returned home to the books that were saved I literally wept, and I held my precious books to my heart and knew in a profound way that I had allowed myself to be sucked in to this medium so completely that I had lost the things I had loved deeply and dearly for most of my life. Reading, writing by hand, letter writing. Now I can't hardly use my Kindle. I am like a scavenger devouring real books. I have begun to write by hand almost exclusively, even the first bits of what you read here were written with a fountain pen on paper. And I have begun to buy some books again but, as I laugh and tell people, of a Saturday I will have a "shopping spree" and buy 5 penny books on amazon. So many books now, mostly books that I loved and were lost in the fire, old favorites that I want to replace, I can buy for a penny or little more. I will admit to having kind of gone hog wild this weekend because I bought 3 books that were respectively 49 cents, 48 cents, and 69 cents. Yes, it was a blowout, but these are real treasures.
I found a notebook that I am really loving using as a journal. It is a Leuchtturm Master, the large size, and it is divine. Graph paper, numbered pages, a back pocket like the ones in the Moleskines I love, an elastic band that goes around it and closes the pages, and so much more. And I am having fun this weekend "Moving In." I started yesterday writing in the inside cover, putting samples of my washi tape, writing a newfound favorite quote, the one at the top of this post, in the front cover, as has always been my practice, and noodling around finding my way in. I wrote what I always write inside my journals, "Notes, Quotes & Flashing Thoughts," I added a folder in the back that I fixed up with a handmade pocket and had a "Cut and paste time" when I tore through old magazines and cut out words, phrases, or pictures that struck my fancy as jumping off places for writing, and I have just had-a-ball!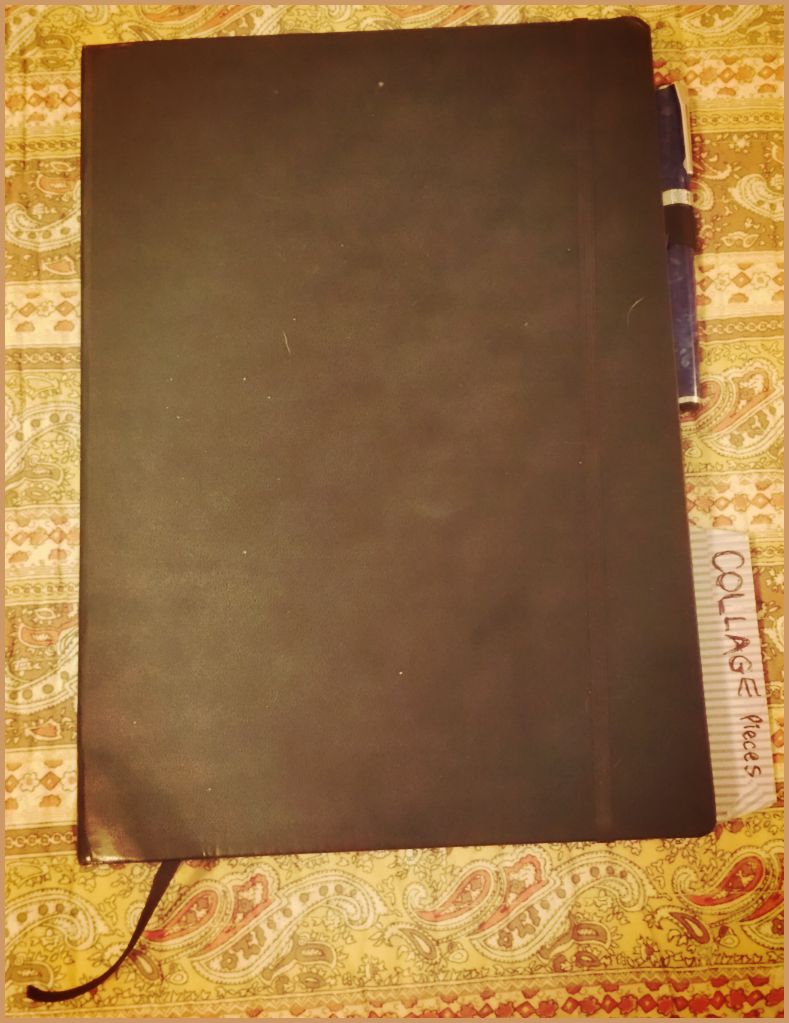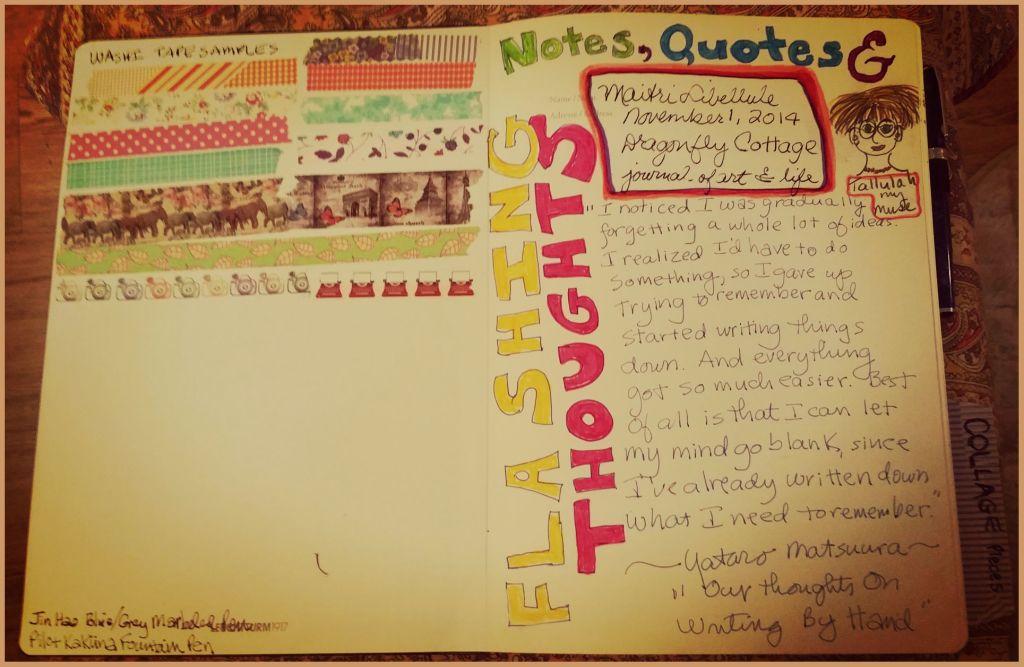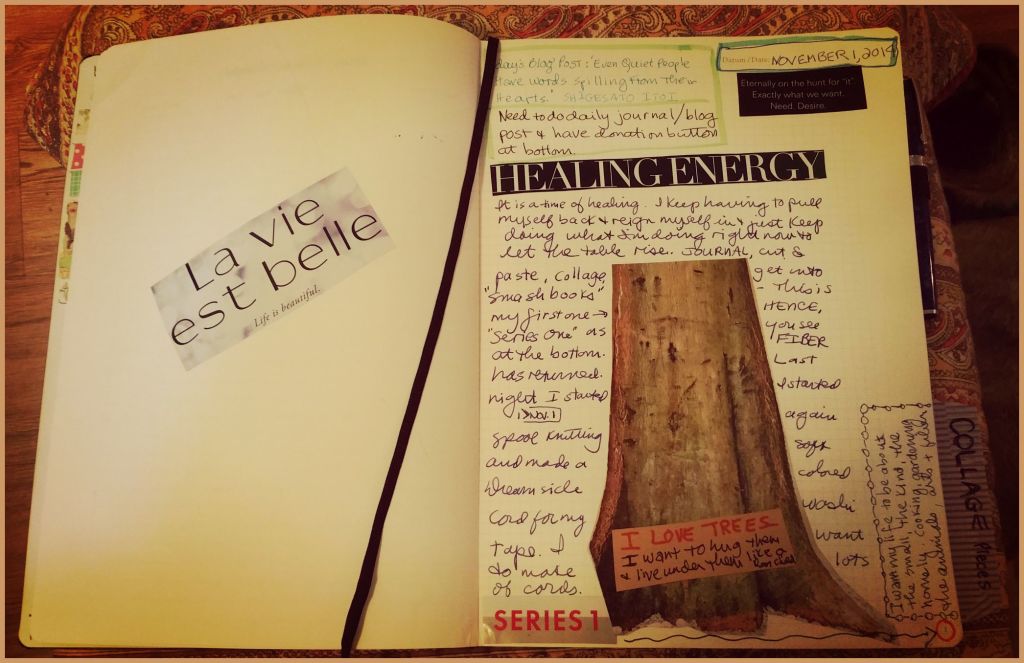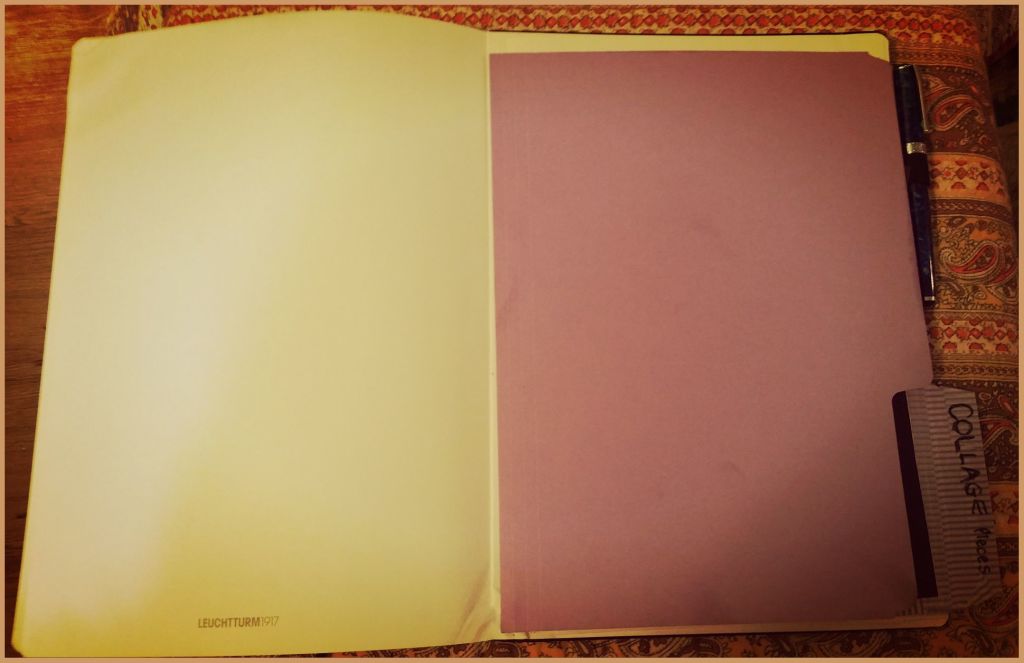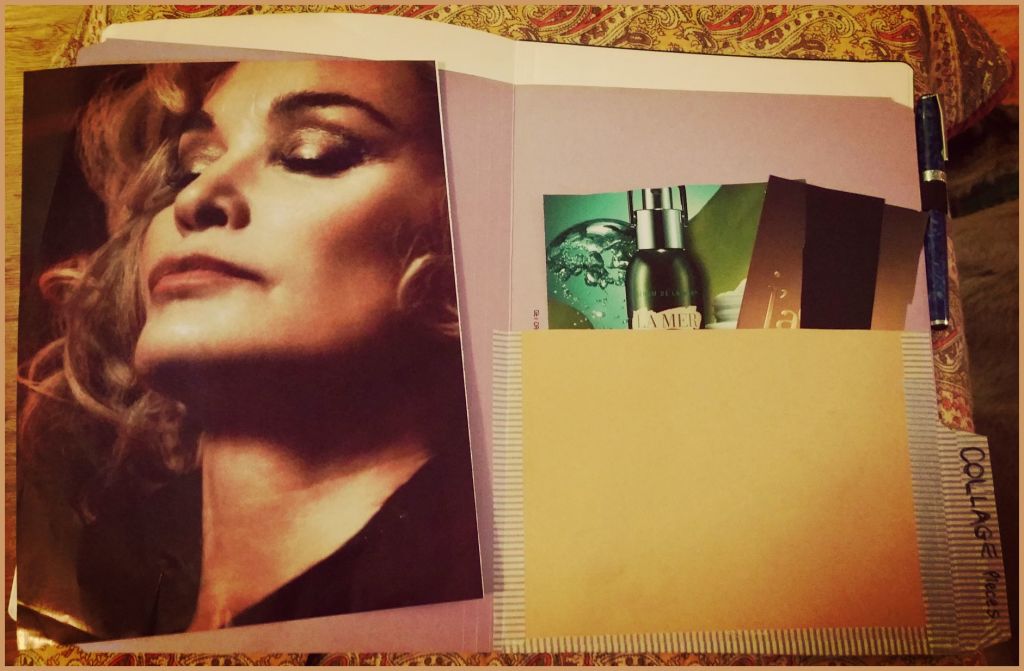 Other things are blessedly coming back. One of the greatest surprises to me was when I opened a closet in my studio and neatly lined up were my entire collection (and it's a LOT!) of hand carved spoolknitters by the amazing fiber artist Noreen Crone-Findlay. And hand carved wooden crochet hooks, and they are fancifully and delightfully painted as are the spoolknitters and thankfully some, not all, of Noreen's handmade dolls were saved. As a fiber artist these were things I had shed many tears over because they were one of a kind, many made just for me and deeply and dearly loved, and Noreen is not making them anymore. She sells her amazing fiber art and has an etsy shop for patterns for her incredible dolls and more, but I could never have replaced these.
Last night I got so excited I pulled out a tote bag and filled it with several different sizes of spoolknitters, and yarn, and I set to and made my first spoolknitted cord in some time. I have wanted to spoolknit cords in many colors to hold my growing collection of washi tape. I finished the first one last night to hold the washi tape I have now, threaded the spools on the cord, and it is fabulous! I don't have to take the washi tape off to use it, and can hang it over anything, or use the great big push pins to pin the cords to my big bulletin board section of my art wall.
Here is the spoolknitting process from last night (On this spoolknitter the woman with the flamingos is ME! One of the many I commissioned Noreen to do for me several years ago)…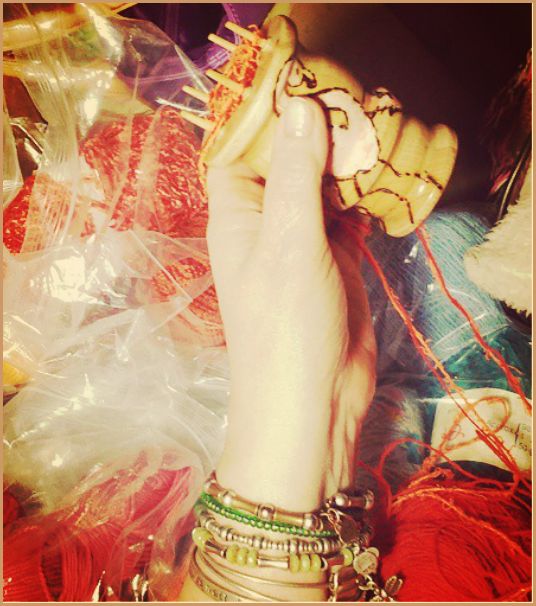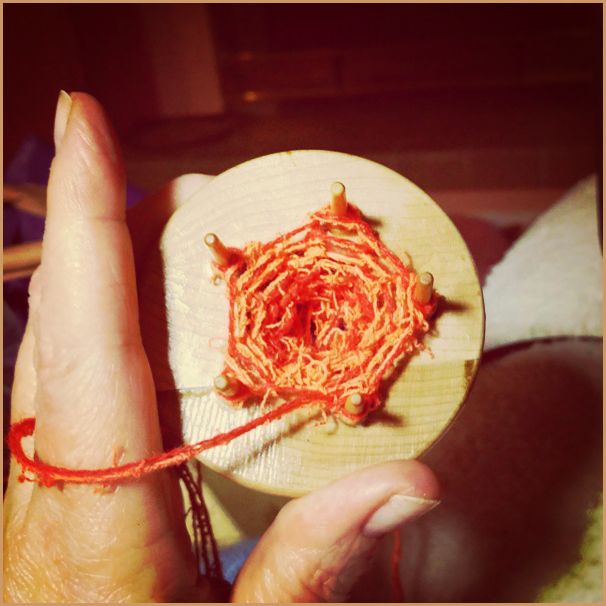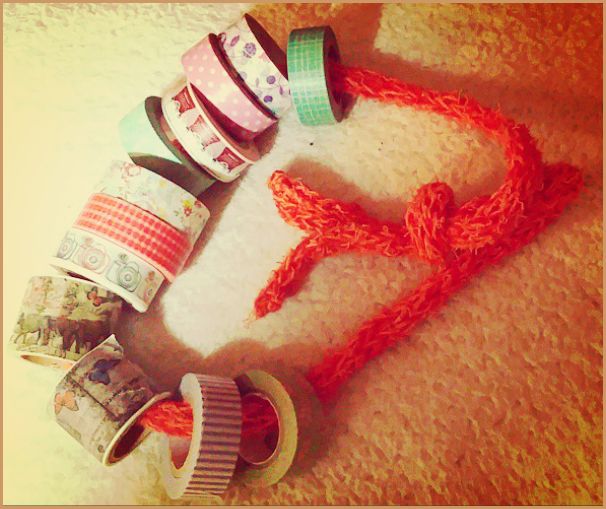 Finally, one of the best things I am doing for myself now is cooking again. I love to cook but after the fire in the little rental I was so despondent so much of the time that I didn't feel like cooking at all + my agoraphobia was waving it's banners high. I barely left the house at all, a LOT of the food I ate, I am ashamed to say (and no wonder I gained a shocking number of pounds during the time after the fire!), was pizza or Chinese food ordered in, and the food that I did get came from amazon's grocery service with little trips out, or items like milk, etc picked up by my darling daughter Rachel. The fire started in my kitchen and everything in it was destroyed and many of my most beloved items were in the kitchen. Finally, I decided I had to create a whole new kitchen, it surely is the heart of the home, and I am eating REAL food and I am loving cooking.
I still don't go out often so I am working at stocking my pantry little by little so I have good food on hand. Lots of frozen fruits, vegetables and meats, and one thing that I thought of which has just been genius! is to stock dried mushrooms which only need to be rehydrated. Then you always have mushrooms on hand. To that end Friday evening I cooked a good sized pot of creamed spinach to which I added quite a few mushrooms and these are wild forest varieties and just amazingly good. I just had a big bowl of that for dinner Friday night. Last night the spinach served as a side dish, and this morning it hit me that scrambled eggs would go wonderfully well with the spinach.
I made scrambled eggs my favorite way, French style stirred very gently and slowly so that they end up creamy and fluffy. I warmed some of the creamed spinach that I put in the bottom of the bowl and put the scrambled eggs on top. Woweee was that good! In the second picture you will note that there are a LOT of scrambled eggs. That is because before I ever sit down to eat those eggs get portioned out to 4 pugs and one grey parrot! Then I mixed the eggs with the creamed spinach and it was divine.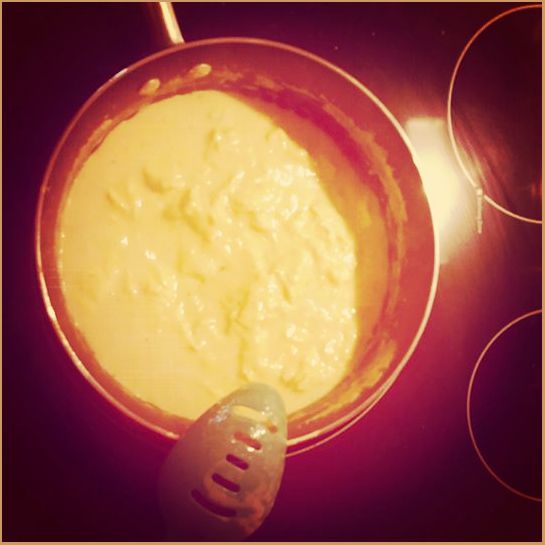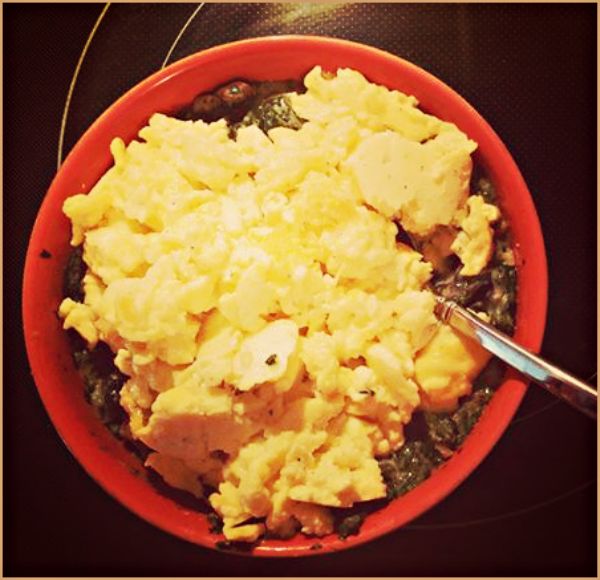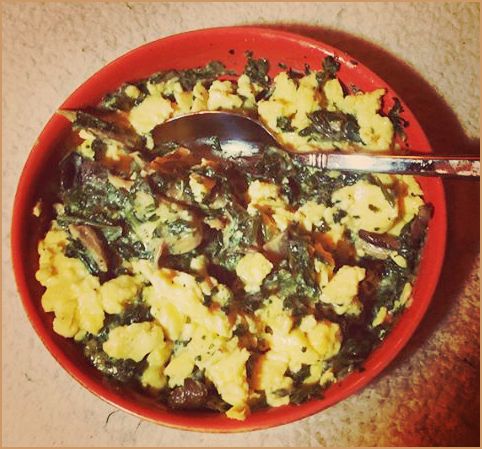 Now I am getting ready to curl up with the pugs and watch the shows I like on Sunday night on t.v. and while I do so I will be spoolknitting. I am off to other projects. And I will journal a little and eat a late supper and leftovers sounds good to me.