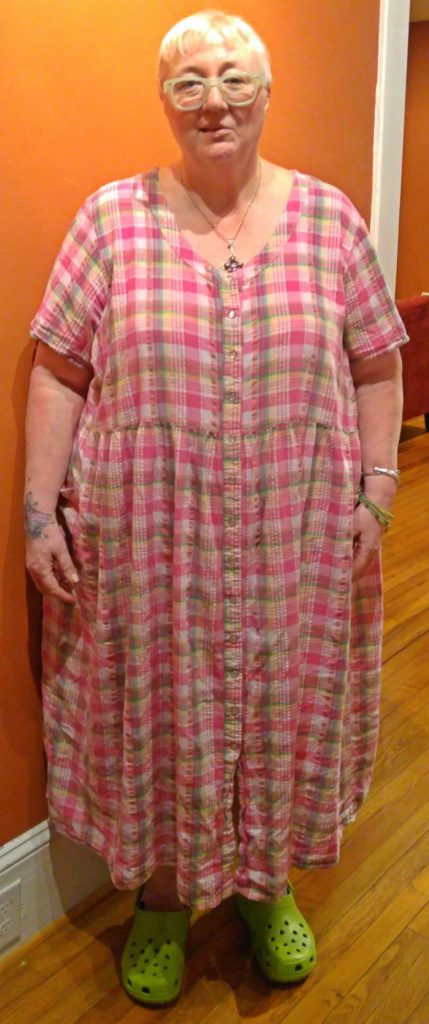 The "Before" Picture, 4-28-16
Tomorrow is my 62nd birthday. I was at my daughter's house last night and I asked her to take my "Before" picture as I have just joined Weight Watchers almost 2 weeks ago, and I joined the gym 3 weeks ago, and I am going to do this this time. Why this time? And how do I know I will make it? Because at 62 I am either going to stick with it and do it or just admit to myself I never am, and the latter just isn't something I am comfortable with. And as my zen teacher once asked me, "If not, why not? If not now, when?" When indeed? No more time for excuses, when is now.
There is nothing scarier than posting a picture at your full weight when you have over 100 pounds to lose, but if you don't have the "Before" picture you can't appreciate the "After" or all the little milestones along the way. And further, when you have a lot of weight to lose if you don't fully love yourself as you are in the now, really gently and kindly face yourself in the mirror each day and say, "I love you just as you are, and I love you enough to see you be even better," you will never make it when it is a long haul and going to take a significant amount of time. So I am practicing self love along with working the Weight Watchers program and working out at the gym.
Too, the last time I wrote here I was just contemplating going back to church. Well, I will be attending my 4th service this Sunday and it feels so good to be back at Church. I go to Unity and it is such a beautiful, upbeat, loving place to go that it reenforces everything I am doing outside of church. Body, mind, and spirit must all be addressed and taken care of. I have a good therapist that I work with weekly or bi-weekly to address the mind component so I am fully covering all my bases.
Today I shared the above picture with my Facebook friends. These are friends that are very dear to me and very loving, kind, and supportive. Their loving support is very helpful to me with this journey, and along with the other members in my Weight Watchers meetings it is a place for me to share my successes and challenges and have accountability along the way. We can't do this alone.
I have also realized something that kind of startled me, but I think it is right. I have been suffering with agoraphobia for a number of years now, and a big part of it, I have come to believe, has come from having gained so much weight and carrying it for so many years. I feel shy and embarrassed to go out at this weight. It's easier not to. You are not comfortable, or energetic, or looking your best when you have over one hundred pounds to lose. It has practically made a hermit of me. It hasn't just been the weight, of course, but I am just realizing how much it has contributed. I asked my trainer at the gym in my circuit training class if other people who have so much to lose do the class and he said, "Oh yes, you will make it, you will get used to it." I also do the stationary bike for 30 minutes. It is hard for me, but I am doing it. I will be going to do it again today. I am doing 3x a week and soon maybe 4x a week. I cannot believe I am doing it, but I can tell you that I know there's no way now that I would not be doing it. There simply is no choice. To stop now would be a defeat that would be crushing to my spirit. I simply love myself enough not to do that.
There are things in my life now that I have no control over and they scare me, most especially having my house on the market. I've been afraid of showing it because I have to leave with all four dogs, and I've been afraid because it hasn't been shown enough. We are about to lower the price. I'm afraid it won't sell and afraid of when it does because I have to be out by closing and where will I go? And then I have to find a place to live so I will likely have to move twice. There are so many unknowns and variables that I have been really afraid, but taking care of myself in these other ways, taking charge of my life and taking the time to love and care for myself is making me stronger so that facing the scary things gets a little easier and now I visualize and affirm that the house will sell with ease, and with a smooth transition from one house to another. Some how it's easier to believe because I am believing in me more than I have in a very long time. I am confident that I can handle whatever comes along.
So here I go, onwards and upwards! It's time to get into my gym clothes and head out. And I will record my food in my food journal and count my points for Weight Watchers. And I will look at the woman in the mirror and tell her that she is a brave, strong old gal and she will one day be a kickin' old lady! That's my goal! I am going to get all of this weight off within the next 1-2 years and build a practice of physical exercise which I have never really done, and tend the spirit at church, and the mind with my therapist and I will love all the bits and pieces and parts of me. What else is there? If not, why not? If not now, when? I'm on my way.