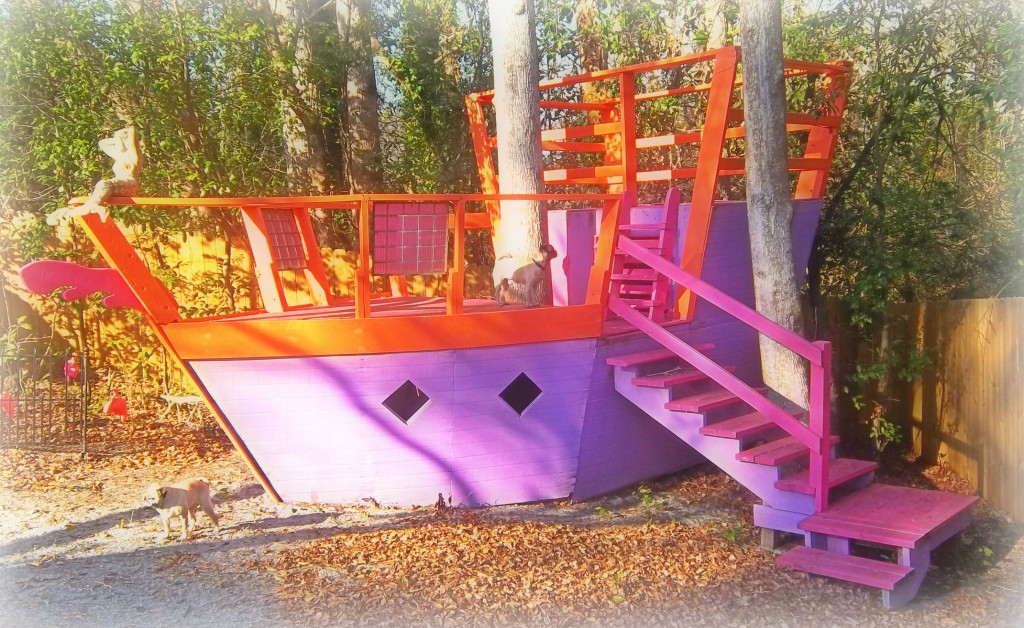 Dragonfly Cottage was born inside my heart in the autumn of 1999, six months after leaving my 30 year marriage, and every place I lived for 11 years I called Dragonfly Cottage but through those years the cottage was more a state of mind than a physical location. In February of 2010 I would finally land in the place where my long awaited dream would become a reality. I now live in the real Dragonfly Cottage, and, magical, mystical, and filled with whimsy and delight it was only fitting that the property would come with a magic ship.
The time had come to buy the place of my dreams and I searched long and hard. It had to be just right. The market had bottomed out so I was able to buy something a little nicer than I had originally thought I would but in the end "nicer" didn't really feel homey to me. The place that I bought was a little house on an acre with a creek in an older subdivision at the end of a dead end street, quiet, private, and just what I was looking for. I was puzzled by the ad. It said, "Invite your friends over for a party on your very own ship." Say what?
As I planned to go to look at the house I forgot about the description having become weary from realtors write-ups about houses that were gross exaggerations of the actual property, and the day we looked at the place it was the last one of three after weeks of looking. I was tired and not expecting much. As we pulled up to the simple little white brick house I was charmed by the possibilities, by the old trees and plantings and that it was set in lovely woods, a dead end, the third dead-end in a row to reach this house. I was seeking privacy and a place that felt cut off from the world while still being close enough to get around and do the things I needed to do.
Inside I loved the feel of the place. It felt homey, like slipping into an old, worn pair of shoes. There was a big eat-in kitchen which I wanted, a den with a fireplace, and the den opened up onto a very large room with windows all the way around two sides, a perfect studio. The studio had the most amazing wood framed windows and one side looked out onto a large deck surrounded by woods obscuring the view from the neighbors whose proximity made me feel safe while offering me the privacy I wanted and needed. I walked through the studio and looked out through the windows that looked out over the very large back yard that led down to the creek and my jaw dropped. At the back of the property sat a huge ship. It looked so real you'd have thought you could have climbed aboard and sailed off. I could not believe my eyes.
I may be the first person in the history of the universe who decided then and there, without knowing anything practical whatsoever, to buy a house based on the presence of a ship rather peculiarly set at the back of the property. I had the obligatory inspection to appease family and friends which I might as well not have had because so many things went wrong and needed fixing in the first month I was in the house, including a new roof, that I could just as well have signed the papers upon seeing the ship after all.
There was a lot of work to be done before I could move in. The back yard had a falling down chain link fence which needed to be torn down and a new fence put up because I needed a safe yard for my five dogs. All the rooms in the house were painted bright colors including the hallway and ceilings and a host of other practical things. Then, the ship. As I moved in they began to restore the massive vessel, tearing off a yellow plastic child's slide on one side and building a staircase. They removed and replaced rotting boards, made her seaworthy, so to speak, and fixed everything that needed sprucing up. She got a good cleaning, and then came the question of the hour. The workers looked at me somewhat apprehensively, having never painted a house inside every color of the rainbow to start with, and hesitantly asked, "What color do you want it painted?" I answered brightly, "Orchid, persimmon orange, and hot pink." Well, I thought I'd have to go for the smelling salts. They were so shocked they just stood there with their mouths hanging open, but they soon got hold of themselves and set to work. As I watched them I thought the ship looked as big as the Titanic and I'm sure they felt as though it was during the long days that it took to paint it.
As time went along they got used to my taste in color. One shed was painted the same three colors as the ship, on old metal shed was painted lime green with a hot pink roof, and the little picket fence I had them put up for a cottage garden was painted a cheerful pink. For a while I had a stripedy pink pug who leaned up against the picket fence as it was painted but she just fit in with the landscape.
As time has gone along they have gotten so used to me that it fazed them not one bit when, last summer, I had the deck repainted a bright flamingo pink. The deck is hung with numerous bird feeders and wind-chimes and my herb garden is out there. I look out onto the deck as I work here at the computer, and am just a few feet away to pick herbs to bring in for dinner. It is more than I could have ever dreamed or hoped for.
Once settled at Dragonfly Cottage the real work began. What kind of life could I build for myself here that would allow me to balance my life and days and enable me to do the work that my heart longed to do? It would take some long time to figure this out but I had the perfect place to do it. A magic ship is great inspiration for creating a haven for a writer and artist. Finally, I was home.