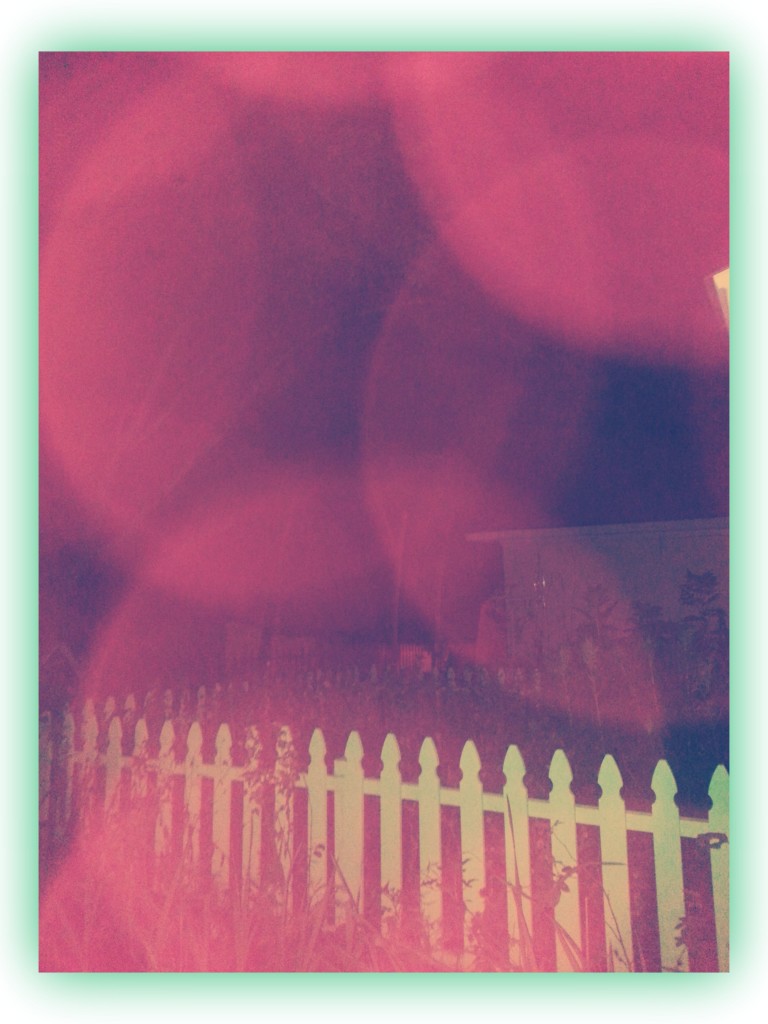 It is Halloween night. I love to take pictures outside at night and oddly any pictures I take at night outside in my garden that goes into the woods has these pink orbs in the pictures. I promise you these are unretouched except for resizing and adding the frame. I am at a complete loss as to what causes this but I like to think it's the magic of my woods and it is perfect for Halloween night!
And it is a magical night indeed! After waiting for months my friend was finally able to get here and hang my pink twinkly lights here in my studio. My studio has windows all the way around two sides and looks out on my magical garden on one side and my flamingo pink deck on the other. The studio walls are painted a warm persimmon and the ceiling is a sky blue. (All of my rooms are painted bright colors, the ceilings are all painted colors, and there are twinkly lights everywhere! I believe in MAGIC!) This is what I see when I look up from this chair. I am looking right up here as I write these words and I am basking in the pink glow!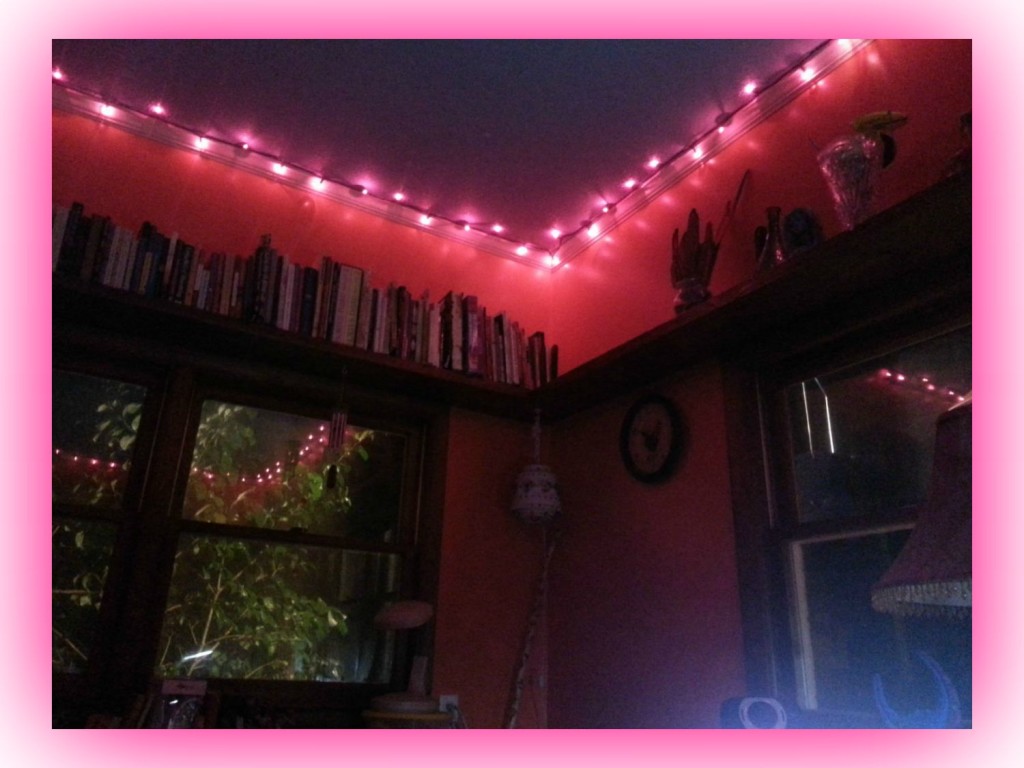 So the theme is magic here today, and it made me think about how mindfulness really is a magical process, and it has come to me in 2 ways today.
First of all, just writing these blog entries, even though I am only 5 days in, has made me far more mindful about my day and what I am doing because I know that at some point before I go to bed I will be writing my mindfulness post so I watch the moments through the day with a special care that is all too easy to lose most of the time. My writing about mindfulness has made me more mindful. And then there is the thing that I am really excited about…
For years now I have wanted to do NaNoWriMo, National Novel Writing Month. People all around the world do this every November and the challenge is to write 50,000 words in one month, complete the first draft of a novel. You cannot start it before and those who make their 50,000 words are "winners." And you are not competing against anyone else, you are doing it for yourself. I have had a thousand excuses why I didn't have time, but here's what I wrote to friends tonight about this very thing…
"If I think about it from my logical brain I think, "You're kidding right? You are starting a business, you just got your one on one sessions going, you are about to open an academy for healing through story, you are writing all kinds of material for your work and your students, you are…" There IS no good time. My mother used to always say, about no president in particular, "You get done what you want to get done, the president has the same 24 hours in a day that you do." And one of my great Zen teachers said, "If not, why not? If not now, when?" And my great teacher from another realm, Yoda, said, "Do or do not, there is no try." For me, at 59, if I don't do it now, when will I ever do it? May the force be with me! And here it is straight from Yoda!"
I have written a number of novels in my writing life over the decades but none of them sold. One of them actually came close but that's kind of in line with that quote, "There's no such thing as a little pregnant." When you are throwing up all over the place at 3 weeks pregnant you don't feel "just a little pregnant," so almost published isn't really much other than driving a writer crazy when it goes from agent to publisher and they hold onto it for months and then it gets sent back. I felt like throwing up then too!
I wouldn't have had the nerve this year but I have been building up my writing muscles lately doing a lot of writing and this 365 Day journey which I am absolutely committed to doing made me realize that you can do a thing if you want to do it. Do or do not. There is no try. I'm going to put that on a post it note and stick it to my computer for when I want to give up.
I am writing about mindfulness so I am more mindful in my life, and because I am more mindful in my life it has made me realize how much time I really do have to finally do the NaNoWriMo challenge. If not, why not? If not now, when?
So I am sitting here having a cup of tea writing this post. I take moments here and there to just breathe, slowly, in and out, staring at my pink lights as I would a lit candle when I meditate, I am very present with the ticking of the clock, the soft whirring of a fan behind me, with my tiny soft wee girl pug Delilah who is nestled in my lap as I write, and as I sip my tea words bubble up to the surface and I return to writing.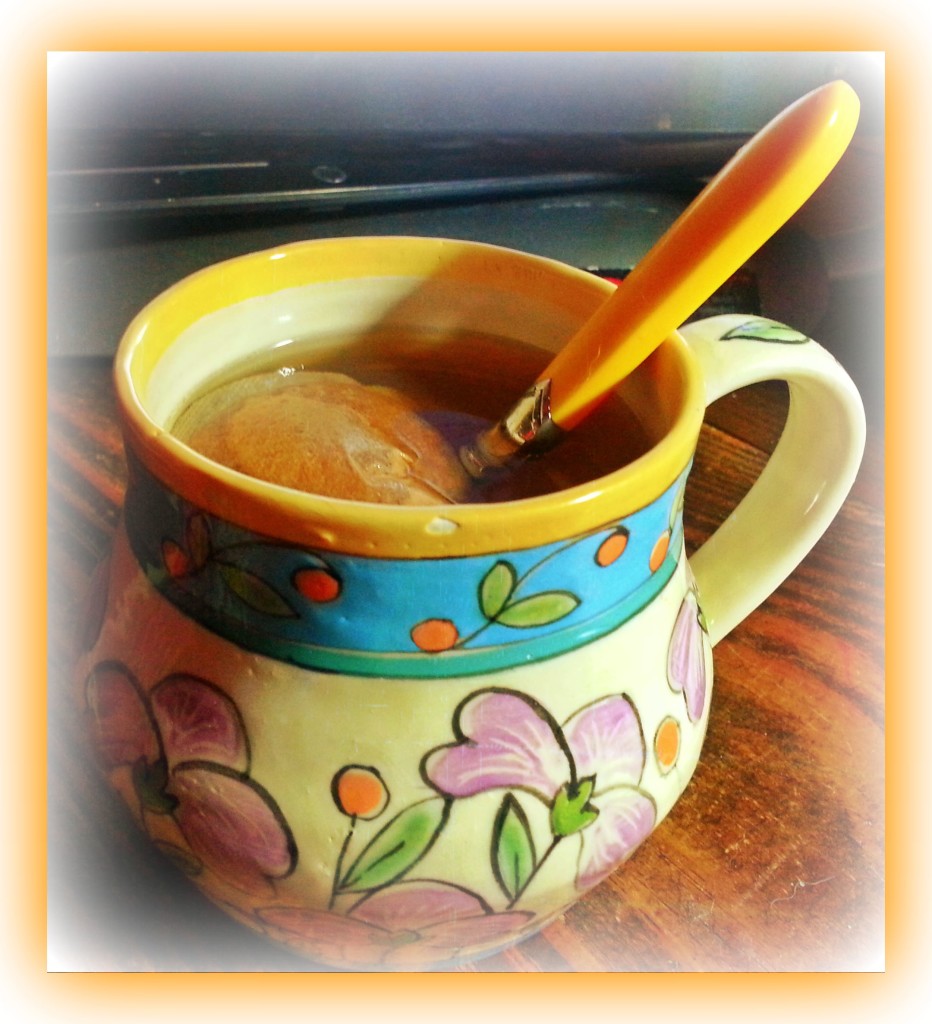 Breathe, write, write, breathe and so on. The practice of mindfulness is magic for writers.
I will write these posts, and I will do my NaNo writing every day, and I will do my other work. The more you get done, the more you can get done.
Do or do not. There is no try. You are absolutely right Yoda.
So tomorrow I start writing my novel, and before the day ends I will be wrtiting the next post in this series, and I will be whispering Thank you all throughout the day as moment by moment words find themselves onto the screen or the page.
Be mindful. Do your work. This is what I keep telling myself over and over, and this time, I think I can.
I will do.

P.S. If you would like to get these posts sent to your mailbox every day you can sign up for my list at the top of the right column. Also when you do so you get my free 22 page eBook, "Embracing Fitting Out When You Never Really Fit In."