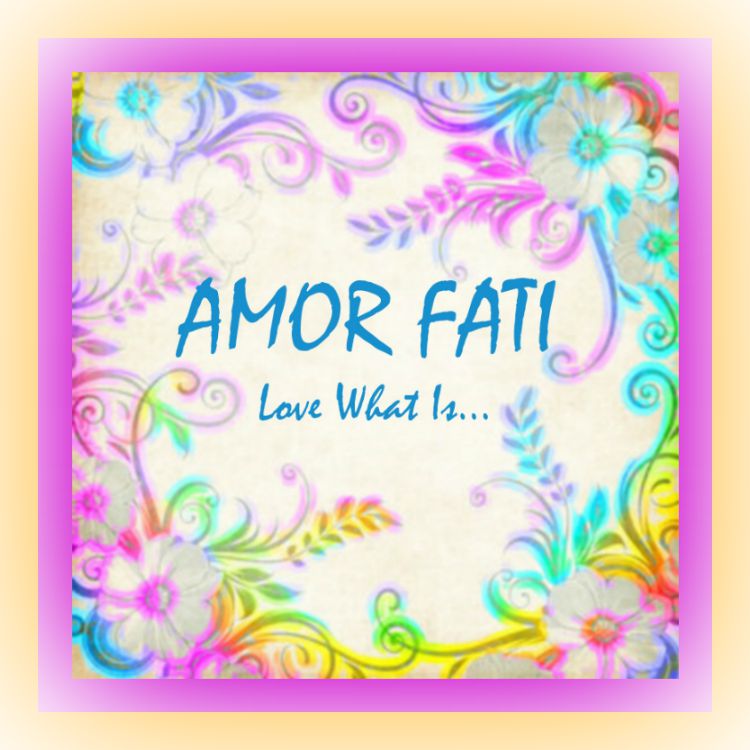 It is one of the most beautiful phrases that I know, and I have carried it in my heart for a very long time, Amor Fati. I have known the phrase as being translated to Love What Is, but I wanted to give you a better description so that you might better understand the concept. This is what Wikipedia says, "It is used to describe an attitude in which one sees everything that happens in one's life, including suffering and loss, as good. Moreover, it is characterized by an acceptance of the events or situations that occur in one's life."
If that isn't a good definition of mindfulness I don't know what is. It is being present to every moment as it exists, accepting it, sitting with it, letting it wash over and through you, the pain, the loss, the suffering, as well as the love, the joy, happiness, elation. It all exists together. It cannot be separated. Amor Fati. Mindfulness. They are at the core of my being what I want my life to be.
Amor Fati was a theme in the writings of Friedrich Nietzsche, the philosopher and writer who lived in the last half of the 19th century. He wrote, "Amor Fati – "Love Your Fate", which is in fact your life."  When I came upon this phrase years ago it helped me to understand, and further, accept, all of my life in it's fullness. Being bi polar, the other things, being a person who only seems able to live in this cloistered world and yet I celebrate it and thank God for it every single day. What a blessing these words are to me. I had them printed on postcards and put them all over my house. Often when I am having a very hard day, and I have actually had a couple of rough ones the last two days, I say it aloud, Amor Fati, and it reminds me that this is part of it all. I am bi polar but I am also soft and gentle and compassionate and kind. I am creative, intelligent, talented, and a natural healer. It is okay for us to say these truths about ourselves. it isn't boasting, it is owning all of who we are.
Right now I am very vulnerable, and I become afraid. Amor Fati I whisper to myself. I sit down, take a deep breath, wait a moment and then move into my breathing, into the present moment, into maitri, the name that I took after the Buddhist teaching that has, at it's core, the need to love oneself, to be compassionate toward oneself. We cannot give from an empty well, and I cannot live my life from one. I have nine animals in this house to take care of, and a lot more. I have my 3 children and their families, all of whom I love dearly. I have my work and I believe that it is important. I am preparing to take students on a year-long journey in 2014 and I have a lot of material to write. I have to pull myself up out of these hard days, and after a fashion I do.
Amor Fati. Love what is. I love myself, my life, just five months short of my 60th birthday, a woman who is roundish and kind of lopsided and cattywompus. Wabi Sabi Woman. That was the name that The Utne Reader gave the piece that they wrote about me in 2001 in their special wabi sabi issue in which I was featured that fall because they read the articles I wrote about wabi sabi on the first Dragonfly Cottage website that lasted from 1999 through 2006, and loved them. I am wabi sabi indeed. I still have a crookedy smile from a severe case of Bell's Palsy in 1995 that never went away. It is better but still there. I have had surgeries on my feet, broken both of them in a fall down a staircase, had other calamities with them and so my walking can be a little wobbly at times but is mostly okay now. I just teeter on through life lopsided and for a bi polar person unreasonably happy most of the time. It doesn't seem like I should be but I am. And I am grateful for every single moment in my life. I am not happy that I was sexually abused from 4 to 18, but it happened, I have done decades of therapy and gotten past it — you can hold onto it or let it go, I finally decided to take the albatross from around my neck and set it down. And the thing is I am more empathetic, kinder, more compassionate, and a much more powerful healer because of what I went through, The Shaman's Journey, one of the hardest and best gifts of my life. Amor Fati.

I guess if I were to come up with a theme, the inspiration for the life I have been working toward for 15 years, for Dragonfly Cottage, it would be just this. Amor Fati, build a life for yourself that works no matter if no one else understands it but you. Dream big dreams even if you have a basket full of mental health issues, or you are overweight, or disabled, or any other thing that the world thinks should hold you back, DREAM BIG and GO FOR IT. I have worked for six decades to get here, most of them have been an uphill battle, there were times that I thought I couldn't go on, there were a lot of people in my life who thought I would never come to anything because I was so damaged and so fragile and they couldn't understand my peculiar personality but I never stopped writing, never, and I never will. I will Amor Fati the heck out of my life, and I want to help other people do the same.
We read all the Dr. Seuss books with our children and if you have too you know that you end up with many of them, or parts of them, seared in your brain. They just have that delightful sing-songy rhythm. I loved them when I was young too. The one that for some reason has stayed with me to this day was about Marvin K. Mooney. "The time has come, the time is now, Marvin K. Mooney will you please go now?" It was time for Marvin, and now it's time for me. I love my cattywompus, lopsided life, I celebrate it, I sing it — Walt Whitman would be so proud of me — and I intend to dive into it and live it fully. As I approach 60, I am ready.
I want you to love yourself too, your whole life, everything in it. When you get stuck or afraid or sad, or when you are in a celebratory mood, wanting to laugh and sing, say, sing, shout it out! "Amor Fati, I love my imperfect-perfect wabi sabi life!" And then plunge ahead and don't let anything stop you.
The time has come, the time is now, let's go!