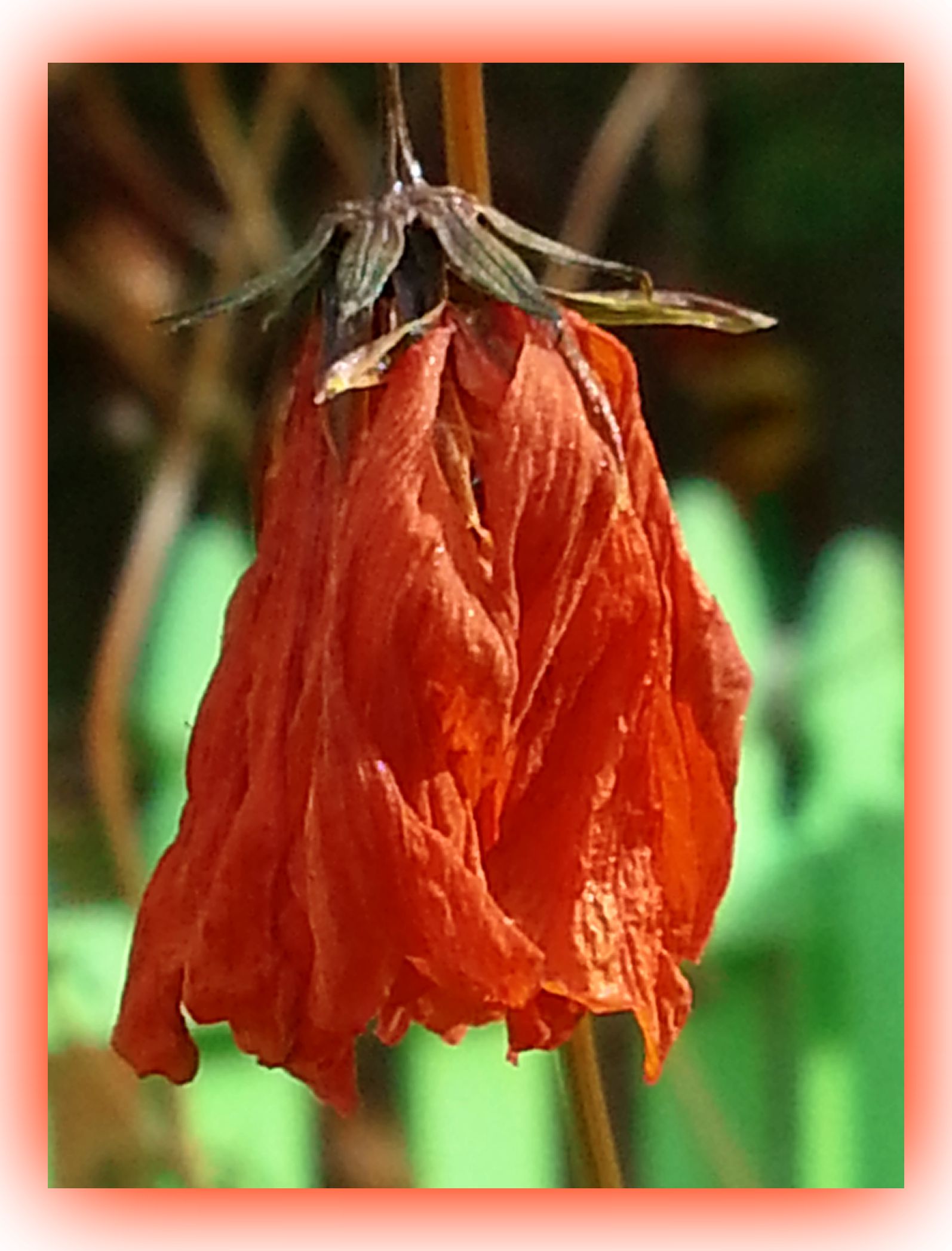 The above picture is one of my beloved orange  "sulfur" cosmos that bloomed like mad over the summer but this late patch started taking off after everything had bloomed out and gone to seed. It grew so tall it reached the edge of the roof line. Now it is drooping after the first frost and there is something so poignant about that to me.
I started and had to stop this post so many times last night because the site kept crashing that I finally wrote a little note here when I could get in once and published it quickly so you would all know that I was here. I am so dedicated to not missing a day that I was quite bereft over not getting a post up. I typed a one word title, "Fading" because at 2:00 a.m. that's just what I was doing, fading. I don't think I was in my right mind by then I was so tired.
What I had wanted to write about, to go with the beautiful picture of my cosmos taken a few days ago after the first frost was the importance of letting go, and how mindfulness can help us achieve that.
One of the times that it is so easy to lose your practice is the time when you need it the most, when you are pushing yourself too hard, trying to do too much, you are tired, stressed, overwhelmed but you keep pressing on because you have "too much to do." I have been doing this lately and it shows. I am a limp dishrag by the time I fall into bed nearly comatose, unable to rejoice in all of the good things that I have done so that I can feel a sense of accomplishment and be fueled to get the next day's work done in a healthy centered way. I have forgotten my practice, absolutely lost it these last days, because it has felt like 'OMIGOD MY CLASS STARTS ON MONDAY AND WHAT IF I'M NOT READY???"
First of all I am a very good teacher and I know that and I have never NOT been ready for anything I taught, in fact I write so much more material and give so much more than many people do teaching the same type of class that my students have loved the class so much they continued to work with me over and over again, class after class. But still I always worry. It's that "anticipatory anxiety" thing, getting all stressed out and panicked before some kind of event so that you work yourself into a state of frenzy when once you start into the thing you are fine. That's me in all manner of things in life.
Today I said STOP! I took my time this morning. I sipped my coffee and did relaxing things while I had it instead of trying to multi-task and go through my mountain of e-mail, making lists and tinkering with the website and the design for the next page of the eBook and on and on. "Stop!" I told myself. "Take a deep breath. Let go. Breathe." I closed my eyes and just let the moment fill me up. This moment. This very moment.
And it gets worse for me during the holidays. I have dealt with the fear around the holidays for so long because of family issues that always came up, feeling like I never had enough time, feeling like one holiday collided into the next without me being able to take a breath in between that I was nearly in tears all the time and the whole thing was ruined for me, and when I get that way, if you get that way, it negatively affects everyone around us too. I have called this "The Thanksgiving To New Year Holiday Slide" since my kids, now 30, 33 and 36 were young, but I have found ways to cope and make the whole season lighter, more enjoyable, doable. To that end I have created a course that I am very excited about, "Surviving The Thanksgiving To New Year Holiday Slide."
During the course it will be as if I am holding my students hands throughout the holidays, being very present with them. Each Monday they will receive a 20-30 minute video class, a wealth of material in a PDF including 10 different types of blank pages that can be printed out, as many as desired, for journal pages, class notes, a place to record recipes, do collage, make a vision board for the holidays, and more, and I will be teaching students how to use the material to make a beautiful Keepsake Book that will be a resource for the next holiday season and all of the ones to come afterwards. There are 37 days in this course from the Monday before Thanksgiving — next Monday — through December 31, and on New Year's Eve I will hold a live class where you see me live on video and have the ability to write in and I can answer you live. This will help students recap all that they have done and prepare for the New Year. I want to help people Let Go of the fear, the dread, the angst and anxiety that comes up at this time of year, but what they will learn will stand them in good stead through the rest of the year. I am so excited about doing this because the many students I have worked with over the years have said it was life-changing. It's all about letting go, letting it flow, opening your heart to what is in the present moment so that the next moment, hour, the days to come will follow in a more peaceful way. If you click on the link above or the graphic at the bottom of this page you can read about the course and even see a number of sample pages from the eBook. Each page is an individually done piece of art and text. It is not just an email or something typed out in Word.
Letting go, that is the lesson. Where are you feeling this stress in your life today, the too much, too much, push push push that leaves you too tired? Look at the beautiful cosmos blossom that has surrendered to the the frost, the time when it is able to gracefully let go and fall into the drooping bell shaped blossom that to me is the picture of total relaxation. Yesterday I meditated just focusing on the blossom, breathing, and allowing myself to "drop" through every inch of my body from my head to my toes until I was bent completely over in my chair, my hands touching the floor, completely relaxed. It was very healing. I will be doing it again today.
Use this method it if feels right to you, gaze at that sweet cosmos blossom, breathe, feel yourself present and alive in this moment, let your whole body, in slow motion, just droop over and feel the amazing sense of relaxation. When you come back to yourself focus on the fact that whatever happens in the next moment or the next, or the next hour, or the next day, can be handled just the same way because you only need to do what you have to do in the singular moment that you are in, and each subsequent one will take care of itself.
You will make it, I will make it, droop with me now, relax… doesn't that feel good?
I am sending you so much love. I am seeing us a beautiful field of flowers bowing before the season with an easeful grace. I know it can be true…